If you are a Hop Head into hazy IPA's or an aspiring beer geek, we can all agree that there are few things better than lifting a pint or two of good craft beer. Historic Downtown Sanford has gained a reputation for its robust year-round craft beer scene with endless options for world class craft beers. Sit in one of the many Sanford brewery tasting rooms to drink local or explore hard to find imports from around the world. Just getting started with craft beers? Many breweries offer beer flights which allow you to try several different beers. We bet you discover a new favorite! The friendly beertenders, brewery owners, and barkeeps around town are happy to help you decide what crafted beers should be in your glass.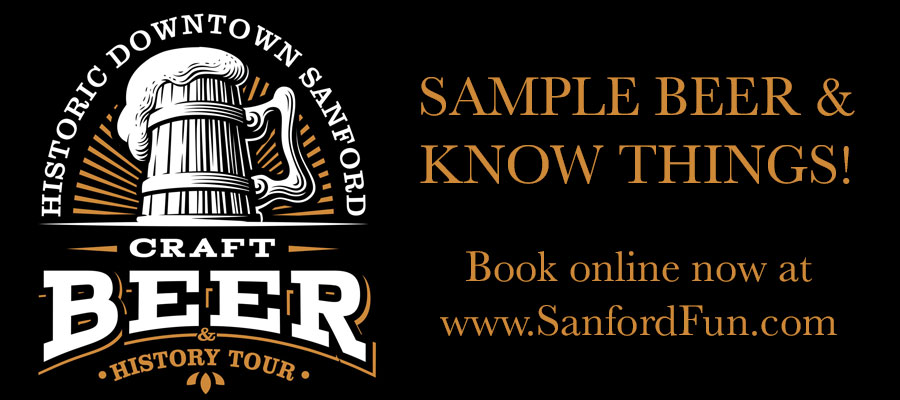 Celery City Craft
With over 50 rotating craft beers on tap Celery City remains one of Historic Downtown Sanford's must drink beer stops, co-owner Shane Hardenbrook's goal since opening. Explore the ​Central Florida Ale Trail and some of the top craft beer breweries in the United States without leaving your picnic table. Try Boulevard Brewing Company's ​The Calling​ Double IPA with spicy wings and the B Nektar ​New Wave Lemonade ​Mead with blueberry and lemon is a crisp and refreshing option for any sushi dish. Ask the friendly staff to pair your craft beer with one of the delicious menu items from Sushi & Seoul on a Roll. Whether you go sushi or crispy chicken wings, the knowledgeable Celery City Craft beertenders can create the perfect food and craft beer pairing.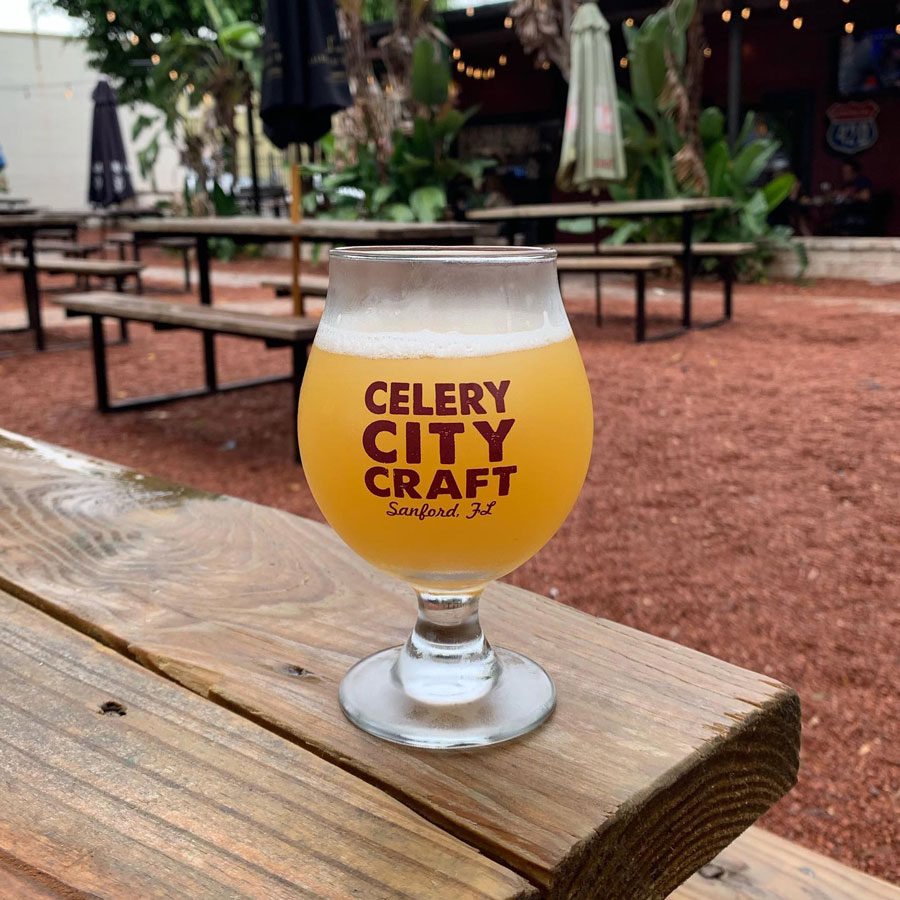 Deviant Wolfe Brewing
Deviant Wolfe Brewing may be widely known for ​Sourmanjaro​, their popular coffee bean treated sour but craft beer lovers will be happy to discover a broad range of styles including sours, IPA's, stouts, porters, Belgians, and more. Special releases require all hands on deck to peel and zest fresh fruits used to flavor craft beer and their flavored hard seltzers all brewed in house. One sip of the Deviant Wolfe ​Coconut Inquisition​ Stout, brewed with chocolate malt, toasted fresh coconut and vanilla beans, and we were transported back to the good old days of small batch releases of Funky Buddha's ​Last Snow​. "We brew what we like and we rotate seasonally," says co-owner Johnathan who found his love of homebrewing at the University of Florida. Take advantage of Happy Hour on Wednesdays & Thursday's 4:00-7:00 pm and Friday's from open to 6:00 pm with $1 off all pours including wine and draft craft beer pints and flights! Get $2 off growler and crowler fills on Wednesday & Thursday all day.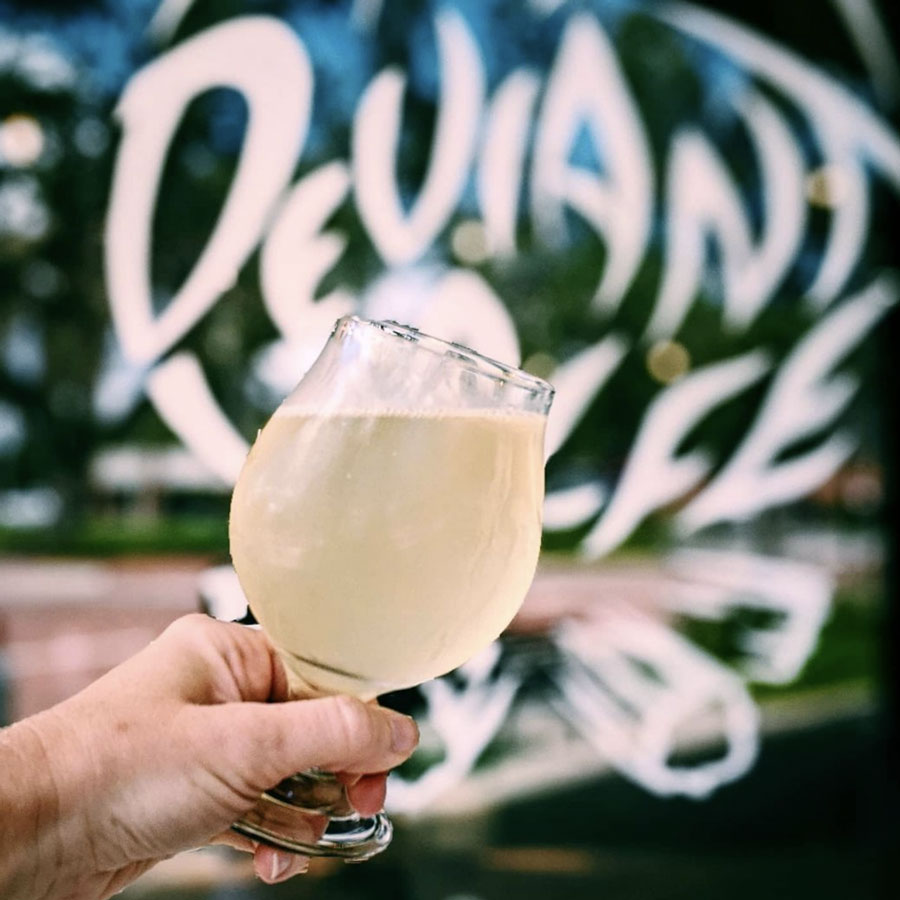 Hollerbach's Willow Tree Cafe
Have you visited the ​open-air rooftop beer garden at Hollerbach's? Settle in with a 0.3L, 0.5L or 1 Liter Beer Krug, the classic dimpled German beer mug, filled with a frosty ​Bitburger Premium Pils on draft. It's a popular choice for those who love a classic light Pilsener. Fans of dark beer should try a Doppelbock from the rotating selection, including the Weihenstephaner Korbinian​. The classic double-bock is a strong, full-bodied dark beer with a maltier character and flavor. No time for an afternoon on the Hollerbach rooftop beer garden? Head to Hollerbach's Magnolia Square Bakery to order a sandwich to go with a ​Hollerbach Kolsch,​ the collaboration beer brewed by award-winning ​Three Daughters Brewing in St. Petersburg, Florida. You'll be tempted by the large by the bottle imported German & Bavarian beer selection; from Gose to Urweisse there is a beer to satisfy your craving for a good German beer. Make a note to take advantage of the Magnolia Square Bakery Happy Hour special offered daily- get a special price on a draft beer and the famous Hollerbach pretzel! Prost!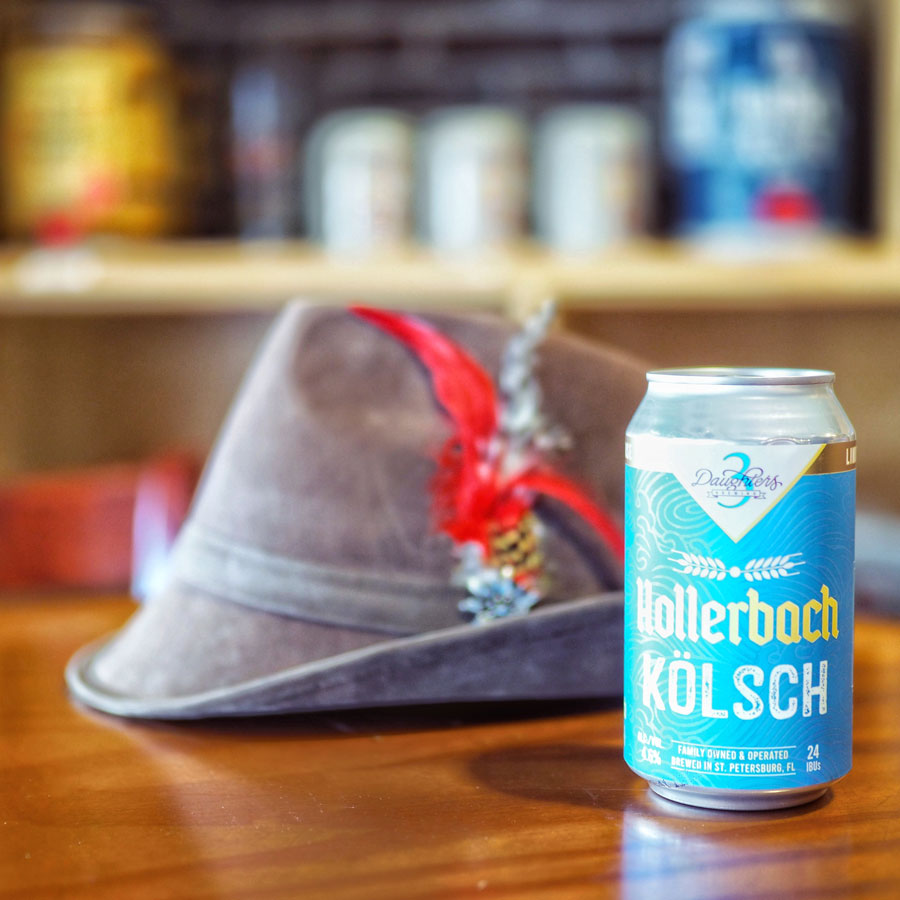 Luisa's Cellar
Step into Luisa's Cellar and into Historic Downtown Sanford's premiere Craft Beer Haus and Bottle Shop. Award-winning craft beers from across the US and imports from around the world are handpicked by discerning beer enthusiast and co-owner Sascha Weyer. Sascha was born and raised in Germany, where he discovered his passion for German and Belgian craft beers! Sasha recommends the ​Edelstoff Augustiner-Bräu München​ to pair with the cheese and charcuterie board. The ​KBS Bourbon Barrel-Aged Chocolate Coffee Stout​ from Founders Brewing Co. is a great beer to end the night and drinks like liquid dessert. Happy Hour is offered Wednesday – Friday 5:00 pm -7:00 $1 off any craft or import beer along with $10 wine flights and 2 for $7 house wine enjoyed onsite. Get it to go! Luisa's Cellar's impressive selection of bottled beers in the cooler is available to grab and go.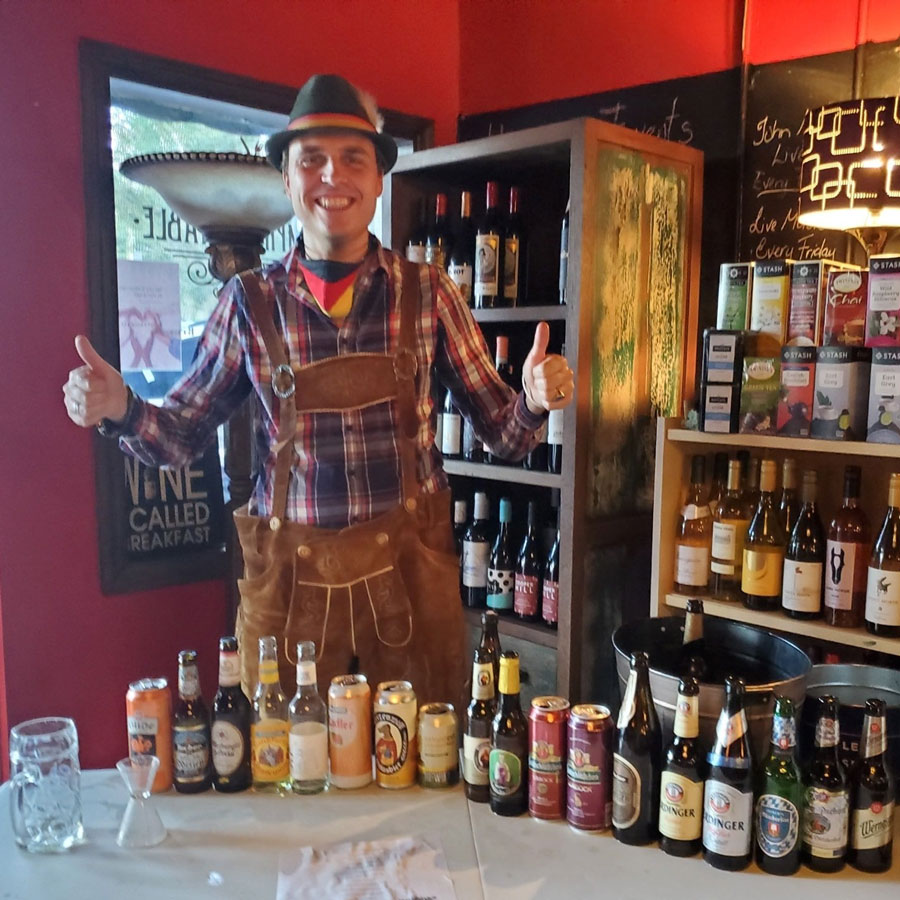 Sanford Brewing Company
If you're looking for a happening spot to enjoy live music, trivia and open mic night as you sip a flight of craft beers. Or want to pair your favorite ale with a giant deep-fried pretzel, a juicy burger and other rib smacking good gastropub style grub, then look no further than SBC. Owners ​Chris and Robyn Esser are all about ​good beer and Southern hospitality. They've succeeded on their mission to be known as more than a taproom, more than a brewery, more than an entertainment venue or restaurant. On tap you'll find a fantastic variety of their own house made brews, meads, and sodas as well as a nicely curated selection of local craft beers. Want to social distance? Grab a table in the patio or fill up your growlers to enjoy at home. Fans of fruit forward beers, go for the Beri Tart Weiße Sour Berliner Weisse or the Blu Beary IPA. Both great to enjoy in our Florida weather. The Sanford Klugscheiber Hefeweizen is easy drinking but if you're looking for more substance, the Sanford Panty Dropper is a popular Belgian Golden Strong Ale with 10.0% ABV is a favorite even for non-beer drinkers. Prefer dark beers? Killa Vanilla Porter is a sure bet, even for dessert paired with a tempting ​birra-misu.​ Follow on social media for events schedule, latest happenings and Happy Hour specials – currently $4 pints and wine from 3-6pm, Monday-Friday.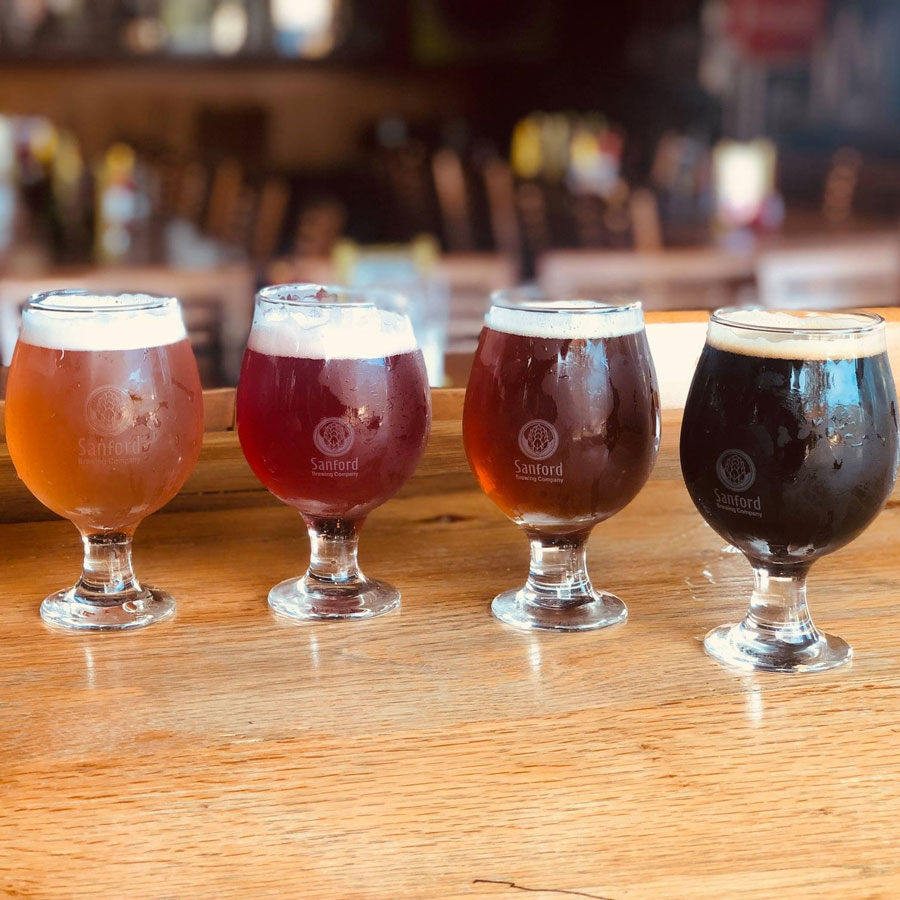 Wops Hops Brewing Company
Greg Piecora continues to brew great craft beers at Wops Hops, ​Historic Downtown Sanford's first craft beer microbrewery. Craft beer enthusiasts will find a full selection of craft beers ranging from light to dark. Greg started as a home brew enthusiast and he loves creating special releases for his "One off Wednesday" features. Customer's crave seasonal specialties like the Wops Hops Orange You Glad I Said Chocolate​, a well-balanced Chocolate Orange Stout. You'll have to be quick, as once the one-off keg is kicked, it's gone! Sanford favorites on tap include ​Paradiso Coconut Ale​, a Golden Ale and ​Sweet Potato Ale​, a Red Ale. Happy Hour is back every Monday – Friday from 4-6:00pm with $1 off pints.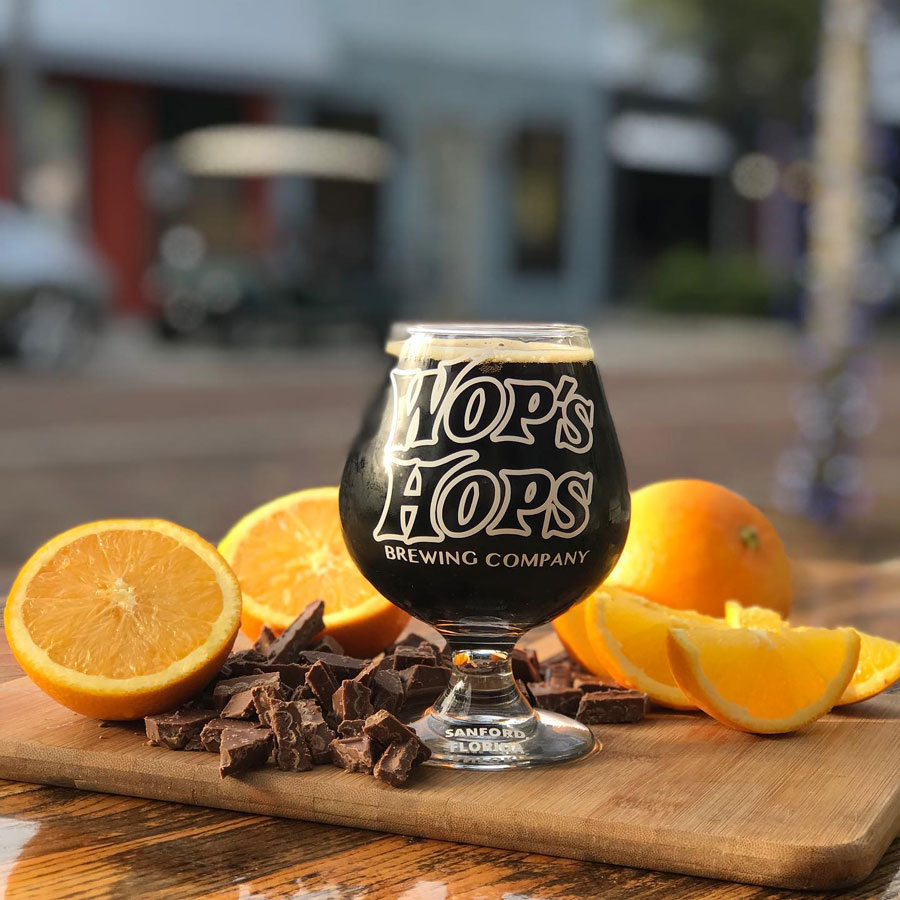 Tuffy's Bottle Shop & Lounge
Tuffy's is a must on any list of great places for beer and cider lovers to visit on a beer crawl. Why? Because Tuffy's is a cidery – in fact it's the first cidery in town opened in 2018. It's a lounge with plenty of TVs and comfy couches to chill. It's an expansive outdoor beer garden where you can hang with your favorite local craft brew or one of several Tuffy's small batch craft ciders and play a game of corn hole, bocce ball or take part in Shuffleboard Wednesday. It's also a new music venue. Jam in The Music Box with bands playing everything from Allman Brothers to 80's flashback retro and groovy British Rock. Be on the lookout for special cider releases (they recently did a collab with Hollerbach's German-style hard apple cider) and a constantly rotating list of craft beers on tap including selections from popular Central 28 from DeBary, Florida. And if that wasn't enough, it's also a bottle shop, so grab some bottles or fill a growler to take home.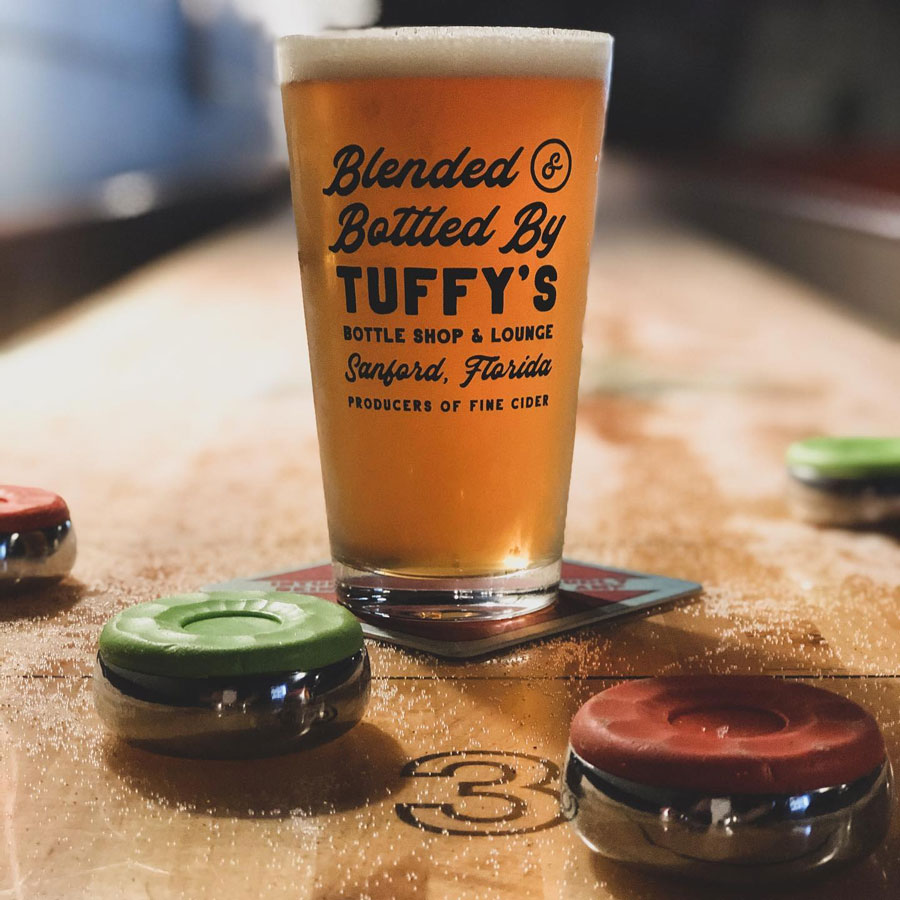 Authors: Local digital marketing consultants, freelance food writers and bloggers Lisa Wilk of TasteCookSip.com  and Christina Thomas of GoEpicurista.com love to explore the culinary scene everywhere they go. Follow their foodie adventures on Instagram @TasteCookSip  and @GoEpicurista.