Over the last few years, Historic Downtown Sanford has become a recognized and preeminent destination within Central Florida for its events & experiences. From large scale neighborhood-infused music festivals to outlandishly fun sofa races, from golf cart & e-bike rentals along the Sanford Riverwalk to enjoying a craft brewery or food tour, from taking in award-winning shows and plays to browsing at art festivals, there is an overwhelming array of things to do in Historic Downtown Sanford.
Among the plethora of options, one of Sanford's most classic and unique experiences, the St. Johns Rivership Co. and its flagship vessel the Barbara Lee, has taken tens of thousands of guests up the St. Johns River in their turn-of-the-century style paddleboat. In September of 2023, the Wyatt family purchased the business, and under their ownership, patrons can look forward to a revitalized and refreshed version of this authentic 'Old Florida' delight, along with first-class food, drink, and fun!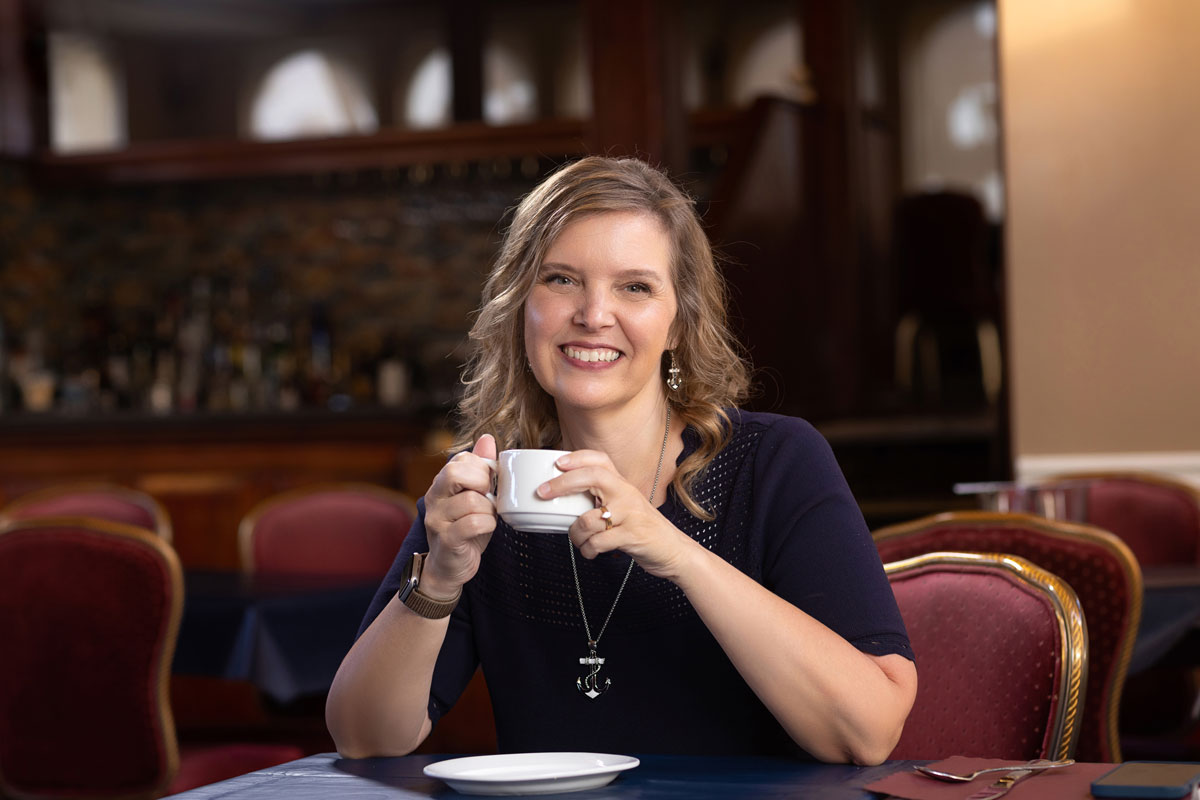 Meeting with new owner Michelle Wyatt on the Barbara Lee, I was quickly impressed by both the scope and speed of the upgrades and enhancements already in place, and the vision of what's to come. Acquiring the St. Johns Rivership Co. on September 7, 2023, the Wyatts are now the third family to operate a dining experience aboard a Rivership from the Historic Downtown Sanford Marina since 1982. The Wyatt family successfully ran a software business for 22 years in Maryland, with a focus on event management and mobile app solutions. Michelle's extensive experience in business development, her strategic vision, and focus on providing an elite guest experience to each guest already has the St. Johns Rivership Co. pointed in the right direction.
Wyatt appreciates that what her family bought is more than just a boat, and more than just a restaurant. The Barbara Lee is the only authentic sternwheeler sailing the St. Johns River, measuring 105 feet from stem to stern, and capable of having 194 guests lounge within its five stories and myriad decks, making it the perfect space to host events of varying sizes. Built in 1986 and extensively refurbished in 2012, the ship is a replica of the traditional stern wheel style boats that ran on the St. Johns River back during the mid to late 1800s, featuring ornate wrought iron railings and massive wooden paddle wheels. While cutting a path across Lake Monroe in Sanford, the Barbara Lee looks all at once part something out of a Mark Twain novel and 100% a good time. "We bought an experience," said Wyatt. "We're excited to give this great experience its next chapter."
The Wyatts have wasted no time implementing many positive changes, including online ticket sales, equipping the Barbara Lee with WiFi capabilities, and enhancing the audio-visual capabilities on board. "Where I can immediately help this business is with the guest experience," says Michelle. "This vessel and this business is a dining experience that has become a part of people's lives."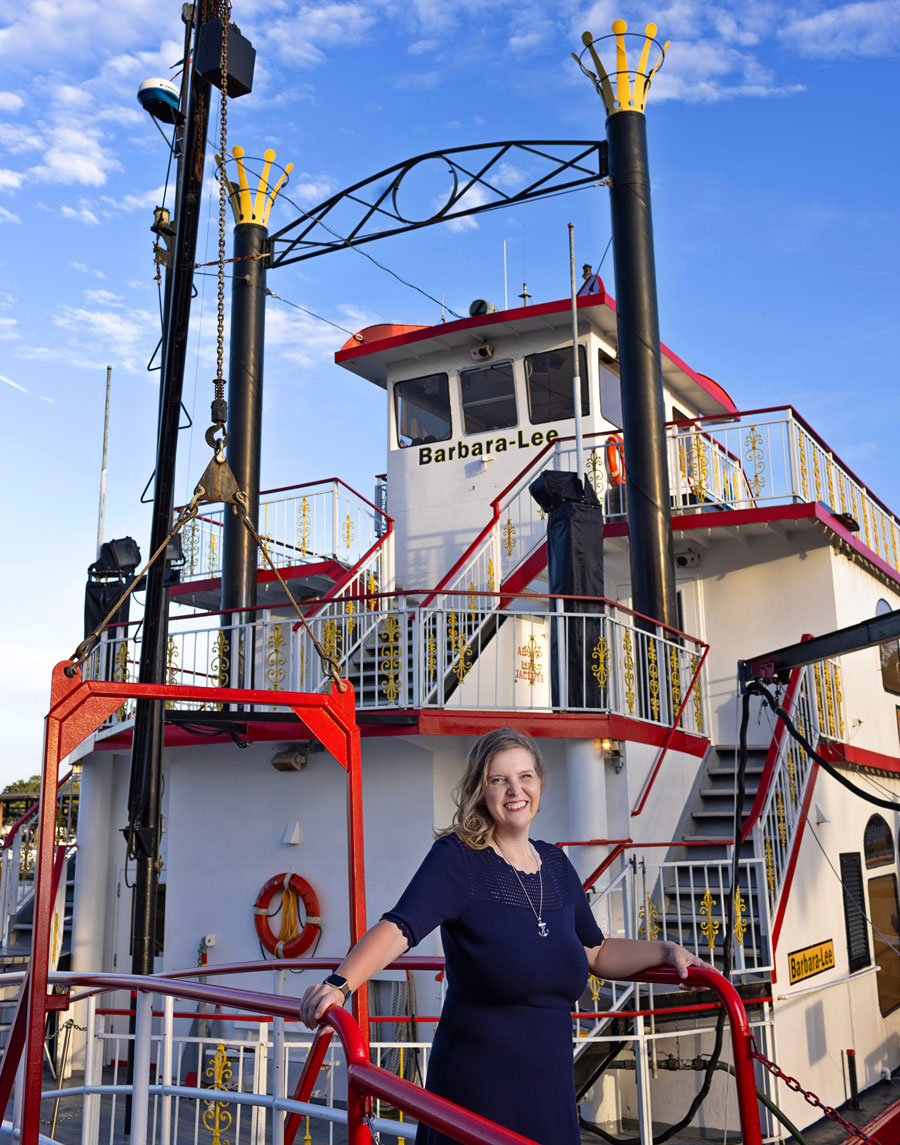 Wyatt's passion for hospitality and appreciation for providing exceptional experiences to customers has now been directed towards this historic and historically relevant attraction housed in the Downtown Sanford Marina. Plans are unfolding over the next few months to refurbish the interior, including carpets and lighting, along with planned upgraded and modernization to the building located on Marina Island that serves as the St. Johns Rivership Co.'s ticket office. Additionally, "cross-generational" activities to attract and engage a younger generation such as "Pirates and Mermaids" and "Sailing with Santa" events are part of the vision, along with monthly drink specials and other exciting events.
Back to the "experience" you are getting when you set sail up the river on the Barbara Lee, the St. Johns Rivership Co. is a premier river cruise operator that showcases the stunning beauty and rich history of the St. Johns River region. This is a one-of-a-kind dining experience that combined food, drink, relaxation and picturesque waterfront locations. As the Marina Island Master Plan set forth by the City of Sanford comes into fruition, with the proposed bar, restaurant, and café overlooking the water and the fully refreshed and reorganized marina, Wyatt aims to have the St. Johns Rivership Co. anchored right amidst the action, adding to the amazing things there are to do in Historic Downtown Sanford.
Downtown Sanford Marina
433 N. Palmetto Ave.
Sanford FL 32771
(321) 441-3030
www.stjohnsrivershipco.com