A 51-room hotel may soon be located on the corner of 1st St. and Oak Ave in Historic Downtown Sanford, filling what many consider to be a huge need for tourists and guests to the Celery City. First Street Station, a proposed residential and commercial mixed-use development from owners/developers Ron Semans and Bob Horian, also seeks to construct 32 townhome units with 2 car garages, potentially adding more residents and foot traffic to downtown, mere blocks from the Sanford Riverwalk, shopping, and gourmet dining experiences.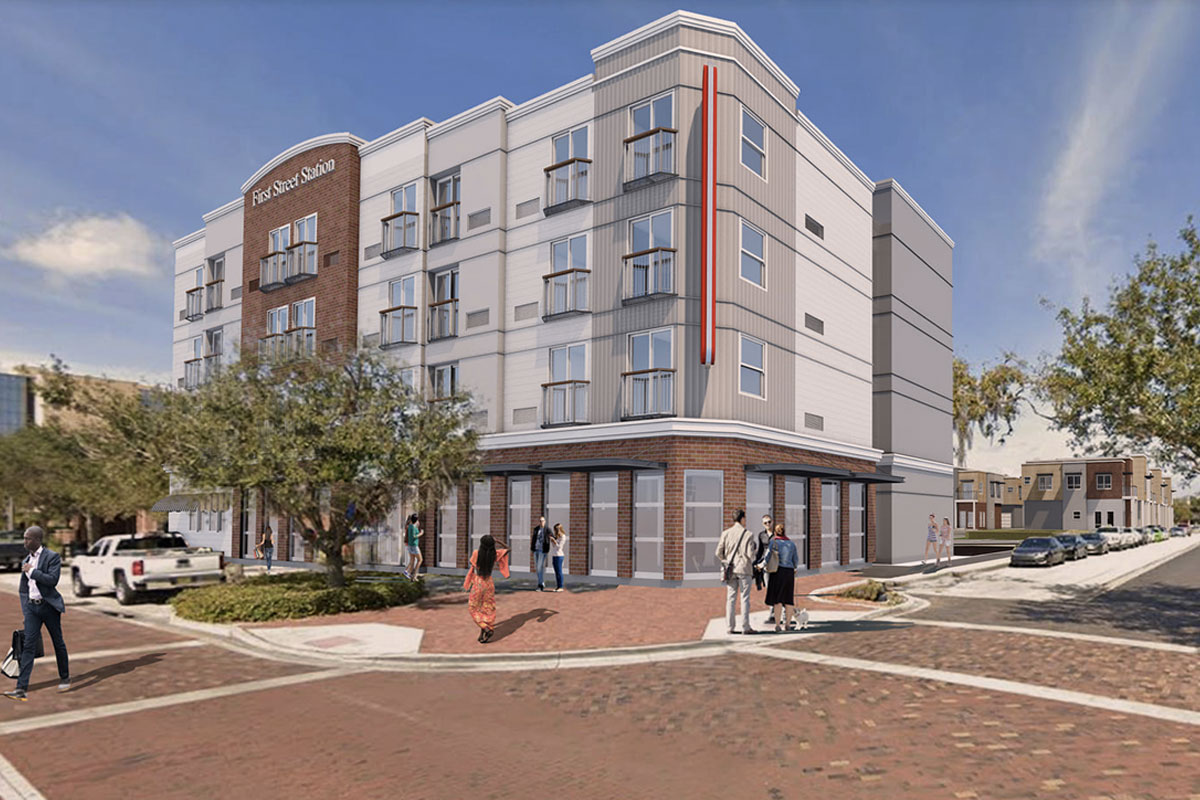 The preliminary subdivision plan for the 1.83 acre property, fronting 1st St and located between Myrtle and Oak Ave, has been approved by the City. The development seeks to occupy the area to the north and west of the SunTrust Bank, just south of City Hall.
First Street Station is currently working its way through the approval process with the City of Sanford. Speaking recently to the City, First Street Station manager Ron Semans detailed that the townhome community will be named "Fulton Park," and phase 1 of construction will consist of 16 townhomes. Information regarding these townhomes, including the available models for sale and pricing, can be found on www.FultonParkSanford.com.
Semans indicated that initial demand has been quite high, and stated that without any marketing for the project 80% of the units being built in phase 1 have already been reserved. The project managers for the new development anticipate they will be submitting engineering plans for Fulton Park shortly, and are hoping to break ground on phase 1 in 2021.
The addition of 32 new homes to the Historic Downtown Sanford blueprint may be a huge boost to our local small business community, increasing weekday foot traffic for retail and service industry alike. Christina Hollerbach, the CEO of Hollerbach's Willow Tree Cafe, one of Seminole County's preeminent restaurants, and the President of Sanford Main Street, stated that "This is exactly the kind of growth I want to see; residents in the heart of our downtown that want to take advantage of a Sanfording lifestyle."
Hotel plans are very preliminary and the project still needs to work its way through Sanford's many layers of board review, including the Historic Preservation Board, who will review the architectural stylings for compliance with historic codes and overall cohesiveness of the project.
Within City Hall, there remains continued excitement for the ongoing positive growth of our Downtown. Community Redevelopment Agency Manager Pamela Lynch believes that "First Street Station is such great news for Historic Downtown Sanford. The project will help boost CRA Funds, which are then spent back in the downtown. Most importantly, the project will enable more people to live in the heart of Sanford's exciting downtown community."
City of Sanford Economic Development Director Tom Tomerlin states that "This project represents a real milestone for the City of Sanford. The addition of residential and hotel uses will allow new residents and visitors to enjoy the exceptional quality of life Historic Downtown Sanford provides."
We couldn't agree more.