The greater Orlando area offers up several monthly arts nights, sure. But Historic Downtown Sanford is changing the game with a new monthly evening showcasing the best in local visual arts and music. Recently we saw the re-launching of Sanford Art & Jazz Night, an art-walk-style event with a few unique twists, nestled in the heart of Sanford's beautiful downtown.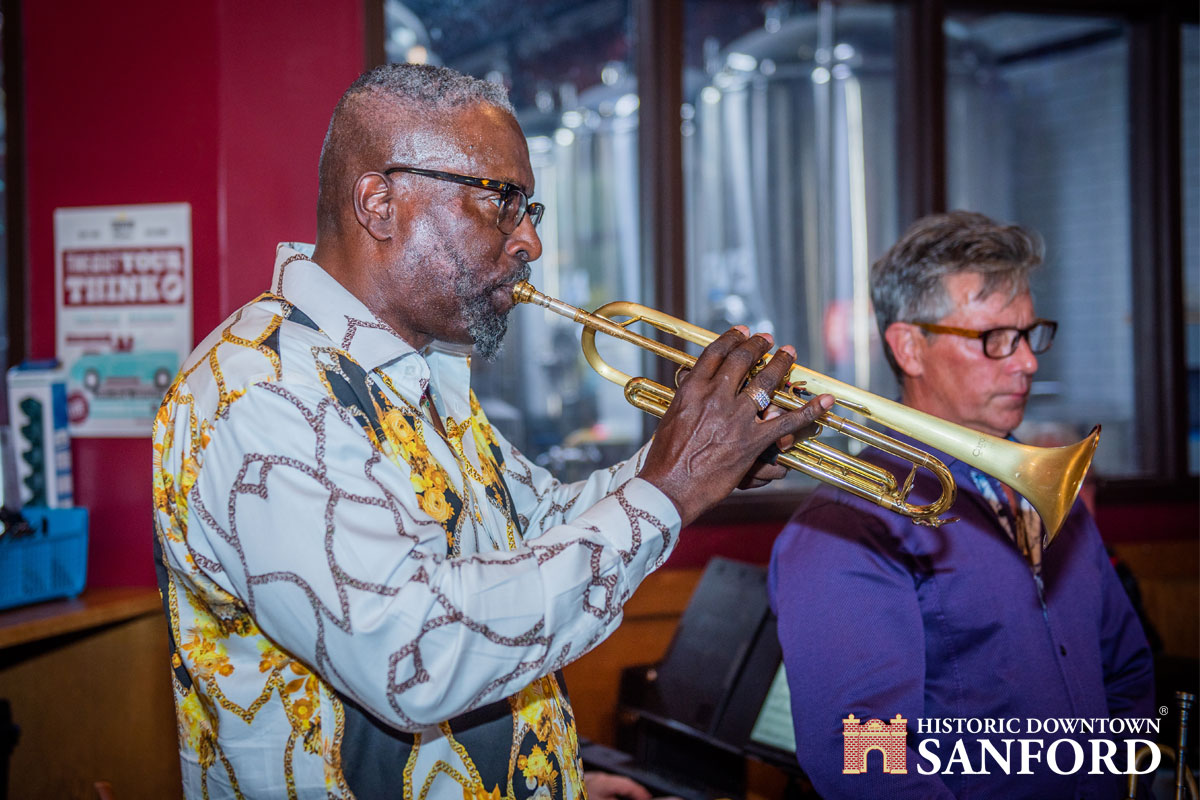 The relaunch of Sanford Art & Jazz Night on May 19 featured several downtown establishments hosting jazz music and artists – paired with drink specials devised for the night. (You have to stimulate all the senses, after all.) The recurring happening underscores Historic Downtown Sanford's commitment to fostering a strong homegrown arts and music scene. Strolling the brick-lined streets of Historic Downtown Sanford, taking in the night air and checking out new sonic and visual flavors of local creativity make for an unforgettable evening.
The participating venues were Tuffy's Music Box & Lounge, Sanford Brewing Company, Deviant Wolfe Brewing, Magpies Modern General Store and Hollerbach's Willow Tree Cafe. Each Art & Jazz Night destination curates a unique showcase for the occasion, making for an eclectic evening that befits the increasingly eclectic cultural hotspot that is Historic Downtown Sanford.
Hot new live venue Tuffy's Music Box presented the Marco Bojorquez Quintet. Led by bassist Bojorquez (whom you might recognize as part of Latin-Jazz ensemble CuBop), the Quartet moved deftly between jazz, funk and rock and kept the audience grooving.
Sanford Brewing Company hosted a live performance from the Intersection Jazz Combo. This exciting local chamber group uses jazz standards as a jumping-off point for excursions into Latin, funk and pop music.
Deviant Wolfe Brewing happily handed their walls over to artist Casey Klein. According to Deviant Wolfe, Klein "strives to describe his vision of this splendid world through his work." From the work we saw, that vision is ably communicated in vibrant acrylic paintings that jump and shimmer with abstract, kinetic lines and shapes.
Magpies Modern General Store threw a spotlight on not one but two unique local creatives. In front of Magpies Clothing Boutique, Psychic Medium Torre' LaRock was doing readings for the willing. And the walls of the General Store were bedecked with the mixed media fantasias of artist Tiffany Robinson.
Hollerbach's Willow Tree Café really embraced the adventurous possibilities of Art & Jazz Night with live music in their upstairs biergarten, and an exclusive first peek inside their in-house gallery space, Art Haus.
The music came courtesy Hollerbach's regulars the Greg Parnell Group, helmed by Glenn Miller Orchestra drummer and Orlando Jazz Orchestra head Parnell, aided and abetted by keyboardist James Hall, bassist Michael Santos and with Quint Johnson sitting in.
As for the art, this evening was a perfect time to throw open the doors for a first look at the nascent Art Haus gallery, a new space dedicated to spotlighting and selling – with a portion of those revenues going to the Hollerbach's Has Heart nonprofit – the work of artists on the rise from the Central Florida area. "Art Haus is an entirely unproven concept, being inside Hollerbach's, upstairs, and through the Biergarten," explained Art Haus' Gallery Director Moriah Russo. "Historic Downtown Sanford's Art and Jazz Night program is a welcome boon to our visibility in this early, pre-branding stage"
For this month, the Art Haus featured Alex Jaggers "Threshold States" exhibition. Jaggers is an Orlando-area artist and UCF student, whose ethereal, dreamlike paintings were well in line with the adventurous brief of this night. "Appropriately, this was Alex's first show as well as the gallery's, which provided an ideal dynamic for mutually beneficial learning experiences," said Russo. "Overall, the opening was a great success. Alex sold paintings and guests ate all the cake balls, ticking both boxes on my rubric for achievement."
Sanford Art & Jazz Night is a free event happening every 3rd Thursday evening from 6-9 p.m. See you there.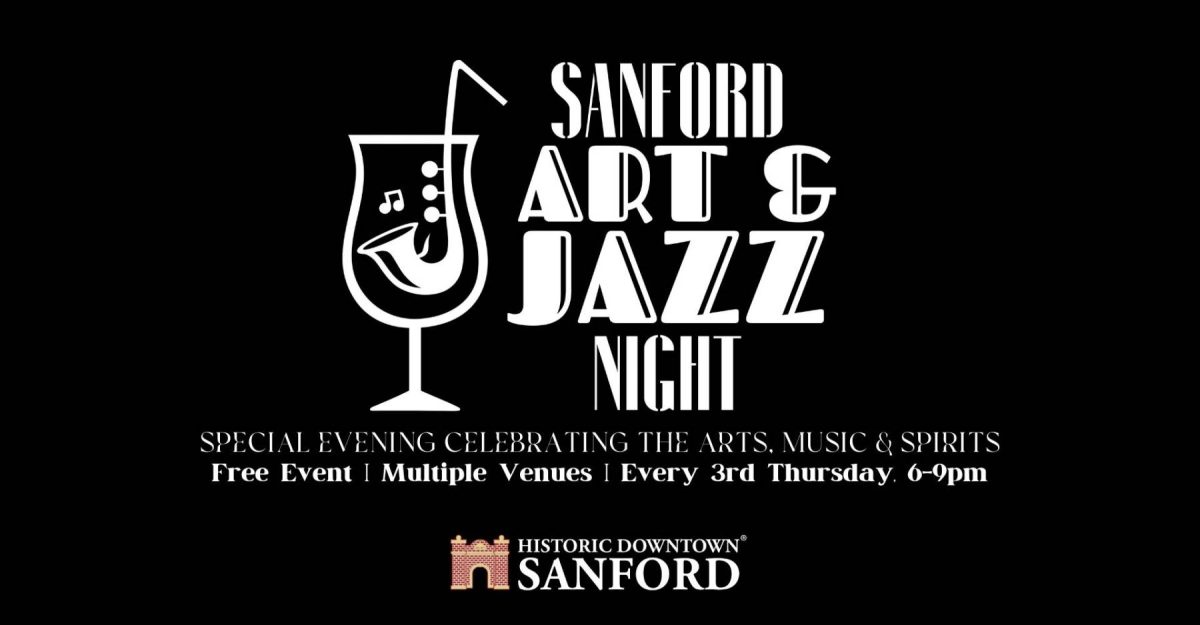 Be sure to follow the Facebook updates as new venues, musicians, artists and specials are posted for each month!
Facebook event: https://www.facebook.com/events/455311843026292
Facebook page: https://www.facebook.com/SanfordArtandJazzNight