Sanford locals, neighbors, friends, and bicycle enthusiasts Jimmy Galvez & Theo Hollerbach are opening up a new business in Historic Downtown Sanford – Bicikleta Bike Shop! With their bicycle and industry knowledge, expertise, passion, and hospitality, the new venture located on the corner of 3rd St. and Magnolia Ave is poised to enhance and benefit the community and 'Create Cyclists.'
If you are at all familiar with Central Florida, you likely know Theo Hollerbach by reputation. His family-owned German restaurant Hollerbach's Willow Tree Café is one of the preeminent restaurants in Central Florida, and will be celebrating their 20th Anniversary on August 20th. While Theo has been instrumental in Sanford's growth and development over the last 2 decades, his lifetime passion for bicycles and bicycling has gotten more serious over the last 8 years. "I have been trying to launch this, it has been in the back of my mind for 10 years now. I like to turn things I like – my hobbies – into businesses. (Bicikleta) is the last business I ever want to own."
Partner Jimmy Galvez has always been a self-described "tinkerer," and started in bicycle sales in 2014. "Everyone loves bikes when you're a kid," says Galvez, "and that was rekindled. I enjoyed fixing my bike on my own, and during the pandemic the repair business really ramped up. It has always been a dream to run my own shop." "We have a great relationship. Jimmy gets to work, and I get to criticize," jests Hollerbach, as he sips something dark and German and mentions that Germans call their bicycles "steel donkeys".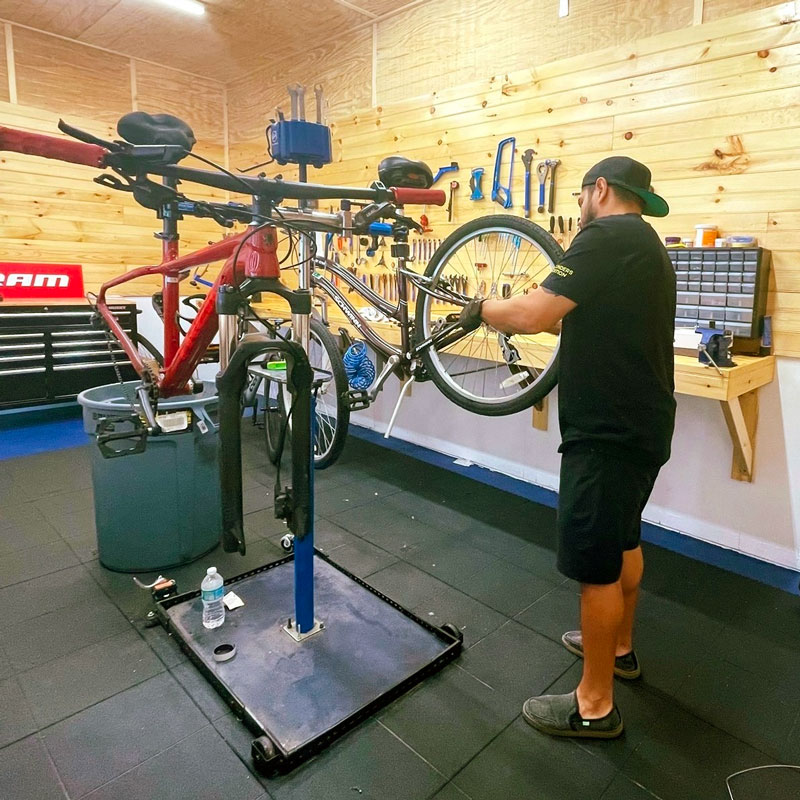 Bicikleta will provide Sanford and the surrounding communities with a bike shop that sells all types of bikes – hybrid, road, mountain, gravel, and Turbo E-Bikes, the hottest trend in cycling – as well as apparel. The shop will also staff top-quality mechanics to service and repair bicycles, and are proud to be a Specialized Authorized Dealership (Specialized is a major American company that designs, manufactures and markets bicycles, bicycle components and related products. Since 1974, they have had one goal: Innovate and inspire to improve riders' lives.) In the cycling community, this is kind of a big deal. "We're proud to be a premier Specialized dealership in Seminole County," stated Hollerbach. "Specialized is a great and varied brand, one of the top in the world."
Sanford local Brenda Urias of Sanford Tours and Experiences, Bicikleta's Marketing & Community Outreach Director, is bringing her unique set of skills and expertise to help brand and promote the enterprise. "Our team is all multi-talented," says Urias, "At Bicikleta we speak 5 languages – English, Spanish, Portuguese, German, and Bicycle. We know hospitality, and we know bikes." The owners are also happy to expand the retail footprint of Historic Downtown Sanford, a sector they feel is underserved.
Bicikleta also will focus on community involvement and take their mission of 'creating cyclists' literally, offering bike repair classes for children ages 8-18, teaching young riders to fix a flat tire and make other basic repairs, as well as bicycle safety. Students will receive a certificate of completion, tire, and tube. By engaging the community and riders both young and old, Bicikleta will be a welcoming resource to our community. The owners are filled with passion, knowledge, and expertise and seek to create an inclusive environment for people of all walks of life to become cyclists.
City of Sanford Economic Development Director Tom Tomerlin notes that "Bicikleta Bike Shop will bring an energy to our downtown that we want to capture and grow. Bicikleta will better enable us to attract the dedicated cyclist demographic to the city. Increased cycling, as an alternative transportation mode, is an important piece of the mobility puzzle in Sanford."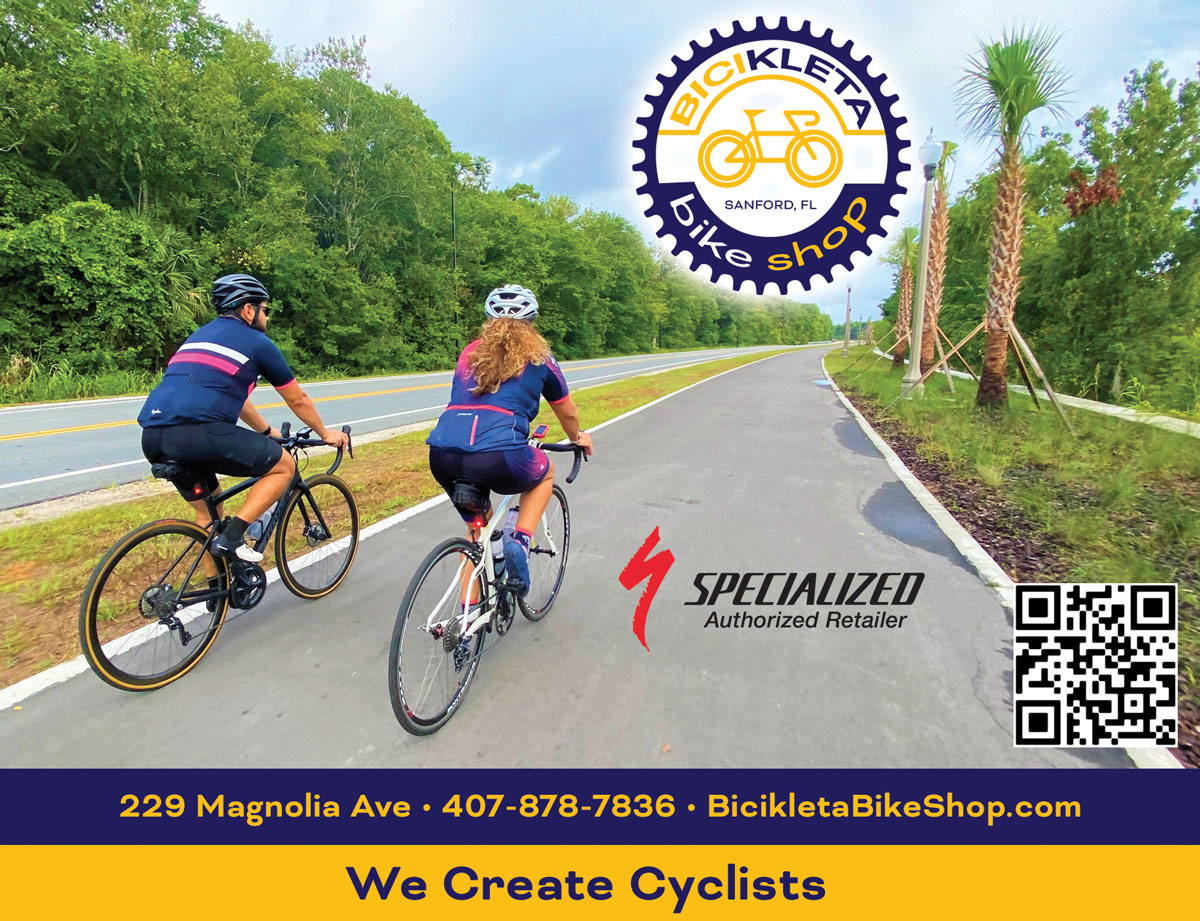 Bicikleta is open now and providing top-quality repairs and maintenance, with dealership inventory arriving shortly.
Impacting our Quality of Life – Riverwalk & More
As the focus of this blog is capturing the vision of the developers and their varied projects as Historic Downtown Sanford undergoes growth and expansion, it is worth pointing out that any comprehensive city growth also requires a commitment to infrastructure, public amenities, and quality of life upgrades – in fact, many economic studies show that communities that can satisfy an individual quality of life is a primary factor in attracting new residents, and equally drives the attraction of new and businesses, especially those dependent on the talents of highly educated workers. In short, great efforts are being undertaken by the City of Sanford to provide the improvements and infrastructure needed to mirror our economic growth. In this vein, the largest and most impactful project being undertaken by the City of Sanford is a $28 million dollar expansion of the Riverwalk abutting the south shore of Lake Monroe.
The Sanford Riverwalk will become an integral part of the statewide pedestrian and bicycle network as it stretches nearly five miles along the southern shore of Lake Monroe, offering picturesque views and a lake breeze, while serving as a crucial and additional viable transportation option into Sanford that will connect Sanford to south Volusia County. It is also proposed to be part of the Florida Coast to Coast trail stretching from Titusville to St. Petersburg, a 250-mile state trail that is the first of its kind. Moreover, this project will nearly complete the continuous 26-mile pathway around Lake Monroe, dubbed the 'Lake Monroe Loop.'
Pamela Lynch, the City of Sanford CRA Manager, states that "Having another terrific bike shop in Sanford will help us realize our vision of becoming a true trailhead city. With the completion of Riverwalk Phase 3, the timing of Bicikleta Bike Shop is really ideal." We agree!
As a natural and perfect host venue for events, Bicikleta plans to utilize the Riverwalk and its bike trails, and will soon be debuting a combination bike and boat cruise event with local company Pedal Cruise, allowing cyclists to ride approximately 12 miles from Sanford to the north shores of Lake Monroe in Volusia County, and then be ferried back on Pedal Cruise, or in the alternative, be ferried over and ride back to Sanford.
Bicikleta Bike Shop
229 Magnolia Avenue
Sanford, FL 32771
(407) 878-7836
info@bicikletabikeshop.com
http://BicikletaBikeShop.com