Chef Al Ruiz is creating rave-worthy sushi and Korean-inspired street fare at Sushi & Seoul in residence at Celery City Craft in Historic Downtown Sanford. Sushi & Seoul celebrated their one-year anniversary as a brick-and-mortar business in the fall of 2020, a year that brought many changes due to the pandemic including divesting of the Sushi & Seoul On The Roll food truck that started it all.
Sanford has welcomed them with open arms, Sushi & Seoul quickly gained a strong following from Sanford locals in search of well-made, quality sushi. Orlandoans now flock to Celery City Craft in Historic Downtown Sanford to get their fix of Ruiz craveable cuisine.
"It's pretty exciting that we are hitting a new market, this is still Central Florida but it's outside of where we were originally based. There is a lot of new clientele but it's also really cool to see our food truck friends traveling to see us here in Historic Downtown Sanford," said Sushi & Seoul founder & Chef Al Ruiz. "The biggest attraction for us to move from the truck was the permanent window. Celery City Craft has this beautiful courtyard and offers a different experience. Sanford is a great community with a super awesome vibe, we definitely have felt a lot of support, and hope to for years to come."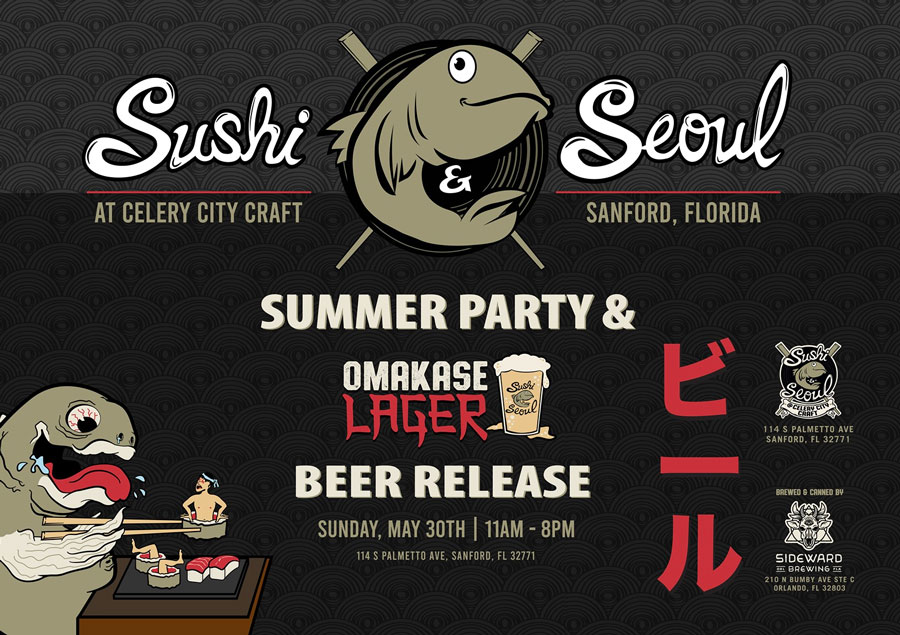 Sushi and Seoul Food Truck
Chef Ruiz started the Sushi & Seoul On The Roll food truck in 2013 to share his love of great sushi without the frills. "I wanted to approach sushi in a simple, not posh or unapproachable, way" he says. Word quickly traveled around foodie circles throughout Orlando and across the nation. Sushi & Seoul was awarded Best Food Truck in 2018 and 2019 from The Orlando Sentinel Readers and has been featured on Food Network's "Eat St.", Travel Channel, The Cooking Channel, USA Today and more.
In 2017, Sushi & Seoul On The Roll was invited to participate in the Eat the World DXB (Dubai) and Love Food Festivals Abu Dhabi. The whirlwind tour of the United Arab Emirates was an unforgettable experience.They traveled and cooked throughout Al Ain, Abu Dhabi, and Dubai. "We were across the world and trying to source products. We were traveling every week for these festivals…having to change the menu on the fly, in places where we didn't know where we were and didn't speak the language. It was trying- but fun!" recalls Ruiz.
Sushi and Seoul Menu
Sushi Rolls, Poke Bowls, Korean-style Wings, Bento Boxes, and more are offered daily at the Sushi and Seoul window overlooking the shaded Celery City Craft beer garden. Ruiz still loves to throw down on a good spicy tuna roll or tuna nigiri, but don't expect to find a trendy sushi burger or sushi pizza here anytime soon. Gazing at the instagram-worthy dishes we're photographing and tasting, each ingredient contributes a textural and flavor component. The attention to detail and precision in plating offers much more allure than a viral sushi trend.
He thrives on the collaborative spirit of the kitchen crew. Each brings something to the table and they are always learning and experimenting. Flavors are clean with a self-described "controlled chaos". Daily specials may riff on popular items and fresh ingredients as available. They source the best fish and expertly prepare their sushi with thoughtfulness and care, minus the stuffy, ultra lounge vibes. "We're fun folks, we chose Celery City because of the vibe. It's not stuffy, people are having fun" says Ruiz gesturing to the picnic tables behind us with diners enjoying their meals.
On the menu since day one, the Avocado Tower is a crowd favorite. Described as a layered stack of sushi rice, krab salad, spicy tuna mix, a bunch of avocado, torched spicy mayo, finished with sriracha, eel sauce, bubu arare, microgreens, and scallions. This generous portion is packed with flavor.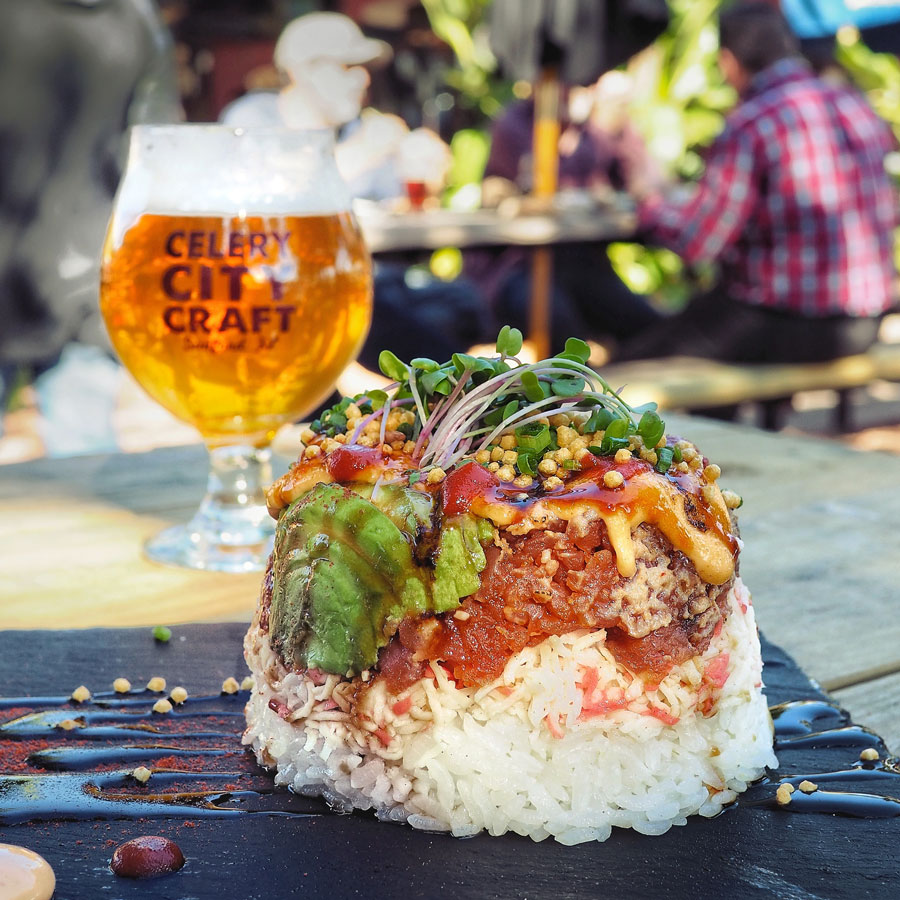 May you happen upon the rotating special of Tuna Tostones featuring Fried Plantain, Fried (battered) crispy Shiso leaf, seasoned and seared Big Eye Tuna Tataki cut into medallions, pickled red cabbage and carrot slaw, masago and jalapeño slices finished with eel sauce, honey and sriracha. This yummy dish is a symphony of crispy saltiness, crunchy acidity, zingy spice and remains nicely balanced with the stunning Tuna! While this dish is easily shareable, we bet you will want this plate for yourself!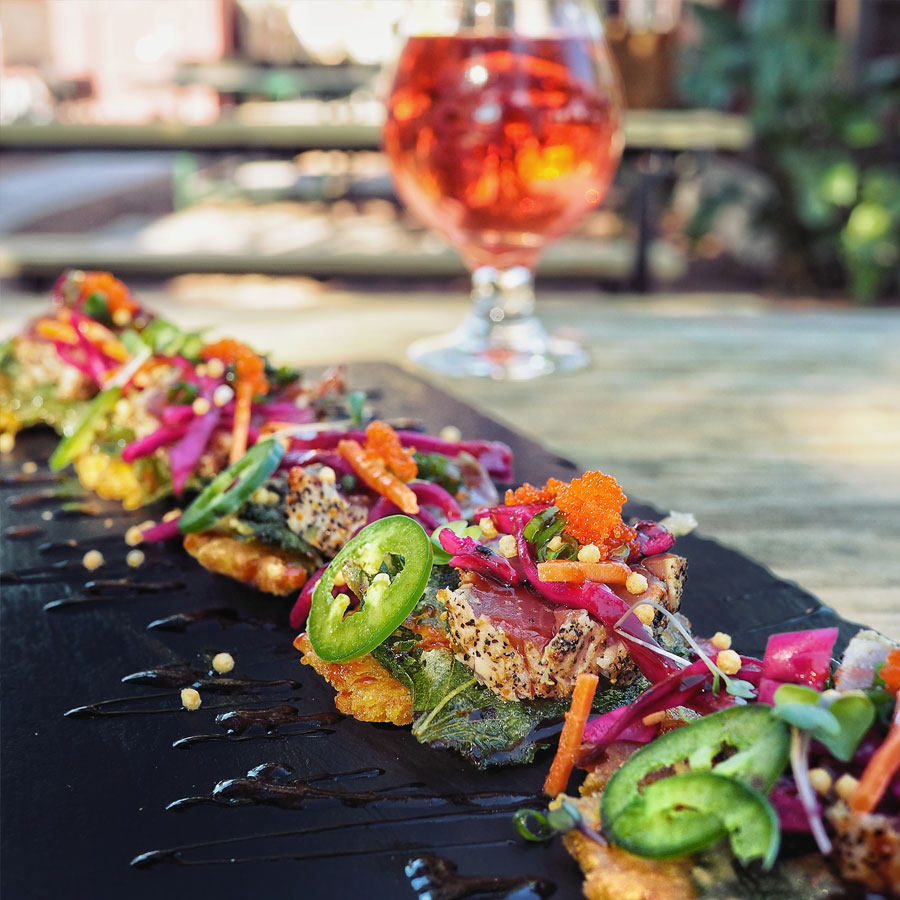 What are Korean-style Wings?
Sushi and wings? Yes! "We bring a lot of different elements to the table, from cooked to raw. It's exciting to serve another group of Central Floridians who haven't seen our fare. And, we've evolved with them. We sold wings on the truck sometimes, but now they are a whole thing here" says Ruiz.
Korean wings and Korean Fried Chicken have gained popularity with diners as the extra crispy coating remains crunchy after being coated in sauce. The double cooking technique keeps the chicken tender while rendering the fat in the chicken skin to guarantee an extra crispy fried chicken. Ruiz enlisted the help of a close Korean friend to test and develop the perfect recipe for their popular Korean-style wings. The wings are first baked until tender, then coated and fried to develop the signature crispy Korean-fried crunch that pairs perfectly with a craft beer.
Find a rotating selection of sauces including sweet and spicy Korean Seoul "OG" sauce and Ssamjang butter. Wing fans mark your calendar for Wing Wednesday, where 10 wings are $12 in two signature sauces, while they last (see their Facebook page for updated/discontinued specials).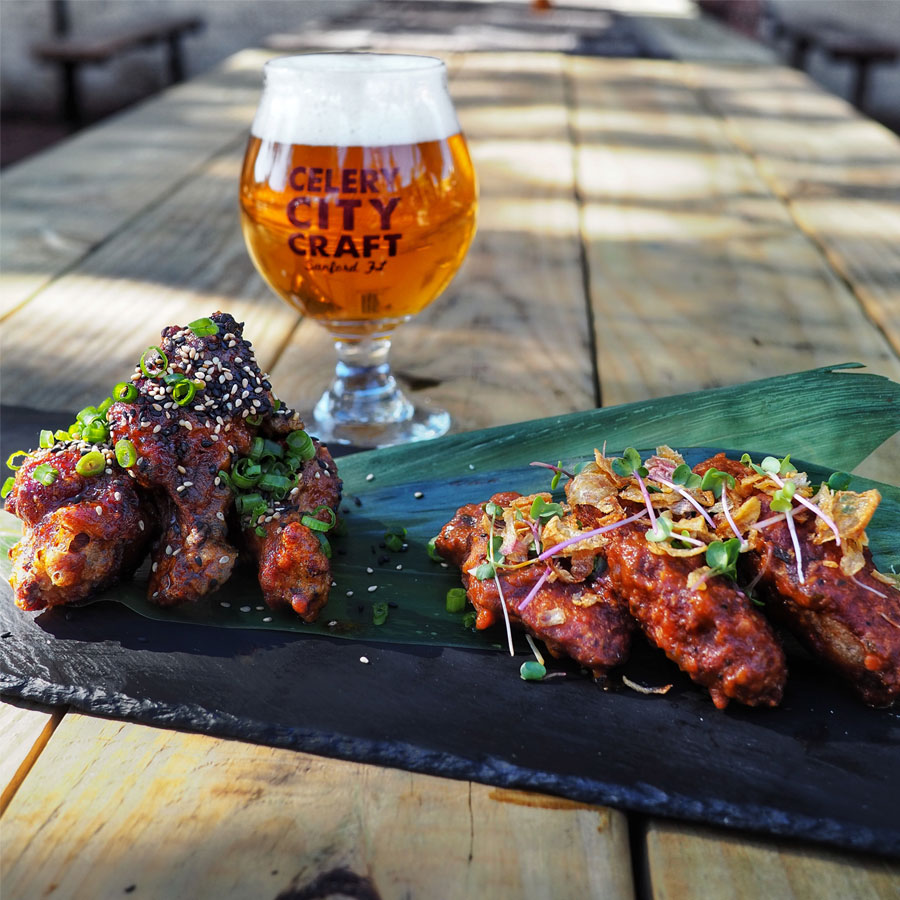 What goes well with wings? Craft beer! Celery City Craft offers over 50 beers on tap and shows a lot of love to great Florida breweries. Not sure what beer to order with your Sushi and Seoul food, just ask!
Sushi and Craft Beer Pairings
"We like craft beer and Celery City is a great collaborator. Everyone has tasted our food and can recommend a great pairing" affirms Ruiz. "We feel so lucky that we are able to serve food in a safe environment. We have such a support system, we are very thankful that the Celery City team is here and continuing to help us."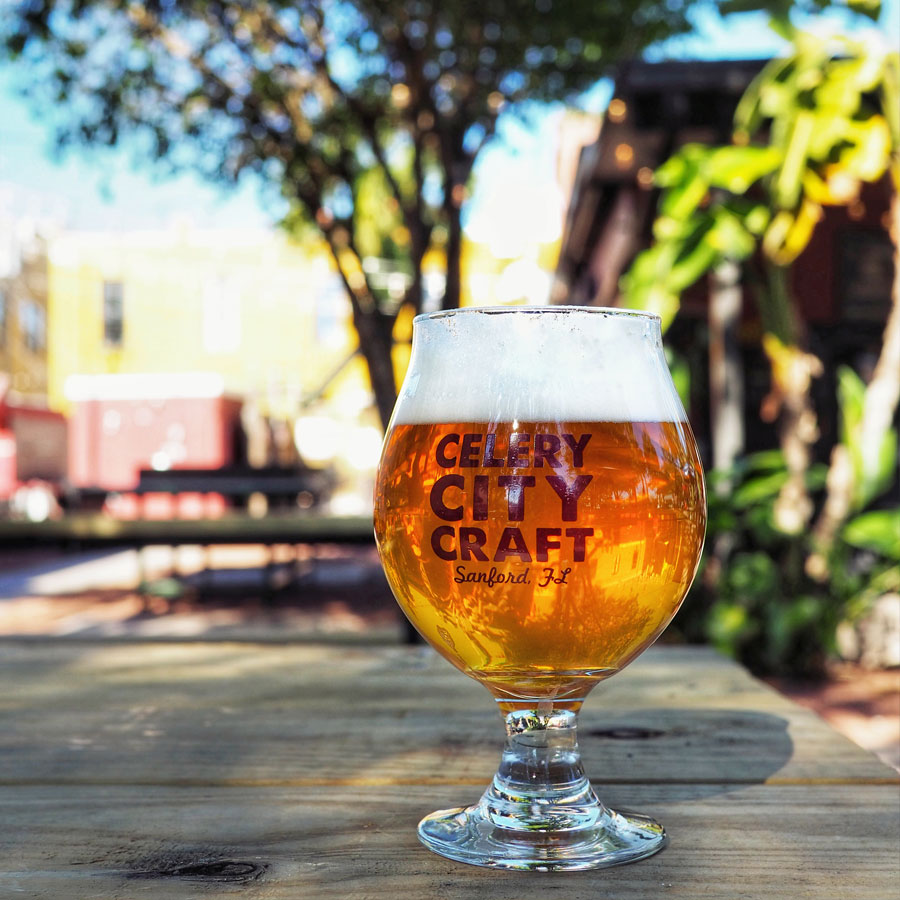 We can attest to the pairing prowess of the Celery City Craft team, with our menu items they recommended Boulevard's "The Calling" Double IPA and the B.Nektar Meadery "New Wave Lemonade" Mead with blueberry & lemon. Both were exceptionally yummy and unexpectedly delicious pairings with our Sushi & Seoul meal.
Inventive Menu Specials
Each visit to Sushi & Seoul offers your favorites with the bonus of new ways to experience their inventive cuisine. They are very active on Facebook and Instagram, posting pictures of menu specials allowing followers to order new dishes by picture. Chef Al thrives on being interactive with their fan base. "When someone cares about what you are doing, you are inspired to do more and it's been an incredible response," says Ruiz. Daily specials are often inspired by the freshest fish from their fish vendors, seasonal features, and built around new recipes they are researching.
We enjoyed a riff on the customer favorite "Tuna Squared" roll made with the addition of Salmon. A spicy tuna and cucumber roll is topped with Big Eye Tuna, avocado, jalapeño slices, masago, scallion and a flourish of edible gold leaf served with an addictive house honey wasabi sauce. The mix of tuna and salmon was scrumptious!
On another visit, we completely dug into the "Everything Bagel" roll special. The traditional salmon and cream cheese roll elevated with a sprinkling of everything bagel seasoning, topped with salmon sashimi, avocado, and micro-greens. Then drizzled with dill sauce, sriracha and honey wasabi sauce. It was such a fun combination of flavors and textures.
And just when you think you can't have another bite, Chef Al throws down with a slow roasted pork belly special battered in an airy mochi donut batter drizzled with a sweet syrup and powdered sugar for "dessert." Sounds crazy. But it was fantastic!
Those who follow Sushi & Seoul on social media are always the first to know of daily specials, new features, and special nights such as their Ramen Nights starring their often requested homemade Shoyu Ramen with slow roasted pork belly and soy egg. Be sure to check out the current selection of craft beers on tap to sip while at Celery City Craft.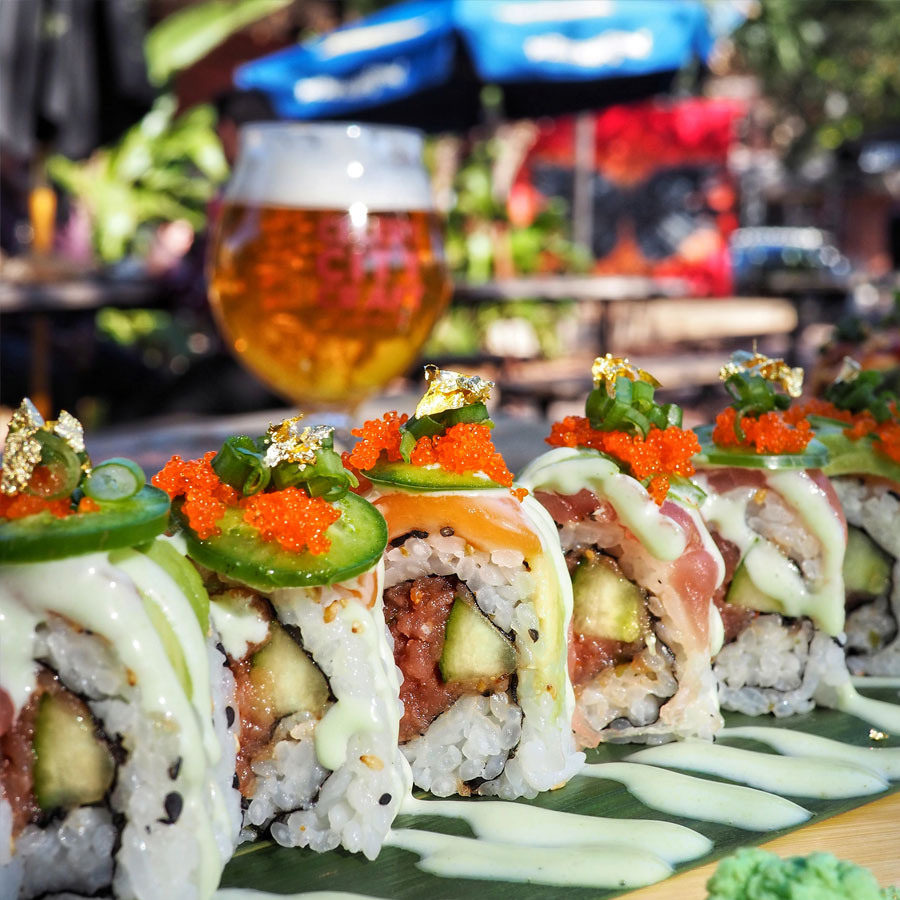 Grab a craft beer and soak in the ambiance of the Celery City Craft beer garden during your meal or get sushi to go with your next growler fill. Looking for an outstanding way to celebrate a special occasion, wedding, graduation or birthday? Sushi & Seoul can be booked for private dinners, catering drop-offs, small group sushi making and cooking classes, and private events- contact them via DM on Facebook and Instagram with inquiries.
The best advice we can offer is this: Sushi & Seoul is a "Must Eat" on your next visit to Historic Downtown Sanford. Chef Al always shows customers a good time by dazzling your taste buds.
Authors: Local digital marketing consultants, freelance food writers and bloggers Lisa Wilk of TasteCookSip.com  and Christina Thomas of GoEpicurista.com love to explore the culinary scene everywhere they go. Follow their foodie adventures on Instagram @TasteCookSip  and @GoEpicurista.