Adaptogens, herbs and mushrooms that can help ease bodily ailments such as stress, are taking the health food sector by storm. From reishi mushroom tinctures to turmeric lattes, adaptogens come in various formats and combinations. In Sanford, right now the only place I know you can buy adaptogens is at Raw Press Juice Co, located at the end of Sanford Ave. They serve generous solo servings of their adaptogens or offer it mixed in with their vast variety of açaí bowls, smoothies, and juices. Let's explore Raw Press Juice Co and their latest addition that the city is raving about: adaptogens!
BACKGROUND
Raw Press Juice Co is Historic Downtown Sanford's only smoothie and juice bar. They serve fresh salads, açaí bowls, blended smoothies, and cold-pressed juices prepared once you order. The "cold press juices" that you may have gotten from the store are pretty much always pasteurized, which means that many vital vitamins, nutrients, and enzymes are lost. Raw Press Juice Co juices don't have fillers and aren't heavily processed, so your body can extract more health-sustaining benefits from your ingredients.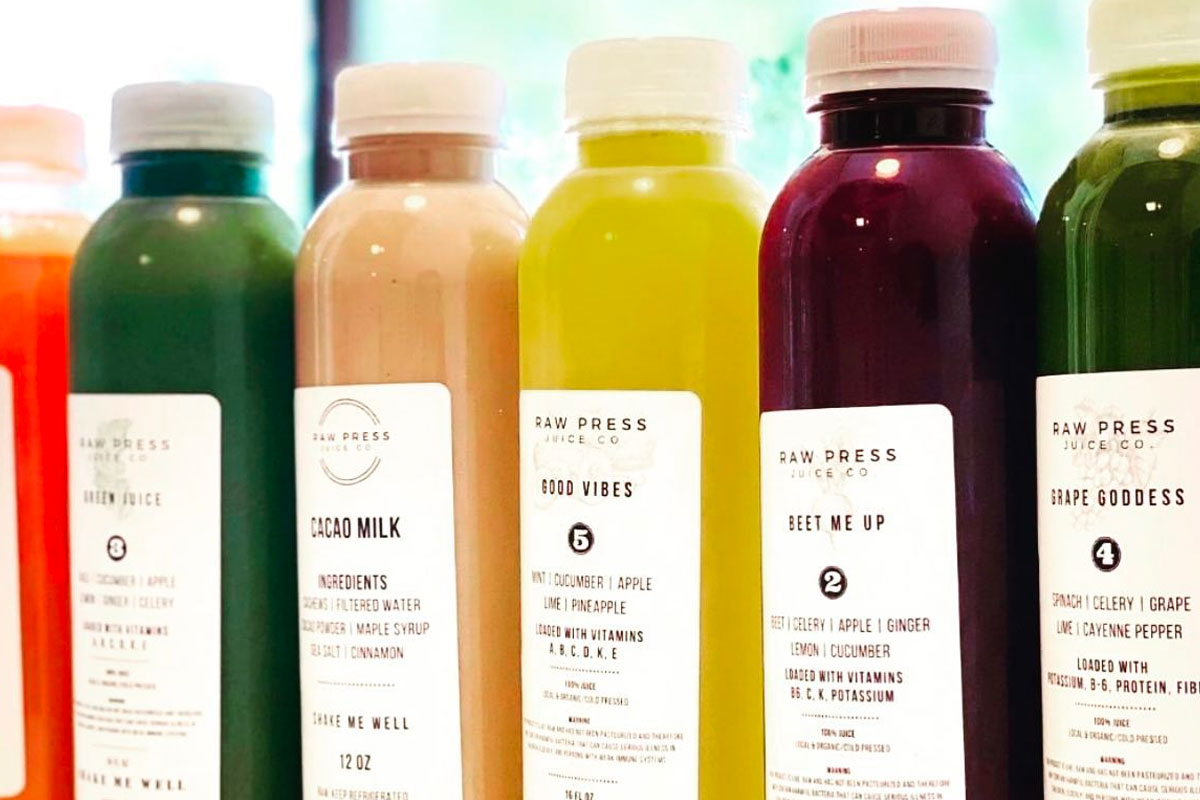 The core driving philosophy behind Raw Press Juice Co is simple: plants are medicine. Having gone through health issues over the years, the owners John and Melissa can attest to this fact more than anyone!
The Asheville, NC transplants moved to Sanford to assume Raw Press Juice Co in July 2021. They are a husband and wife team (married nearly 22 years) that has used their experience in both the food and beverage industry and the beauty industry, to bring healthy, innovative food to Sanfordites. They have fallen in love with Sanford, its culture, diversity, architecture, and life.
ADDING ADAPTOGENS
John and Melissa were motivated to add adaptogens to their menu because they had helped them personally for many years.
John, who had lost over 100 pounds off of juices and smoothies, swears by adaptogens to keep his mood consistent and his energy strong through the afternoon and evenings.
Melissa, who had a 20+ year career at Aveda, found that while some beauty products she had used before took months or years to pay off, adaptogens had improved her skin in as little as five days when she started adding adaptogens into her diet. She saw a difference, and that's saying something.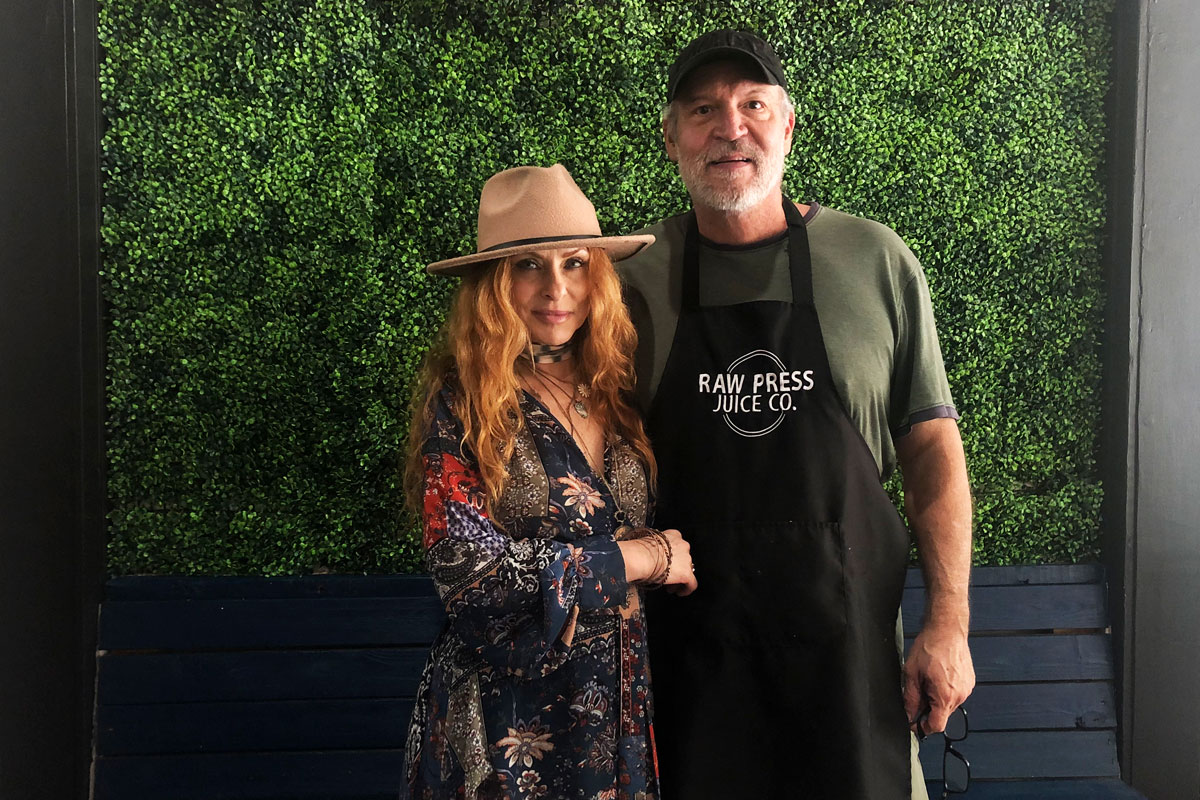 When considering what product line to add to their shop, they felt that adaptogens checked all the boxes: it was something they believed in, was unique in the Sanford market, and fit in seamlessly with their existing product line-up. Plus, they found a stellar wholesaler to partner with.
THE ADAPTOGEN LINE-UP
Adaptogens come in many formats: teas, tinctures, capsules, and Raw Press Juice Co's go-to, powders. If you remember nothing else, know that adaptogens are known for lowering stress and bringing your body back to homeostasis through the most natural means.
Around 70 plants and mushrooms are classified as adaptogens. Some you may have heard of: ginseng, holy basil, and even licorice. Others you probably have never tried, such as ashwagandha and astragalus, which you can both find on Raw Press Juice Co's list of adaptogens.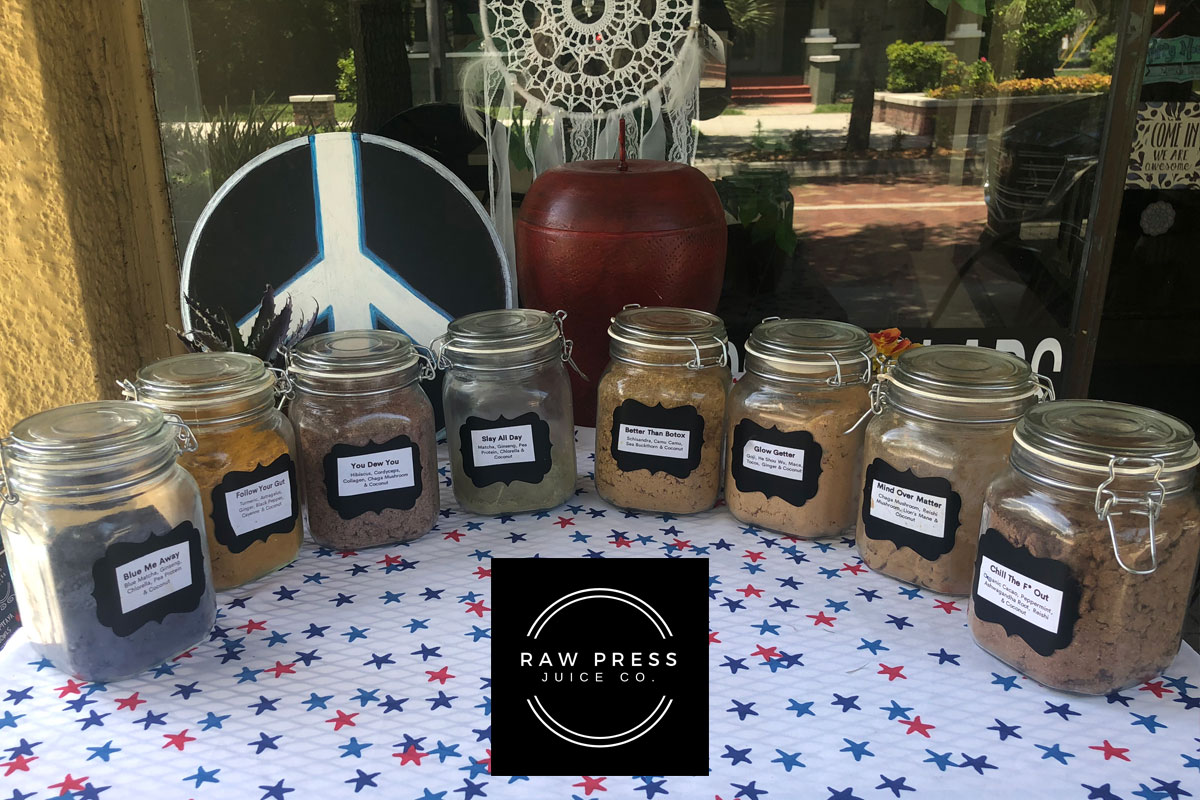 Raw Press Juice Co sources their adaptogens from a Virginia woman/minority-owned operation called Apothékary. John was turned onto them after reading a piece covering them in the Wall Street Journal. Currently, the only place where you can get Apothékary's products in the Orlando area is Raw Press Juice Co. Vendors go through a rigorous process to become approved to serve their products in a retail setting. They even have their own cookbook that shares how you can use their adaptogen blends in cooking and beauty (such as face masks).
Here is a list of the eight adaptogen blends you can order at Raw Press Juice Co:
Blue Me Away
Designed for increased energy and heightened clarity. Made with blue matcha, Siberian ginseng, chlorella, pea protein, and coconut cream powder. This is one of Melissa and John's shared favorites.
Follow Your Gut
This anti-inflammatory powerhouse is made with a blend of turmeric, astragalus, ginger, cayenne, black pepper, and coconut cream powder. This aids with digestion, with fairly immediate effects.
Mind Over Matter
Made with three mushroom blends–chaga mushroom, lions mane, and reishi mushroom–this coconut cream powder-based adaptogen increases focus, clarity and stamina. This is one of John's go-to adaptogens to avoid afternoon slumps.
Slay All Day
Designed to boost energy and support your gut, this Japanese matcha adaptogen also is blended with chlorella, ginseng root, pea protein, and coconut cream powder. This is part of John's morning smoothie to wake him up and keep him sharp.
Better Than Botox
Blended with camu camu, schisandra berry, sea buckthorn, and coconut cream powder this adaptogen is designed to keep you looking your best by improving skin quality to prevent signs of aging. A juice shot with a spoon of Better Than Botox and You Dew You is part of Melissa's daily morning regimen.
You Dew You*
A mix of mushrooms and flowers, this youth-promoting adaptogen is blended with hibiscus, cordyceps mushrooms, chaga mushroom, collagen, and coconut cream powder, and is designed to keep your skin healthy with a radiant glow.
Glow Better
This anti-inflammatory adaptogen is made with goji berries, tocotrienols, reishi mushroom, maca root, he shou wu, ginger, and coconut cream powder. It's also engineered to give your skin a beautiful glow.
Chill The F– Out
Crafted with reishi mushrooms, ashwagandha, raw cocoa, peppermint and coconut cream powder, this one got my attention for obvious reasons. It's supposedly a great relaxant, giving you a calming effect. Plus it sounds delicious.
*Notates that item is not vegan.
Adaptogens can be added to any smoothie, juice, or açaí/pitaya bowl – $3 for one blend or $5 for two blends.
CONCLUSION
In times such as this, it's wonderful to know that there are natural, safe ways to reduce stress and keep calm through the original medicine: plants. From chaga mushroom to hibiscus, adaptogens also allow people to try new beneficial herbs and fungi that could vastly improve their life. Plus, when it's as easy as adding a scoop to a smoothie or açaí bowl you already love, it's never been easier to level up your adaptogen game at Raw Press Juice Co.
Raw Press Juice Co
516 Sanford Ave
407-725-2620
Mon-Fri: 8am-6pm
Sat: 10am-5pm
Sun: Closed