9th Annual Sanford Mardi Gras event to benefit Meals on Wheels on February 18th
Grab your beads and let the good times roll! Historic Downtown Sanford will be bringing the Big Easy to Central Florida with the ninth annual Mardi Gras Street Party.
On Saturday, February 18th from 4pm-9pm, guests can enjoy great food, music and fun for a cause at this beloved community event.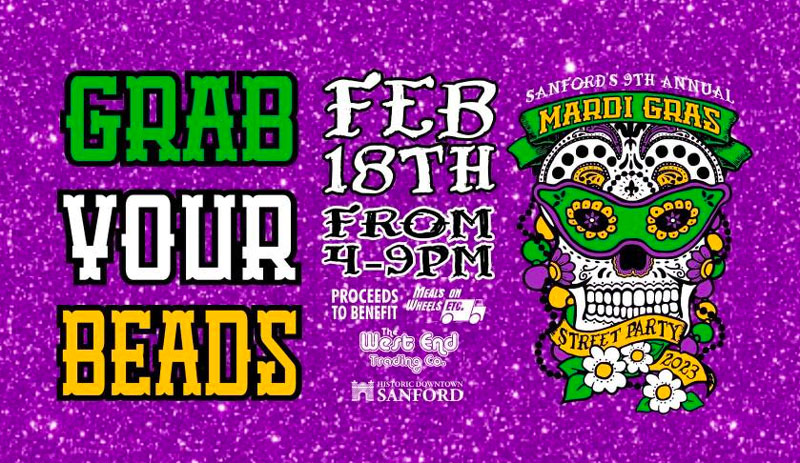 The festival, hosted by The West End Trading Co. and Historic Downtown Sanford ®, will take place in the 'Famous L' of beautiful Historic Downtown Sanford and feature food trucks, live music, craft beer, cocktails and more.
Live jazz music will fill the air courtesy of Kid Dutch Perseverance Brass Band and The Smoking Jackets, two of Florida's favorite brass roots jazz and cover bands.
The parade starts on 6th Street and Sanford Avenue where guests can start gathering at 3:30 pm. When the clock strikes 4 pm, attendees will sashay their way down Sanford Avenue alongside musicians, dancers, artists and golf carts to 'The Famous L' between West End Trading Co. and Celery City Craft where the party continues.
"The Mardi Gras Street Party is one of our favorite Sanford events and we're so excited to celebrate with everyone again!" said Paul Williams, owner of The West End Trading Co. "It's a great way for the community to support Meals on Wheels and enjoy local vendors, live music and delicious food and drink."
We have a video of all the fun we had from 2022 as well as an awesome photo gallery!
Check out dozens of more pics on our Facebook photo albums.
https://www.facebook.com/media/set/?set=a.2986973834947846&type=3
Photos Copyright © Historic Downtown Sanford®
The beneficiary, Meals on Wheels, has been providing home-delivered meals and transportation services to the seniors of Seminole County since 1973. In the past eight years, the Mardi Gras Street Party has raised thousands of dollars for this charity.
The 9th Annual Mardi Gras Street Party is sponsored by Loggerhead Distillery, Abita Brewing Company and NÜTRL Seltzer.