Since its construction in 1926, no architectural structure on Lake Monroe has commanded the lakefront like the old Forrest Lake Hotel in Sanford, FL.  As one of the oldest and largest landmarks in Sanford, the building has served a variety of functions over the years, but was at the height of its grandeur as a hotel, operating as such until closing in 1963.
Better known locally as "the Mayfair", it was renamed the Mayfair Hotel after William E. Kirchhoff, Jr. purchased it in 1937 and renamed again the Mayfair Inn after Horace Stoneham, owner of the New York Giants baseball club purchased it 1947.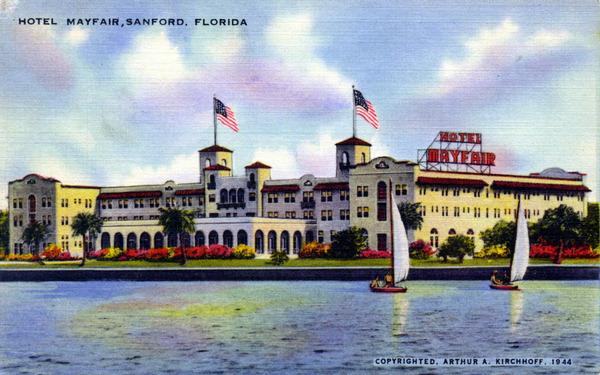 Then after operating over five decades as both a school for boys and the headquarters of a global missionary organization, Key Performance Hospitality Group of Sanford, FL is renovating and reopening the building as a 'historic hotel', and is investing approximately $36 million into the structure and amenities, with the vision of returning this Mediterranean-styled resort to its old glory.  The group projects the old Hotel Forrest Lake as a '4 Diamond, resort-style' hotel with ambitions of being the finest hotel in Seminole County, a project looking to change the dynamic both along the lakefront and in Historic Downtown Sanford.
Simply put, this hotel is anticipated to be the première event and marriage locale in Seminole County, featuring among other amenities an onsite chapel, an Olympic sized pool, and 130 spacious 400-500 square foot suites.  And that's huge news for Sanford.
It is hard to understate the economic catalyst this project will be for the City of Sanford, and in particular the Historic Downtown Sanford area.   Once completed, there will be over 8000 square feet of multifunctional event space for weddings, conventions, and more, bringing an anticipated 50,000 new visitors to Sanford annually.
This is humongous news for our local restaurants, bars, and retail establishments clamoring for more foot traffic.  Additionally, Key Hospitality predicts that this endeavor will provide upwards of 70 new jobs, and return the property to the tax roll for first time in over 50 years – schools and missionary facilities are tax exempt entities.  Resort hotels are not.
Beyond the positive aspects of new jobs, property and tourism taxes funding our city and county budgets, and new visitors discovering our beautiful little city, Key Hospitality is dedicated to the retention of the amazing history and heritage of the structure.  By registering the hotel nationally as a 'historic hotel,' and keeping historically classic attributes such as the grand sweeping staircase and the old-fashioned crank elevator, the old Hotel Forrest Lake will bring visitors back in time.
Guests and visitors can expect those lakeside veranda views that were once the envy of 1930s stars and starlets will return in early 2021.  As Historic Downtown Sanford continues to emerge as a global tourism destination with its food, drink, and events, the momentum seems to just be beginning on a grander scale.