The doors have finally opened on The Capital Room Bar located at 102 E. 1st Street in Historic Downtown Sanford although they're still in their soft opening phase!
The Capital Room is poised to bring a touch of the finer things to our downtown. After speaking to the owners and being shown their vision as they built out Sanford's newest bar concept, the Capital Room is more experiential than the regular watering hole. Dripping opulence and materialism, this establishment seeks to be "a place where Rockefeller would come," and the focus here will be on an elevated cocktail bar with the hallmarks of quality and craftsmanship. Featuring high-end food and drinks you will not normally experience, patrons are encouraged to "be one of the first to experience real Capitalism!"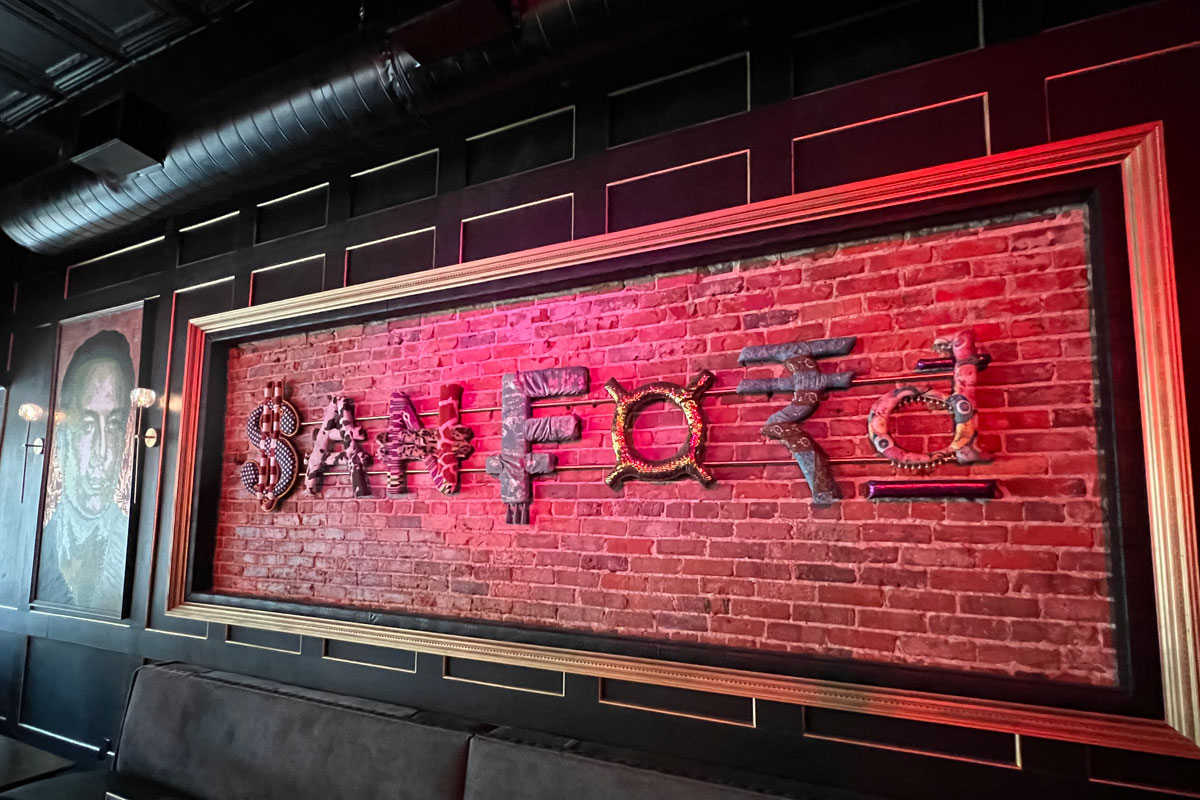 The Capital Room will have "exquisite craft cocktails, fine wines, and a generous selection of beers, along with tapas and items freshly made for your snacking pleasure. It's a cocktail bar for the enthusiast that focuses on true service," says one partner. Along with high-end, boozy desserts, charcuterie and flatbreads, the Capital Room will "offer a theme often overlooked" in the industry by promising to expose the crowd to opulent desserts and make the Historic Downtown Sanford nightlife upscale and dressy while toeing the line to avoid being pretentious. The bar will use their own juices and syrups, fresh and locally Florida grown, with over 600 spirits lining the tall, vertically imposing shelves behind the bar. "The higher you go, the more rare or exclusive the selections. Brands must be merit-based or have a story line to get on the shelf," says one partner.
Entering the space inside, I was greeted with large portraits of John D. Rockefeller and Elon Musk, huge steel columns that appear to be on loan from the Federal Reserve, and a dynamic "all seeing eye" mural depicting symbology usually seen upon currency. The Rockefeller and Musk paintings are the work of a local artist, who will be among many artists that have works displaying "industrialist or entrepreneur merit" for sale. There is also a large flex space that will showcase work and host vendors, and also double as a dance floor for certain events, with sound and lights the owners assure will be breathtakingly on-point.
"Fun. Enthusiasm. Dancing. There will be something to impress each and every guest, every time they come," says one partner. Some nights will be themed – EDM, House, Techno, and 80s music will all be in the rotation, and the bar expects to find a weekly rhythm after getting rolling. Nights and events will overtake the flex space to pay homage to the classic clubs CBGB, Studio 54, and the Cotton Club, among others. "This space has history," says one partner in the Capital Room, "and we are making it look historic and preserving that history."