18 months have gone by since I first visited with Mark Nation to discuss his plans to build a destination restaurant in Historic Downtown Sanford. Sitting in his old Longwood offices, and then walking the city block-sized parcel spanning south and west from 2nd Street & Oak Ave to 3rd Street & Myrtle Ave, his ambitious plan consisted of two distinct phases of development – a restaurant and a large green space – that would alter forever the look, feel, and flow of Historic Downtown Sanford.
Currently, Nation Construction is rapidly nearing completion of Phase 1, and in a few short months, doors will open to "Keely's Garage," an upscale dining experience focused on coastal cuisine and named after the Buick dealership that was the building's original 1918 occupant.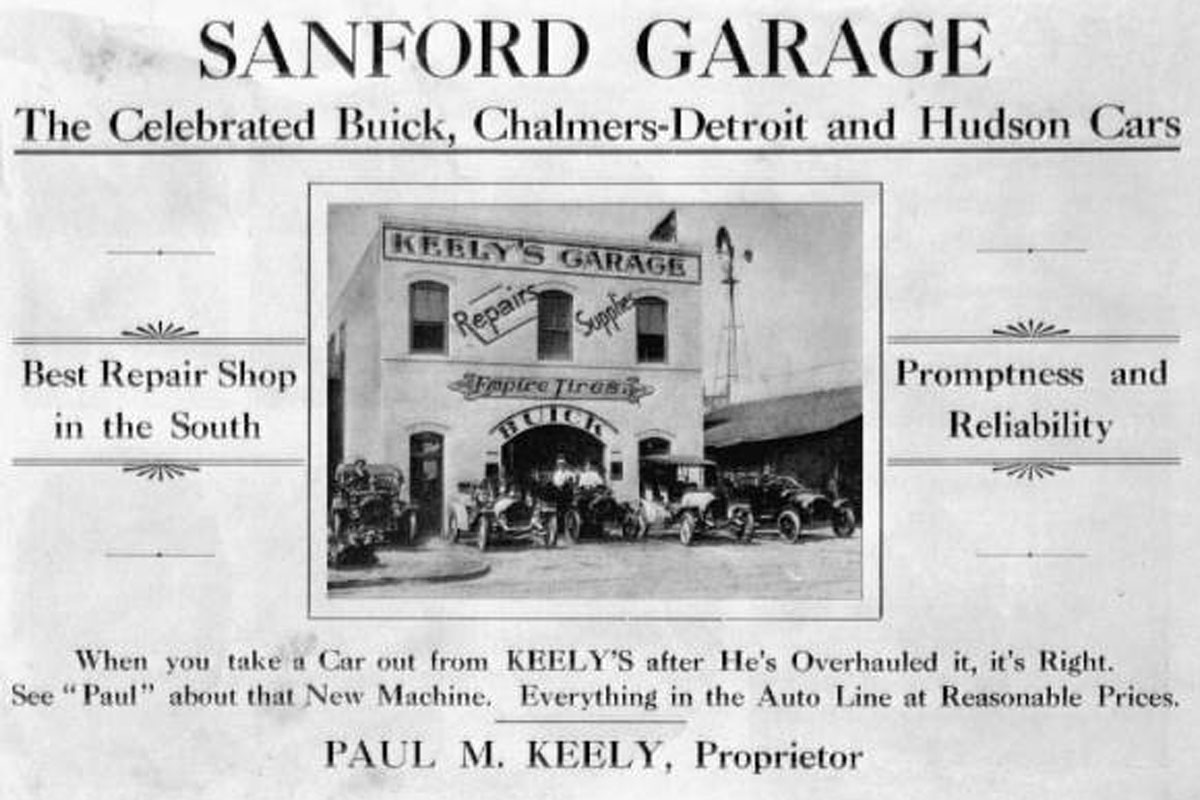 Nation's project has a sweeping vision that entails a remodel of the existing building, the addition of a two-story expansion for indoor and outdoor seating, and two catwalks connecting the restaurant and mezzanine-level event center to a distillery. Keely's Garage will be aimed at restoring, repurposing, and remembering a historic block and over 100-year-old building, while continuing to revitalize the west side of Historic Downtown Sanford. "Wait until you see the reveal," says Nation. "We rebuilt the arch, fortified the brick. I want to restore it to the original and rebrick the front. We spent so much time and money not just to toe the line re: preservation, to make this into a thing of beauty, the original."
Over the last few months, work has begun on the interior, and Nation praised the City of Sanford on what has been a "great partnership." The City's work on the Myrtle Ave streetscape project has added visual appeal and additional parking spots, and additional development plans call for 'over and above' the required parking, with a 50-space paved lot being placed on 3rd Street, to the south side of the restaurant. The City of Sanford and Nation also split the cost of installing all power lines underground, providing a clean look for the destination restaurant, with the City footing the bill for this work on Myrtle Ave, and Nation paying for the underground installation on 3rd Street.
As for the restaurant itself, the entirety of the second floor will be outdoor seating, overlooking a stage that will be surrounded by a spacious 24-foot-wide open green area. The lower level of the expansion will provide twenty feet of indoor seating, with a ten-foot outdoor seating area facing the green area and stage from ground level. Adjacent and above each side of the stage, the mezzanine will have enclosed catwalks on each end, spanning the distance over the green area and taking guests to the two-story distillery which will front on 2nd St. It will also soon have the 'best view in town,' with a spacious rooftop bar being placed on the new building that will occupy the north side of the lot, fronting on 2nd Street. With a glass wall around the perimeter, you will be able to "see people up there from first street," says Nation.
"This concept will be something that you'll want to come and see," said Nation. "(Keely's Garage) is a destination location that will draw from DeLand to Orlando and even further. Over 12,000 square feet of venue space, a rooftop bar, and lots of green space and room to enjoy yourself." Nation envisions an outdoor music venue and will be installing concrete pads to accommodate food trucks and has more ideas in the works. "It's a place that you want to go to, there will be nothing like it anywhere." To deliver the utmost in consumer experience, the group is working with Restaurant Partners, Inc (RPI), a food and beverage leader specializing in restaurant development, consulting, and operational efficiencies for resorts, hotels, marinas, and other upscale clientele to design the uniforms and theme.
Completing the vision, Nation is keeping the west 1/3 of lot – facing Tuffy's Music Box and Lounge – as an inviting green space and open area, replete with Adirondack chairs and garden features. Nation plans on installing a splash pad for families to be able to sit, relax, cool off, and order drinks. Splash pad will also be used for Saurday morning cyclists and runners to enjoy brunch and cool off.
The City of Sanford is very excited for the forthcoming additions to downtown. Community Redevelopment Agency Executive Director Pamela Lynch states "What we commonly refer to as the 'Nation Project' is a game changer for Historic Downtown Sanford. The project will contribute to Sanford's superb quality of life by adding to our food, beverage, and entertainment district scene. The Community Redevelopment Agency recognized these qualities and helped in the project's redevelopment efforts. Finally, we're thrilled by the adaptive reuse of the buildings that make up this exciting project!"
CONSTRUCTION TOUR