Rebrand from Executive Cigar Shop & Lounge Highlights Blend of Tobaccos, Blend of Customers & High-End Cocktails
In late 2022, Executive Cigar Shop & Lounge – a premier cigar lounge situated on the lakefront of Lake Monroe in Historic Downtown Sanford – began a metamorphosis into a true destination for the craft cigar and drink connoisseur. With the entry of local businessman Joe Dalton as managing partner, and cigar expert and enthusiast Jason Falkenberg as general manager, the profitable and successful cigar lounge changed its focus and began to evolve. To match this new strategy, direction, and energy, one of Central Florida's preeminent spots to enjoy high-end tobacco and cocktails is rebranding to Blend & Barrel. "'Blend & Barrel' speaks to the unique cigar brands we carry, especially the boutique and locally-based brands, as well as the high end barrel bourbons and whiskeys on the drink side," said Dalton. "It reflects the newer brand model, our high-end cigars and craft cocktails."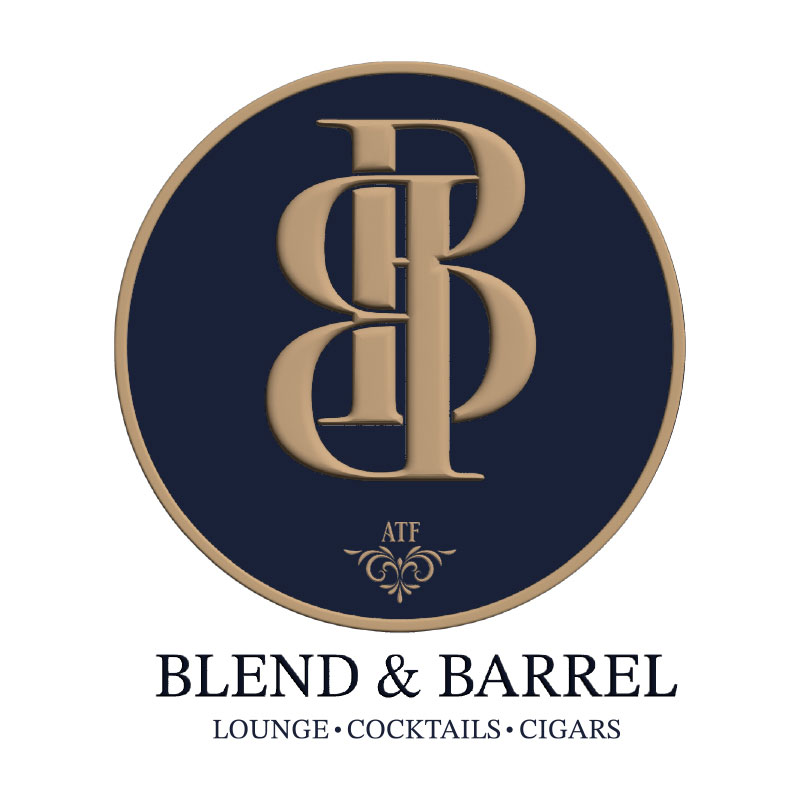 Central Florida cigar aficionados have long been flocking to this premier waterfront location for the upscale experience, events, and 'blend' of clientele unlike any other local cigar-focused option. Patrons have no doubt noted three amazing selling points; the breathtaking lakefront views of Lake Monroe, a world class ventilation system, and first-class customer experience both inside the spacious lounge and also extending to the large wrap-around patio. Over the last year, Dalton and Falkenberg, along with founder Tom Darnell, who remains involved strategically, have worked hard to build upon this base and "give our guests an experience, not just a transaction," according to Falkenberg.
Blend & Barrel has built a culture upon a tremendous team and staff, from the bar manager and bartenders to dedicated tobacconists who accompany you into humidors. The quality cigars and drinks are coupled with custom hand-made fedoras, upscale timepieces, and other accouterments of the cigar culture. This has been buttressed by hands on management – there is rarely if ever a time when either Jason or Joe is not present to welcome patrons – whose backgrounds and skills complement each other well. Managing partner Joe Dalton grew up locally, and is well-connected within Central Florida, having owned other area businesses and serving on a variety of boards. General Manager Jason Falkenberg comes from a restaurant background where he routinely opened new locations, and is the man behind Ash Quarterly magazine, a well-known cigar publication with a cigar rating system. Both have been guests at this lounge since its opening and know the clientele well.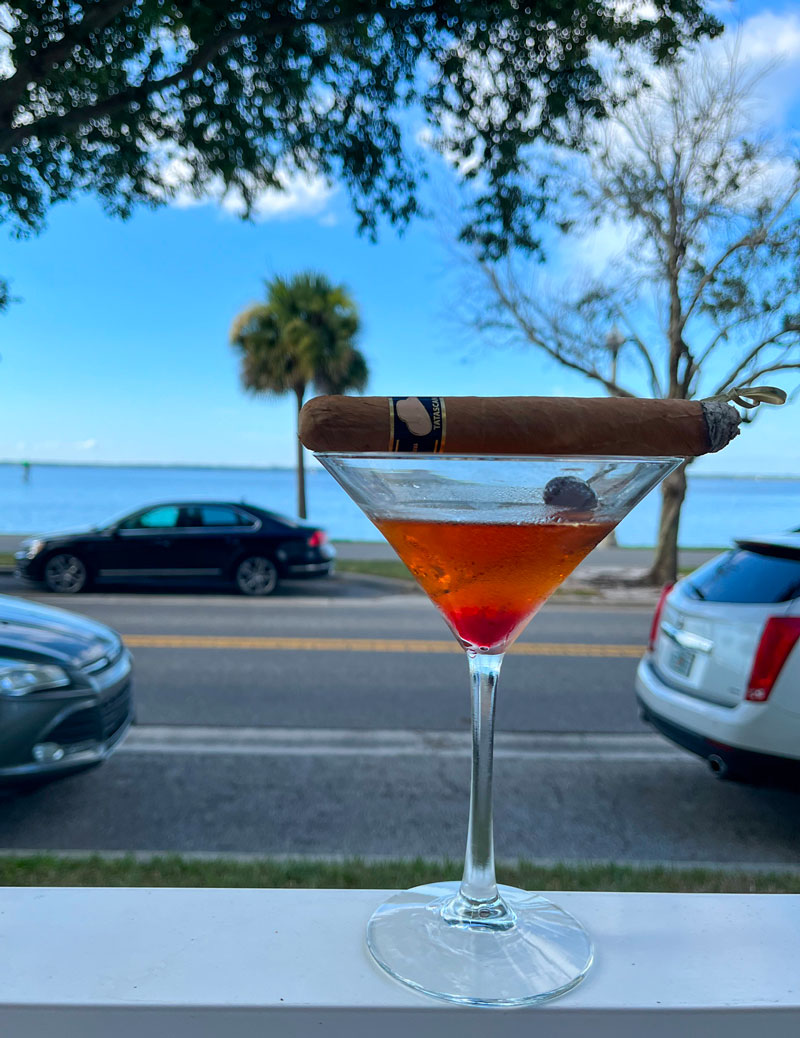 Dalton and Falkenberg have been intentional with their selection and promotion of events. At the monthly 'Sunsets and Cigars' event, held the first Tuesday of each month, customers may purchase a sampler pack of 4 cigars (at an extremely friendly price) that includes an Ash Quarterly "ratings card." Quarterly magazine launches will be held at Blend & Barrel and include the individual or brand featured on the cover to cross promote and provide an experience for attendees. Recently, I attended one of Blend & Barrel's monthly 'Latin Nights', where the outdoor space had a live DJ on the 1's and 2's on the patio, a Cuban food truck providing tasty bites, while inside the spacious comfortable lounge the proprietor of Cordoba & Morales cigars was personally hand-rolling what are currently the finest, freshest cigars in my humidor. Live music offerings also include a saxophonist during monthly 'Wine Down Wednesdays' and weekend performers.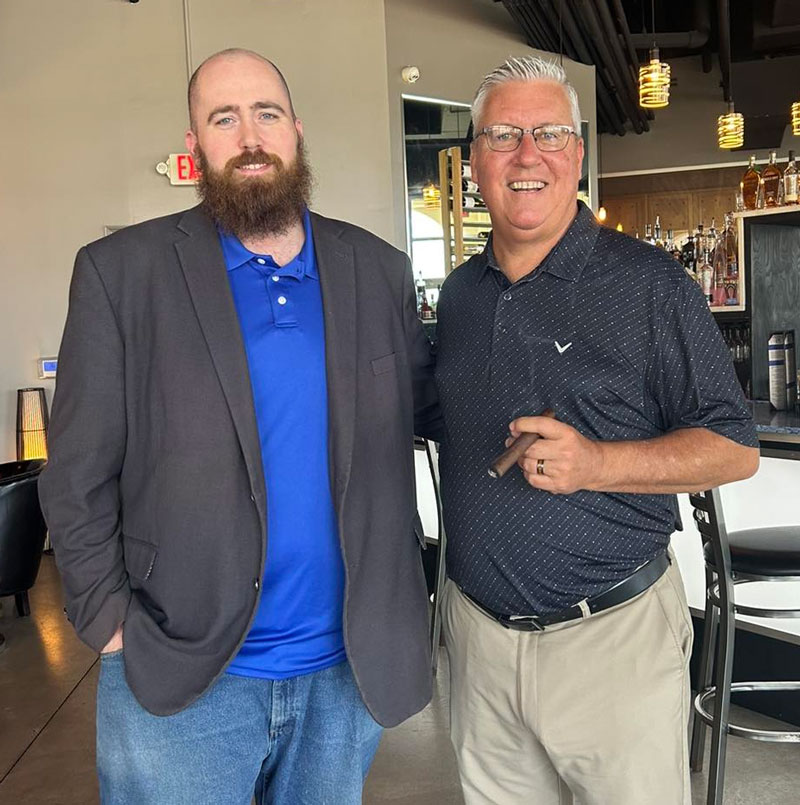 The team has also worked hard on sourcing offerings for their diverse clientele. Dalton notes that "part of change has been the ability to work directly with brands and management teams. We are very selective about our lines and variety. We carry four very local brands." Falkenberg added that "we fill our humidor with the right cigars, and curate the blends selectively. We do not just carry the 'big names.'" Part of this sourcing journey has included going to the actual tobacco farms, where the team learns from and works with brands to develop house blends.
The rebranded name focuses more on the identity of the lounge, and where the direction of the enterprise is headed. Blend & Barrel not only describes the blends of tobacco, barrel-aged drinks, and blend of patrons and events, but can be used universally as additional locations for lounges are sourced and opened. Dalton stated that "We are currently looking at other locations, but they must be the right location to fit our model."
Smoking cigars is like falling in love. First, you are attracted by its shape; you stay for its flavor, and you must always remember never, ever to let the flame go out. By offering a unique experience and a cohesive business team with the passion to bring this concept together, Blend & Barrel in Historic Downtown Sanford offers a cigar scene that promises to keep the flame lit for a long and enjoyable time.
Blend & Barrel
225 West Seminole Blvd
Sanford, FL 32771
321-926-3611
Website: https://blendandbarrel.com/
Facebook: https://www.facebook.com/blendandbarrel
Instagram: https://www.instagram.com/blendandbarrel/