Brews Around the Zoo, presented by Wayne Densch, Inc., is returning for its twelfth year at the Central Florida Zoo & Botanical Gardens on Saturday, April 13 from 6 PM to 10 PM.
This wildly popular event directly supports the Zoo's animal welfare, conservation initiatives, and education programs.
Over 1,800 guests are expected to attend this adults-only night featuring food samples from local restaurants, live music, special animal encounters, and over thirty different craft beers. Tickets for the event are all inclusive for beer and food samplings and will go on sale through UNation on Friday, February 1 at 10:00 a.m. Multiple ticket options are available.
The Zoo will also host A Taste of the Wild Beer Pairing Dinner, featuring beer from Wicked Weed Brewing based in Asheville, NC. This year, the dinner will take place the evening before Brews Around the Zoo—Friday, April 12 from 6:30 to 9 PM. Tickets to A Taste of the Wild Beer Pairing Dinner include General Admission tickets to Brews Around the Zoo on Saturday.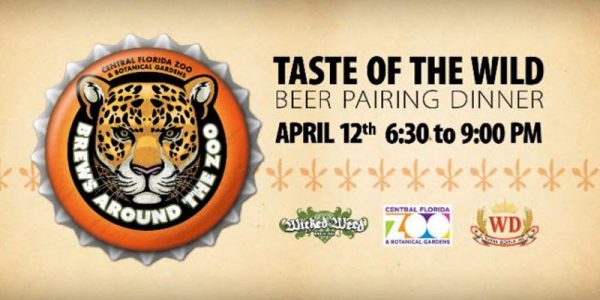 This event is held rain or shine. All guests must be 21 years of age or older to attend; a valid ID will be required along with your ticket upon admission. Guests with infants and/or small children will not be permitted to enter the gates under any circumstances.
Sponsorship opportunities are still available. To obtain more information please contact the Zoo's event manager by phone at 407-323-4450 ext. 103 or e-mail at megans@centralfloridazoo.org.
###
Central Florida Zoo & Botanical Gardens is home to over 350 animals in Sanford, Florida. As a not-for-profit organization, it is a leader in conservation, providing experiences that excite and inspire actions on behalf of wildlife. More information is available at www.centralfloridazoo.org.
Seminole Aerial Adventures at the Central Florida Zoo is a self-propelled challenge course for all ages. Woven into the natural forest are three courses designed to test you, physically and mentally. Swing, climb, and balance across dancing logs, tight wires, rope bridges, nets, & exhilarating zip lines. This featured attraction, just before the Zoo's entrance, gives both nature lovers & challenge seekers the opportunity to enjoy the thrill of adventure in Central Florida.
Orianne Center for Indigo Conservation is a cutting-edge conservation facility dedicated to propagation of and reintroduction of the federally protected eastern indigo snake. More information is available at www.centralfloridazoo.org/about-the-zoo/ocic.