Thinking of exploring Historic Downtown Sanford but don't know where to begin? We've planned the ultimate itinerary for you to have a great day and night of Sanfording! Just a quick trip north of Orlando, Sanford is one of Central Florida's oldest cities on the St. John's River with plenty of history and tons of things to do to keep you busy.
Stay in the iconic, Famous Tiny Houseboat, grab your golf cart, and hit the town! There are so many restaurants, coffee shops, and craft breweries for you to explore, so don't forget to bring your appetite either!
1. Arrive at The Famous Tiny Houseboat
There's no better place to stay in Sanford than the Famous Tiny Houseboat. Located right on the water in the marina, get your sea legs and feel what it's like to sleep on the water! Named 'Downtown Dharma', this tiny house was made famous after being built on HGTV's Tiny House Hunters.
Wake up to beautiful views of the lake and fall asleep to the gentle rocking of the waves. It's walking distance to everything in downtown, there's truly no better way to stay and feel like a local in Historic Downtown Sanford. The Famous Tiny Houseboat books up fast, so be sure to snag your spot at www.FamousHouseboat.com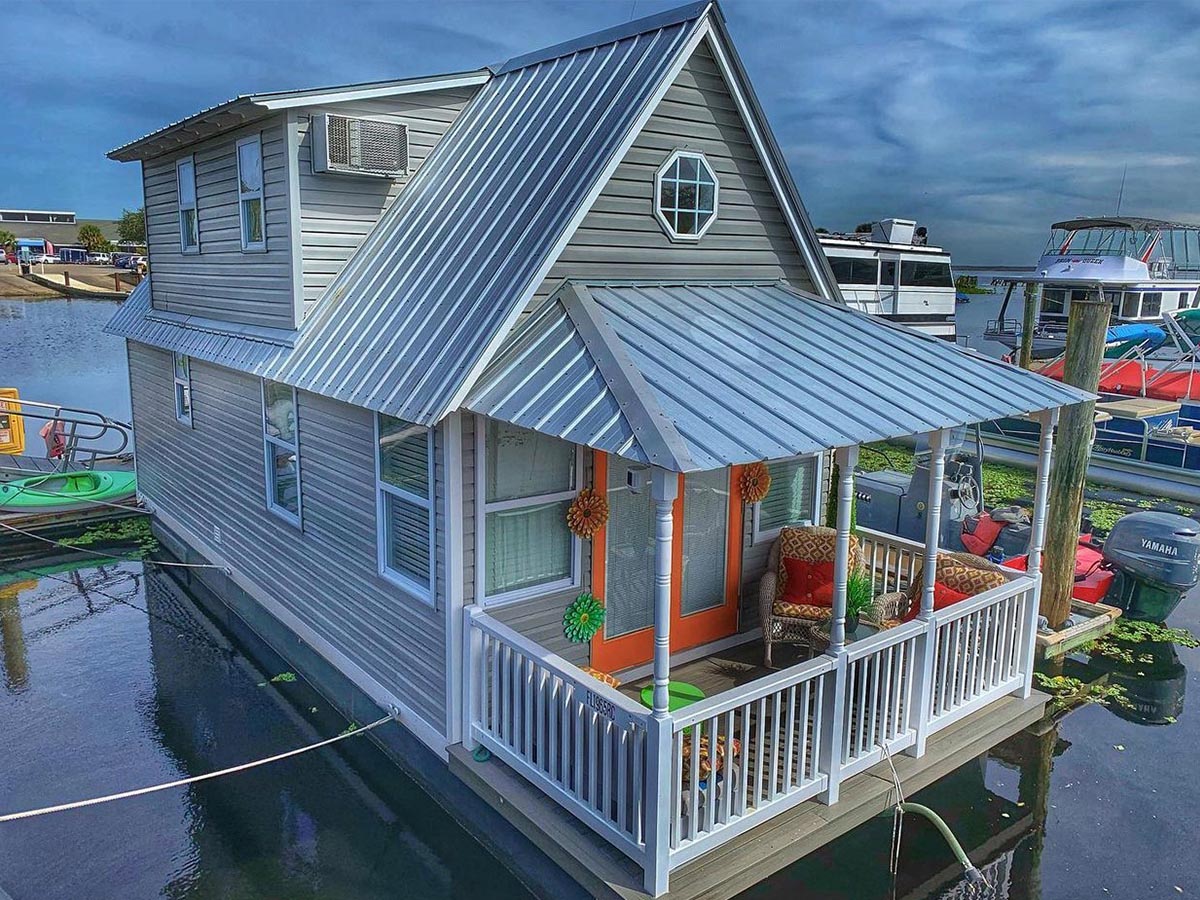 Location: 531 N. Palmetto Ave. B-Dock Sanford, FL 32771
Photo Source: https://www.facebook.com/FamousTinyHouseboat
2. Pick up a golf cart rental from SanfordFun.com
After you've checked in and settled into the beautiful city, it's time to pick up your golf cart that you rented from www.SanfordFun.com
One of the best ways to explore the city is how the locals do it, which is cruising around in their decked-out golf carts! Cruise through the downtown area with 25 historic buildings, or zip around the residential areas with over 430 historic homes to see. Head on over to the riverwalk and catch beautiful views of the boats coming in and out of the marina.
The golf carts are easy to drive, street legal, and have all been cleaned and sanitized for your safety. Now you can sit back, relax, and enjoy your day!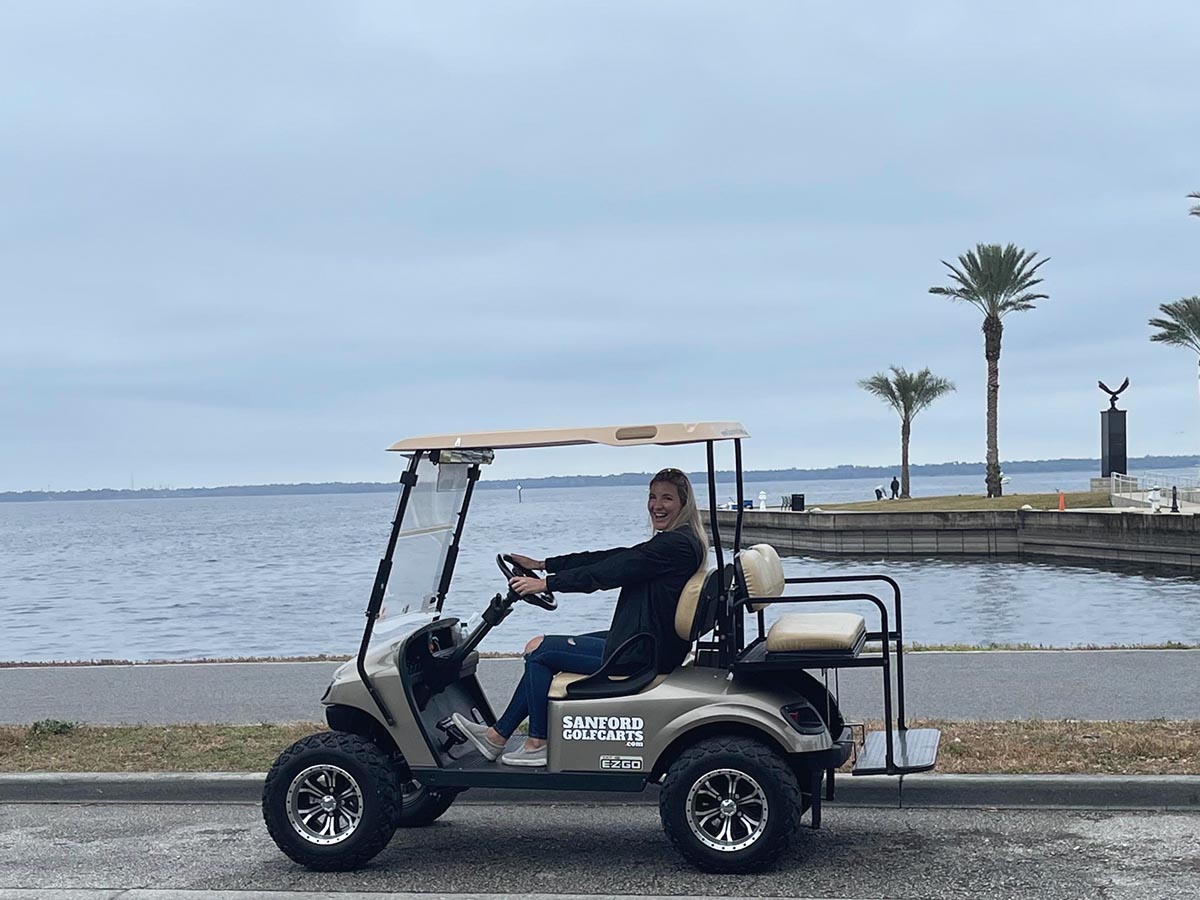 Location: 307 E. 2nd St. Sanford, Florida 32771
3. Light lunch and craft beer at Celery City Craft
Driving around and exploring the city sure works up an appetite, so why not head over to Celery City Craft for a light lunch and a craft beer. Wondering how they got the name Celery City? Sanford is known as the Celery City because of the large amount of celery farming the town once had! But don't worry, there's more to munch on than just celery.
Celery City Craft has over 50 beer taps, 2 wine taps, and many local Florida favorites! For a light lunch you can grab a delicious sushi roll from Sushi & Seoul, or even a traditional Korean street food item.
Don't forget to stay up to date with their social media, they're always hosting fun and exciting events!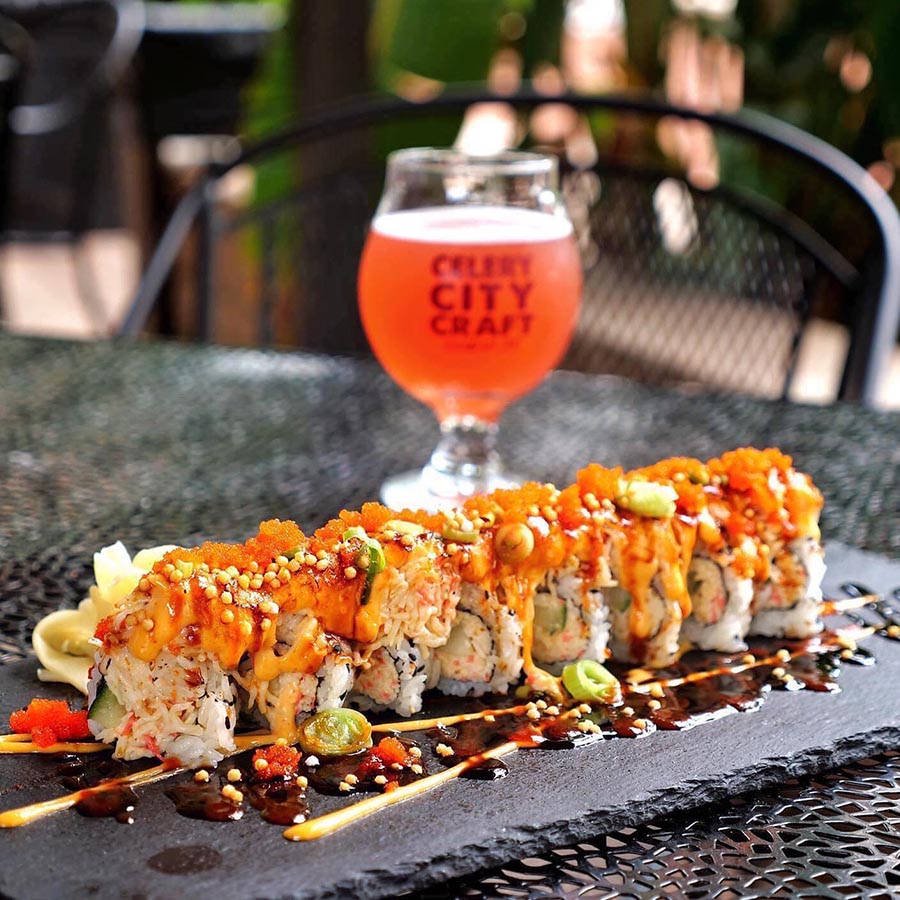 Location: 114 S. Palmetto Ave. Sanford, FL 32771
Source: https://www.facebook.com/CeleryCityCraft/
4. Beer crawl around Historic Downtown Sanford 
Up next on our Sanford tour has got to be to continue your beer crawl through Sanford Brewing! Sanford Brewing is all about good beer, great friends, relaxing, and enjoying Southern hospitality. With a working 15bbl brewery, 24 taps with house made and local Florida beer, cider, mead, plus hand crafted cocktails and soda, there's something for everyone on your list!
While at Sanford Brewing, you must try one of their giant pretzels with beer cheese fondue. You might need to share it since it's bigger than your head!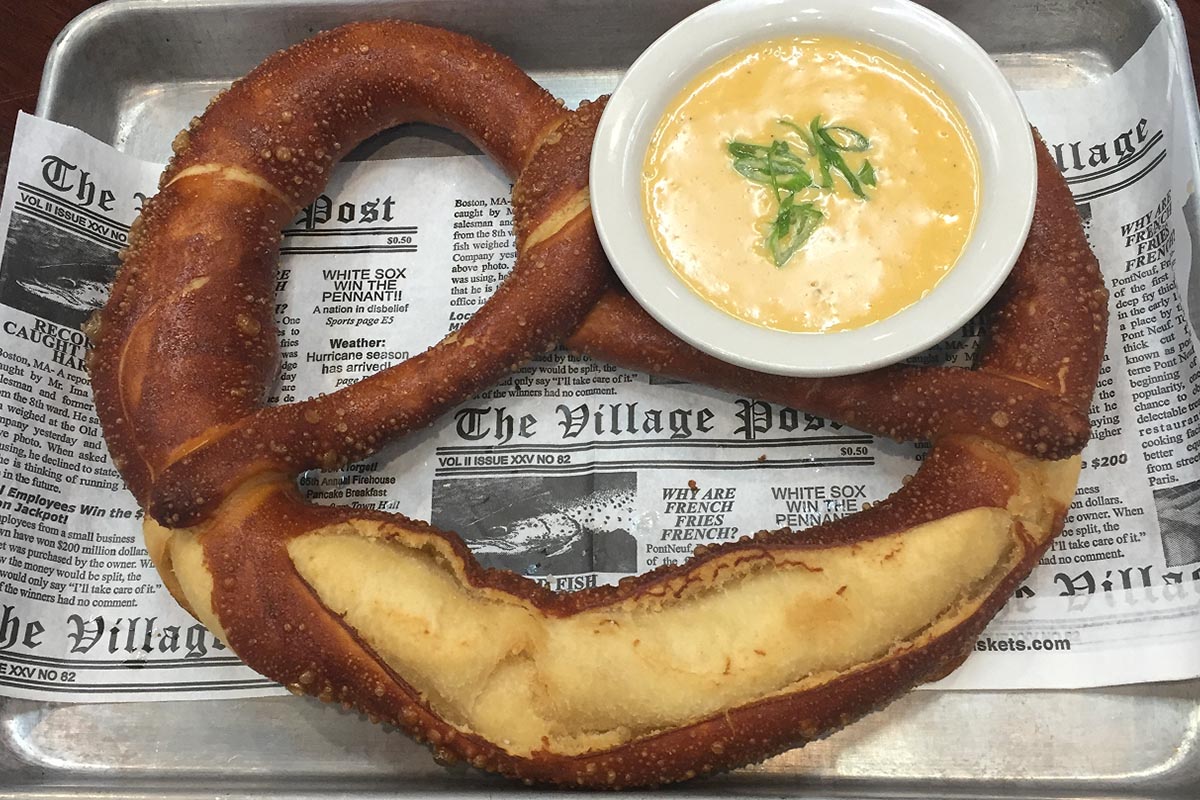 Sanford Brewing: 400 S. Sanford Ave. Sanford, FL 32771
Source: https://www.sanfordbrewing.com/menu
Up next on your beer crawl, you'll want to head on over to Tuffy's Bottle Shop and Lounge. Tuffy's has the perfect outdoor beer garden to enjoy small batch ciders, local and regional craft beers, wine, and a full bar! If you're still hungry, grab a basket of wings and enjoy the live music at Tuffy's Music Box!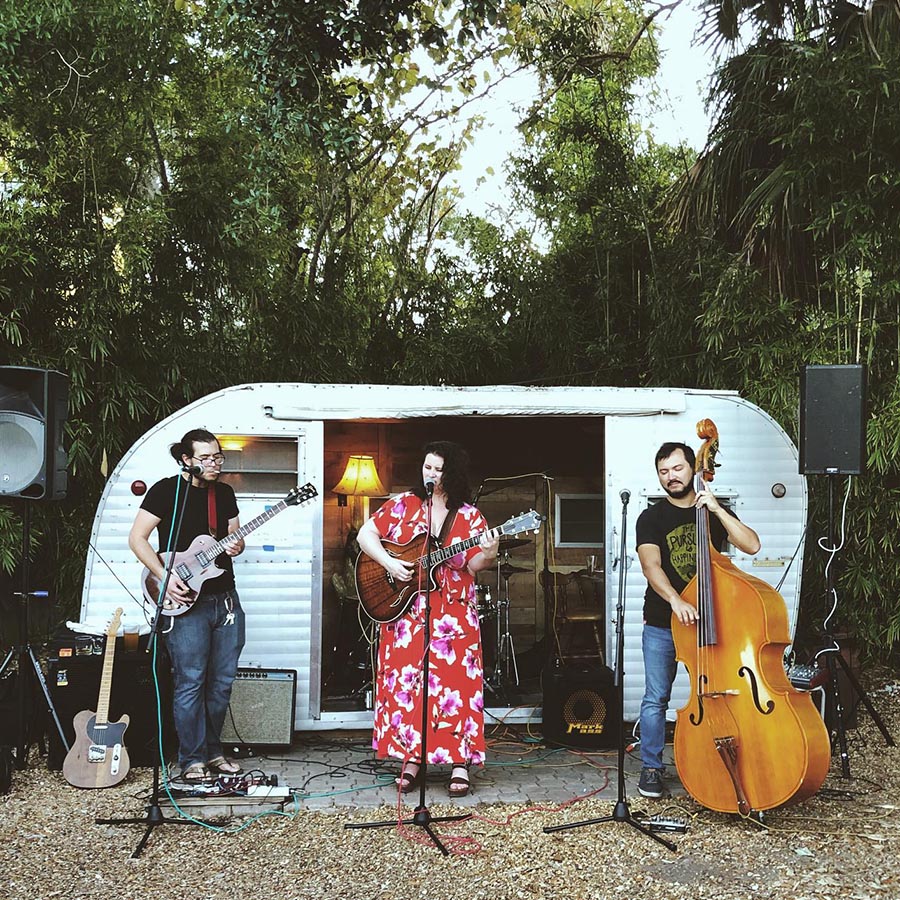 Tuffy's Bottle Shop: 200 S. Myrtle Ave. Sanford, FL 32771
Source: https://www.facebook.com/tuffyscider
5. Take a golf cart ride along the Riverwalk, Lake Monroe, and the Historic District.
After lunch and drinks, the best way to digest after a big meal is to explore the city even more. Sanford is nestled on Lake Monroe which is a part of the St. John's River. Take your golf cart along the Riverwalk and gaze upon all the sailboats resting for the day. Head up to the Sanford Riverwalk Trail which follows the shoreline of Lake Monroe from US 17-92 to Mellonville and is one of the most scenic paved trails in the country.
After exploring the Riverwalk and Lake, it's time to head back into the Historic District to learn about all the old buildings and famous people who once stayed in Sanford. From Thomas Edison to Jackie Robinson, there's so much you can learn if you take one of Sanford's Historical Downtown Tours.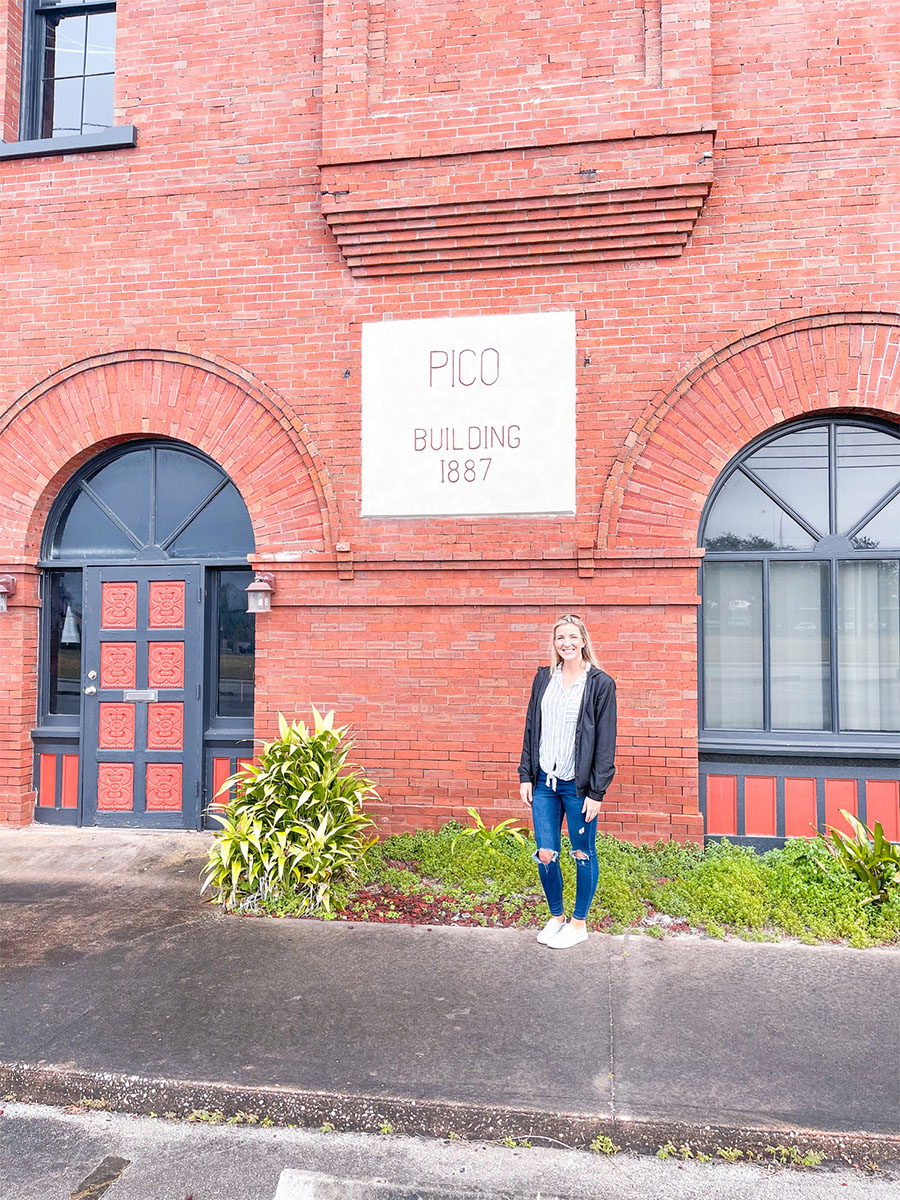 Location: E Seminole Blvd, Sanford, FL 32771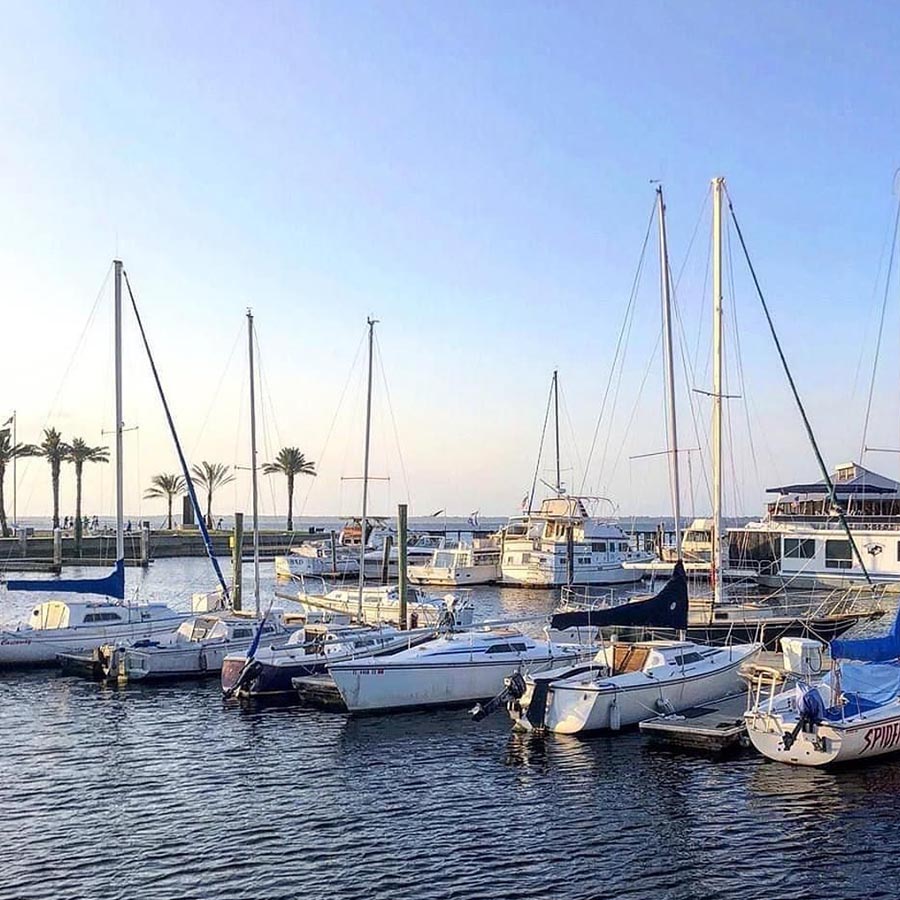 Source: https://sanfordfun.com/about/
6. Selfies at Hotchkiss mural, big chair, and Magnolia Square
Now that your food is digested and you've explored the city, it's time for the selfie tour! Sanford has some pretty iconic locations that make the perfect backdrop for the ultimate Instagram picture.
The artists at Gallery on First have officially unveiled Historic Downtown Sanford's first mural on the west side of the Hotchkiss building. The 63-foot mural was designed by local Sanford artist, Mark Seppala, and was inspired by The Beatles' 1968 Yellow Submarine animated film. You'll notice it has been tweaked to represent Sanford's thriving arts community and the city's roots in celery.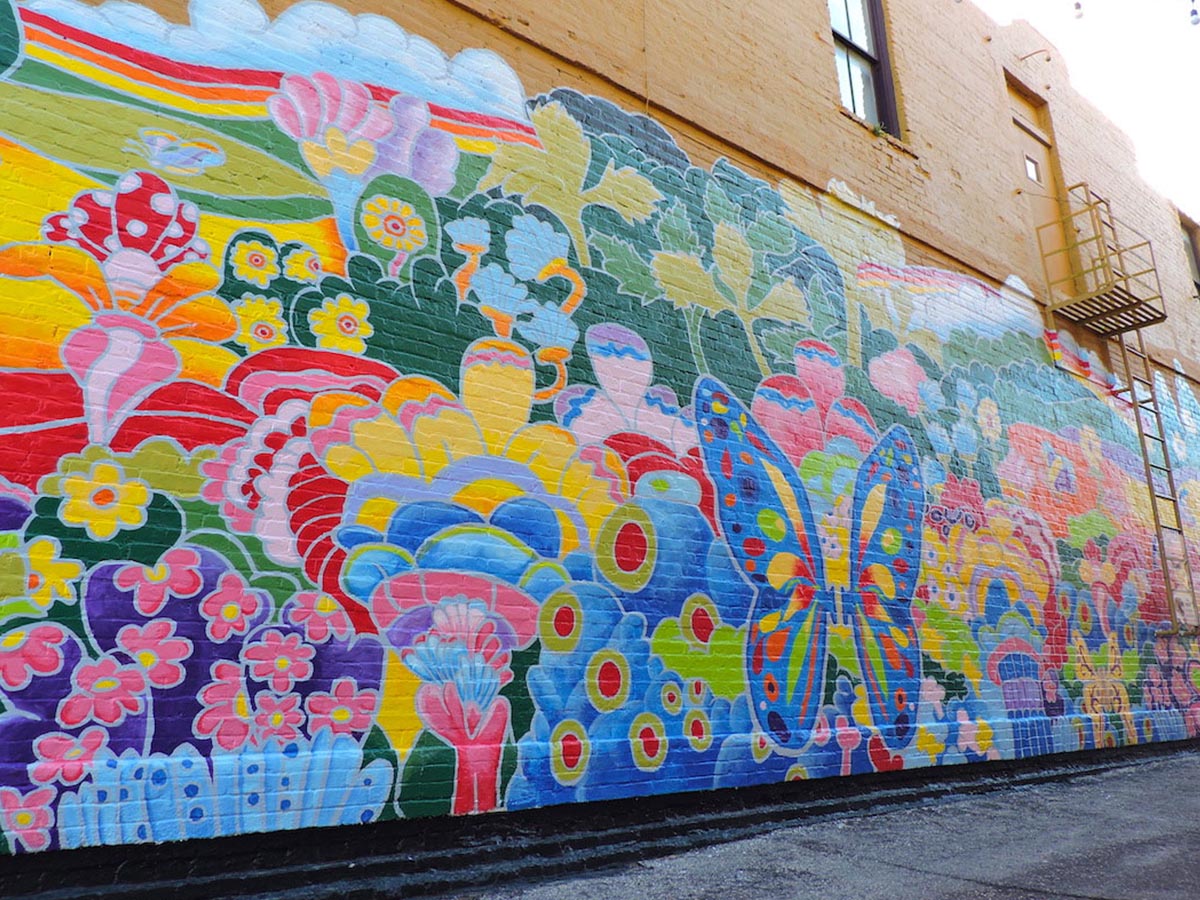 Location: 211 E. 1st Street Sanford, FL 32771
Source: https://www.historicdowntownsanford.com/hotchkiss-mural-unveiled-during-sanford-art-walk/
After selfies at the mural, you'll want to head to the big chair on 2nd street and Magnolia Square. Magnolia Square is home to the fountain, clock tower, and the location for many weekend markets. Be sure to check them out on Saturday mornings for their downtown farmers market!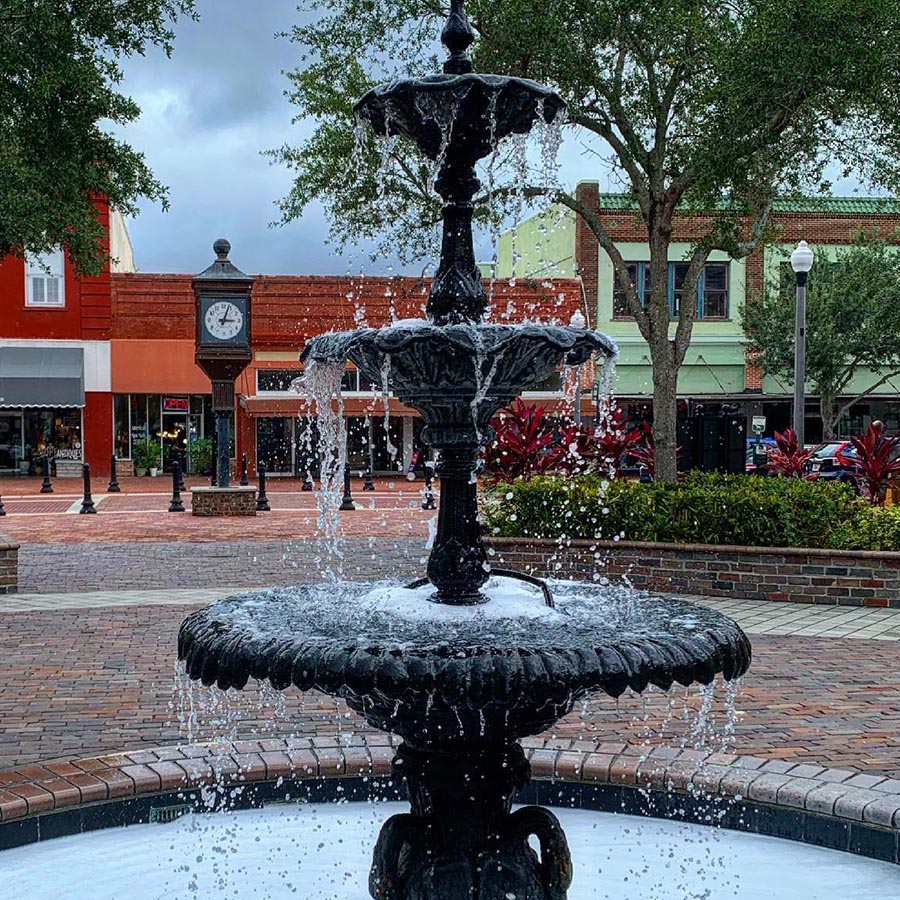 Location: E. 1st Street and Magnolia Ave. Sanford, FL 32771
Source: https://www.facebook.com/HistoricDowntownSanford
7. Dinner at Zorba's
Travel to Greece for dinner without ever having to leave Sanford at Zorba's Greek Restaurant! Enjoy delicious, authentic gyros, pitas, saganaki, spanakopita, and more! Tony, a native from the island Lesvos, Greece brings his expertise to Sanford for you to enjoy and satisfy your craving for a Greek cuisine. You're sure to have worked up an appetite from exploring downtown all day. Opa!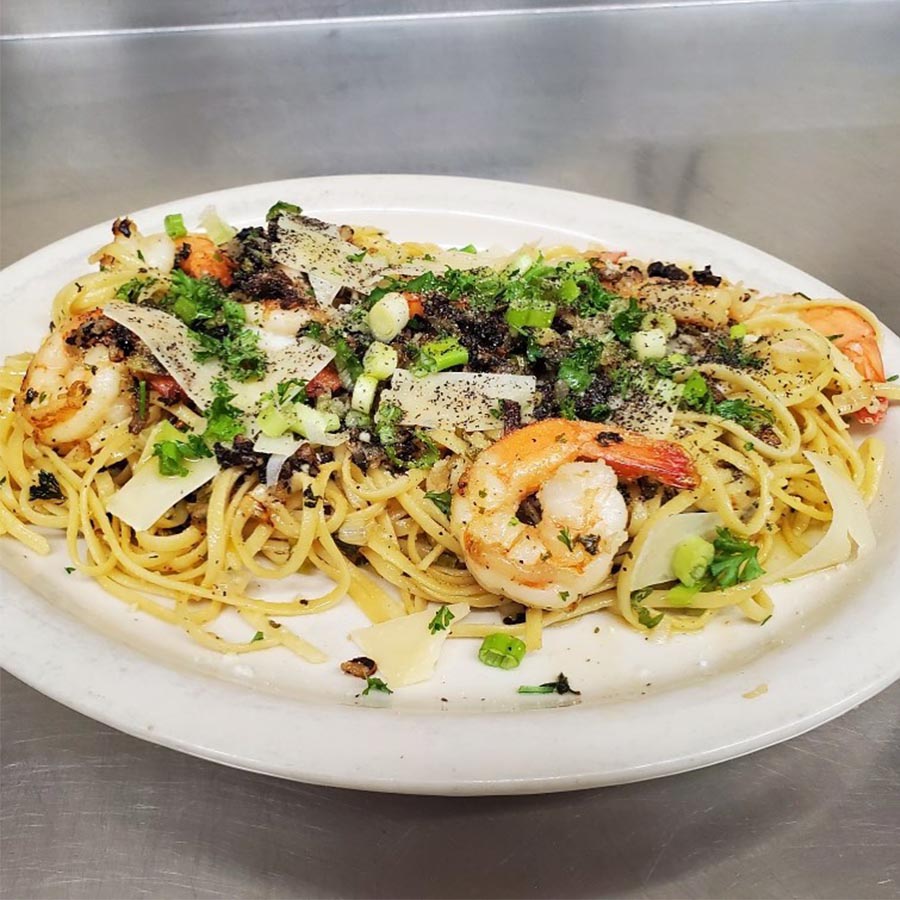 Location: 115 E. 1st St. Sanford, FL 32771
Source: https://www.facebook.com/ZorbasRestaurantSanford
8. Dessert at The Greenery Creamery
What's dinner without dessert? Head on over to Henry's Depot Food Hall to check out The Greenery Creamery, an Orlando-born artisanal and scratch-made dairy and vegan ice cream shop. The Greenery Creamery is the perfect ice cream shop to satisfy your sweet tooth that your whole party will enjoy! They strive to use only the best, premium, organic, local, and natural ingredients, whether it's for the dairy lovers out there, or plant-based ice cream fans.
Dairy flavors are locally sourced from grass-fed cows, and vegan bases are made with a mix of coconut, peanut butter, sunflower butter, almond, or soy. Try their cookie monster, key lime pie, black ash coconut, or blueberry lavender, you won't be disappointed!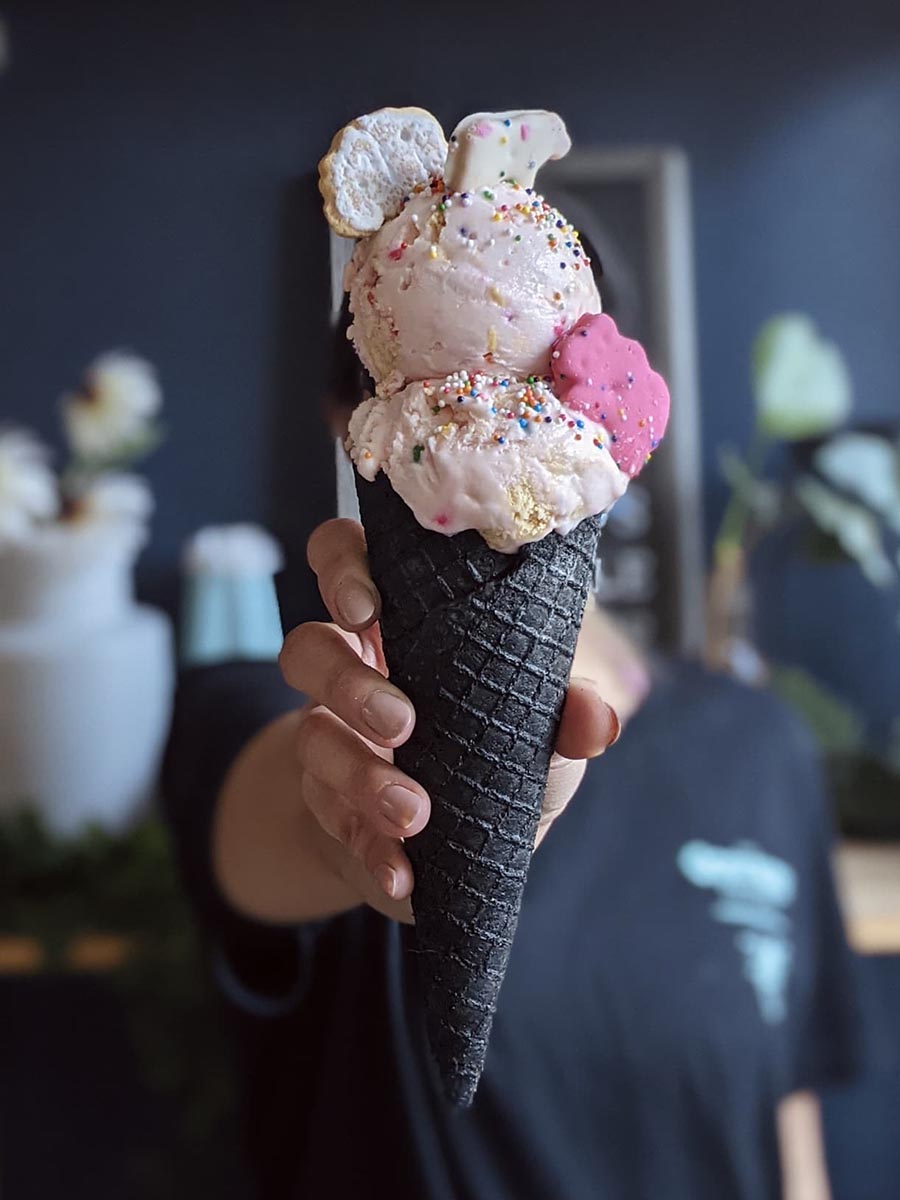 Location: 212 W. 1st St. Sanford, FL 32771
Source: https://www.facebook.com/greenerycreamery
9. Cocktails at The Imperial at Washburn Imports
Tired yet? No way! There are so many bars to check out downtown that you can't go to bed yet! One of the coolest places in town is The Imperial. This hidden gem is located inside Washburn Imports furniture store and turns into a cocktail bar at night. Enjoy boutique wines, craft beer, or classic cocktails, while admiring their antique and vintage furniture gallery.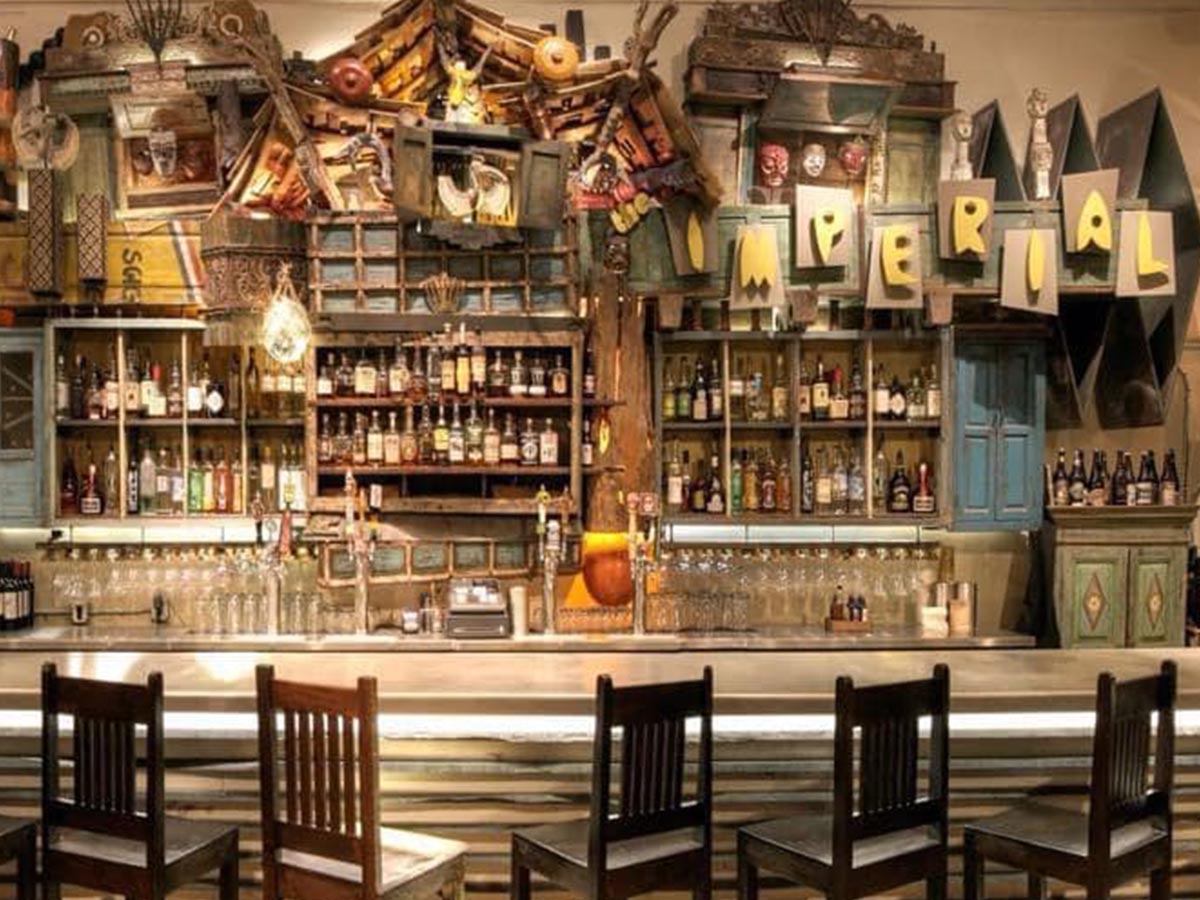 Location: 116 E. 1st St. Sanford, FL 32771
Source: https://www.facebook.com/TheImperialSanford
10. Head back to your Tiny Houseboat Airbnb® to rest
After a long day of Sanfording it's finally time to hit the hay or waves should we say! The Famous Tiny Houseboat is waiting for you at the Monroe Harbor Marina and is happy to provide a 500+ square foot house to rest with a full bath, kitchen, living room, bedroom, chill space, and porch. This super cool and unique space is sure to be the highlight of your trip, and you'll never forget the feeling of floating on the water and gently rocking back and forth to sleep.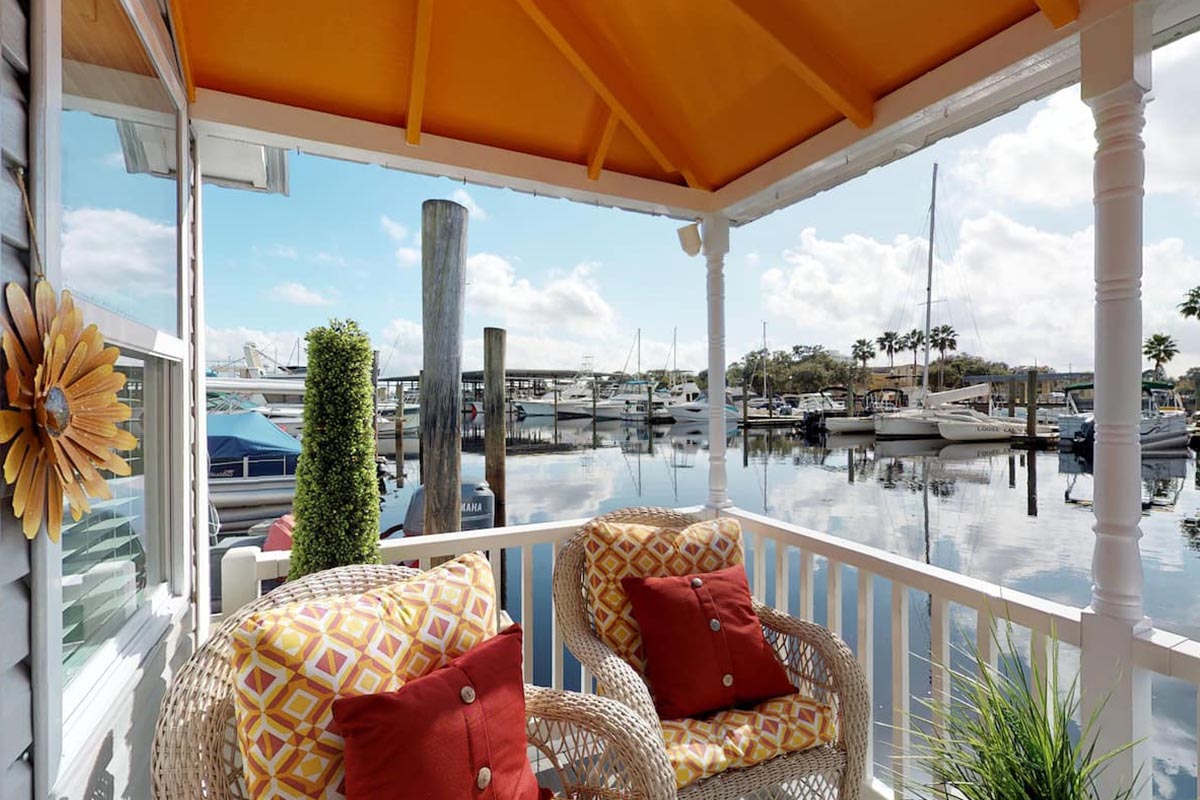 Location: 531 N. Palmetto Ave. B-Dock Sanford, FL 32771
Source: https://www.famoushouseboat.com/photo-gallery/
11. Brunch at The Old Jailhouse on Sunday morning
After a well-rested and well-deserved sleep, it's time to start the day with a delicious brunch at The Old Jailhouse! Believe it or not, this restaurant was built in 1890 and started as a blacksmith and wagon shop, then a livery feed and sales stables, then the Seminole County jail, a health department and dry cleaners, and now is home for an amazing restaurant! Enjoy a Florida-fusion menu and crafted cocktails in this polished and casual atmosphere.
The brunch menu includes classics like biscuits n' gravy, crab cakes, and chicken and waffles, but you may want to try their green eggs and ham, jailhouse omelette, or warden's plate. No brunch is complete without the booze, so be sure to order a signature mimosa or Bloody Mary to wash it down!
Interested in learning more about the jailhouse and if it's haunted? Be sure to check out the Sanford Ghost Tour at https://www.historicdowntownsanford.com/tours/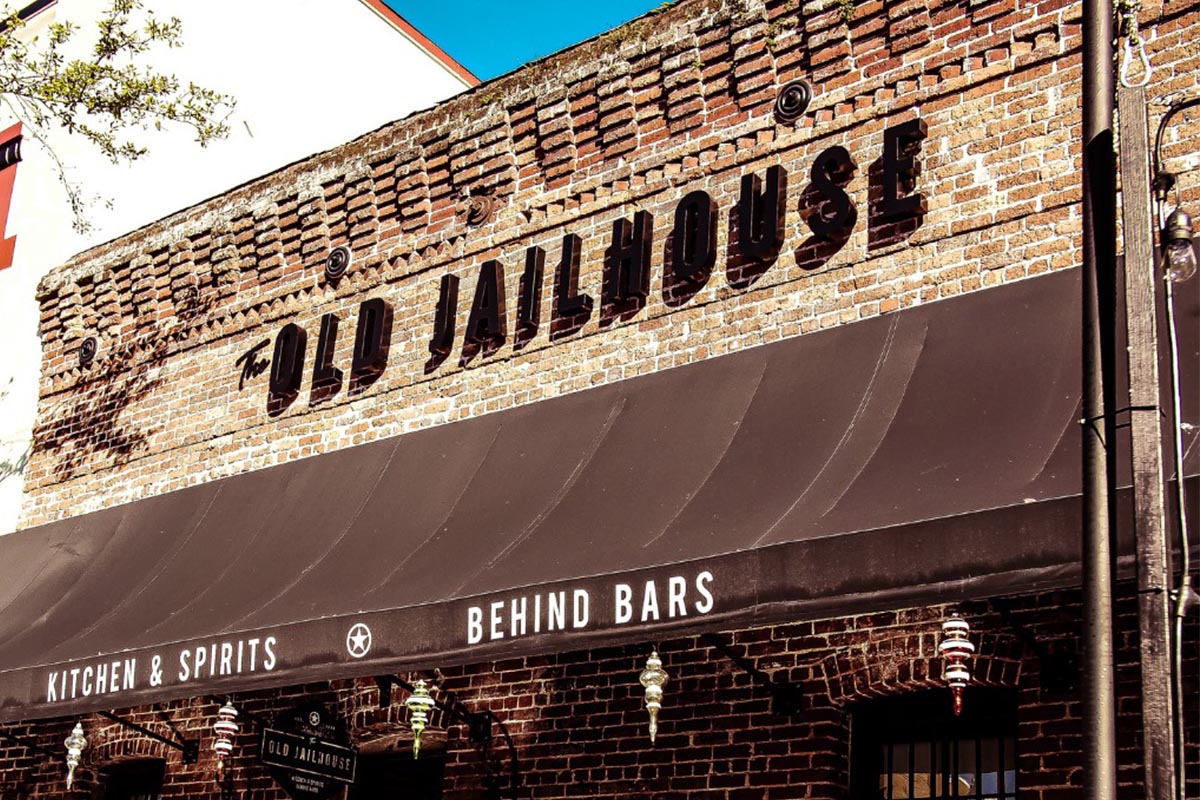 Location: 113 S. Palmetto Ave. Sanford, FL 32771
Source: https://www.facebook.com/theoldjailhousesanford
Enjoyed your day and night of Sanfording? We sure did! As you can see, there are so many amazing spots to visit and explore while downtown. It's hard to do it all in just one day. From places to stay, food to eat, and cocktails to drink, we can't wait to come back and explore more of Historic Downtown Sanford.