Moves Forward with Development of Three City Blocks in Historic Downtown Sanford
Located in the heart of Historic Downtown Sanford abutting beautiful Lake Monroe and the Sanford RiverWalk, Heritage Park is moving forward with their large-scale project poised to help ease the demand for affordable rental units. With proposed plans that include 235 residential units and 37,989 SF of commercial space for shops, restaurants, and office uses, Heritage Park stands to deliver to our community a humongous influx of new residents, restaurants, and commerce.
Growth Watch first laid out the vision of Sanford Waterfront Partners, the development team behind Heritage Park, here. Since that time, the development team has continued to continue to work with the City of Sanford, and recently received site plan approval. Heritage Park is now in the process of obtaining their certificate of appropriateness from the city Historic Preservation Board, and have released new renderings to the public.
Over the last few weeks, I have had the opportunity to speak with integral members of the City of Sanford staff, Mayor Art Woodruff, and two of the key members of the Sanford Waterfront Partners development team, Miami-based architect Richard Heisenbottle and Development Manager Catie Sacks Naranjo, about the forthcoming project many have dubbed the 'catalyst site.' Sacks-Naranjo commented that "although the current pandemic has slowed most of the world's economy, Sanford Waterfront Partners is looking forward to continuing the permitting process and is hopeful for a 2021 ground breaking." There is much to update!
Heritage Park is a $50-$55 million-dollar project that city officials expect will provide a stimulus to the entire downtown area. Once completed, the development will be filled with thousands of new Sanfordites who will live, work, and play within walking distance of our booming downtown corridor and steps from the lakefront and Sanford Marina. Heritage Park will cover 295,000 SF of new construction covering three city blocks between 1st St. and Lake Monroe, comprised of 23 new buildings. The plans call for the 235 residential rental units to include flats, loft-style apartments, townhomes, and live-work units. "There are plans for 14 studio/loft units, 17 3-bedroom units, and the rest will be 1 and 2 bedroom," says Heisenbottle. Along with the residential components, there will be nearly 38,000 SF of retail, restaurant, and office space.
Community plans also include a dog park, an art park, and waterfront plazas for dining and enjoying the water's edge. Heisenbottle noted that Heritage Park is not just another housing development, but a walkable community with street art and a vibrance that will bring people into Sanford to spend the day relaxing, eating, and shopping.
One street art example Heisenbottle brought up was the "Umbrella Sky Project." He also underscored the commitment to including retail, saying that "You must have retail to make it a neighborhood, and provide (residents) a variety of experiences. We are building a neighborhood, a place people will want to live. We feel this is the best property in Seminole County, and Historic Downtown Sanford has so many great buildings with real 'feel.' We made the right decision for the city, for the residents, and for us."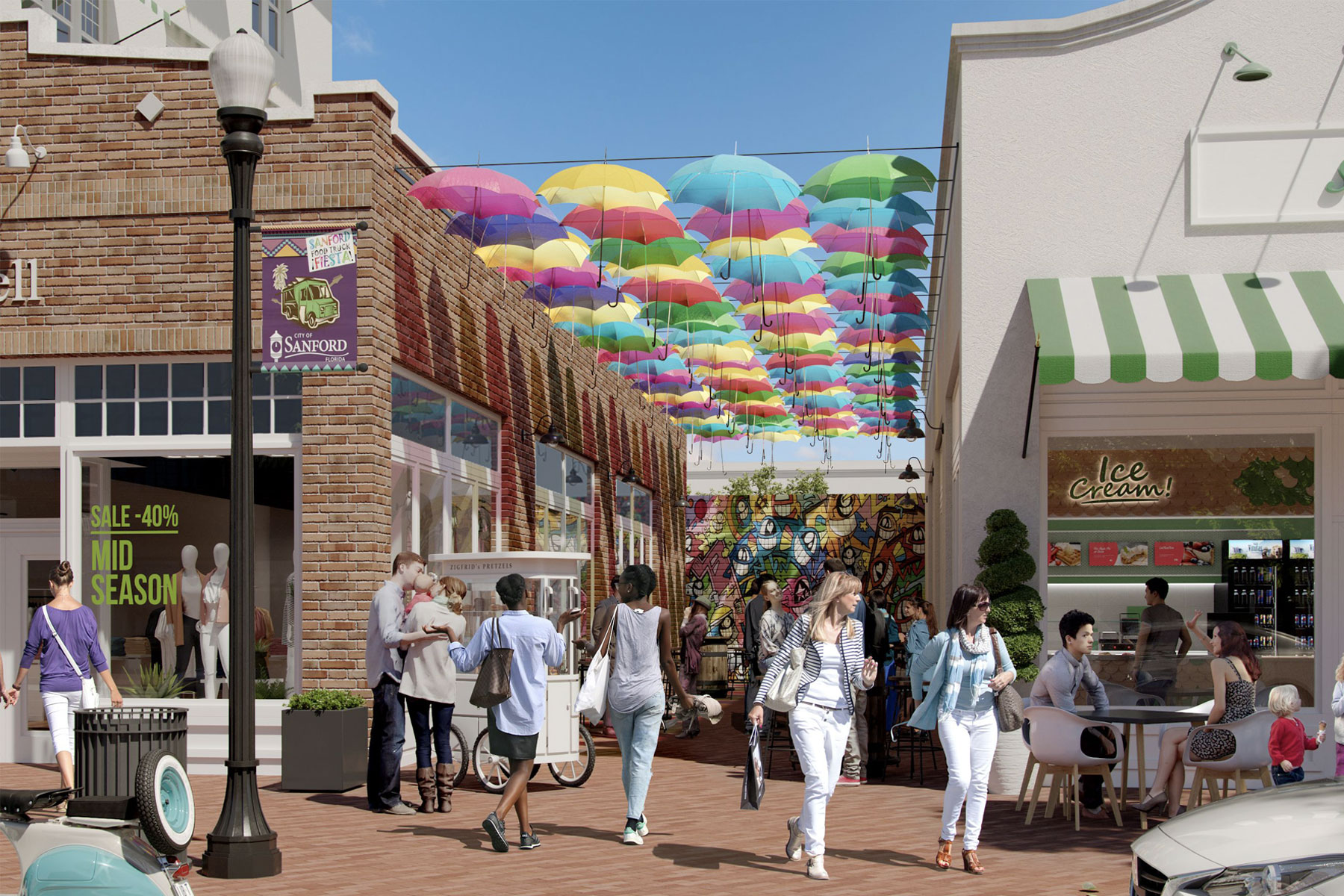 Sanford Waterfront Partners believes that the development "needs to fit in, contextually and architecturally, to feel like it was built over time. This is conceptualized as a 'new urbanism' community, and walking through it, you know immediately that you are in Historic Sanford." Detailing, down to features such as oversized double-hung window sizing found in Sanford's historic homes, will be reflected in Heritage Park as the group seeks to carry over a matching and strong architectural context. 25' wide pedestrian-only streets will be placed into Heritage Park, with loft units providing residents 1st floor offices, with a living area and bedrooms located upstairs.
With Seminole County currently at a vacancy rate of a paltry 2%, these attractive, new units are sure to be in demand. Two of the three blocks of planned development are specifically located north of 1st street, between Sanford Ave on the east and Palmetto Ave on the West, and South of E. Seminole Blvd. The other block is located north of Commercial St, between Hood Ave and Palmetto Ave, south of E. Seminole Blvd.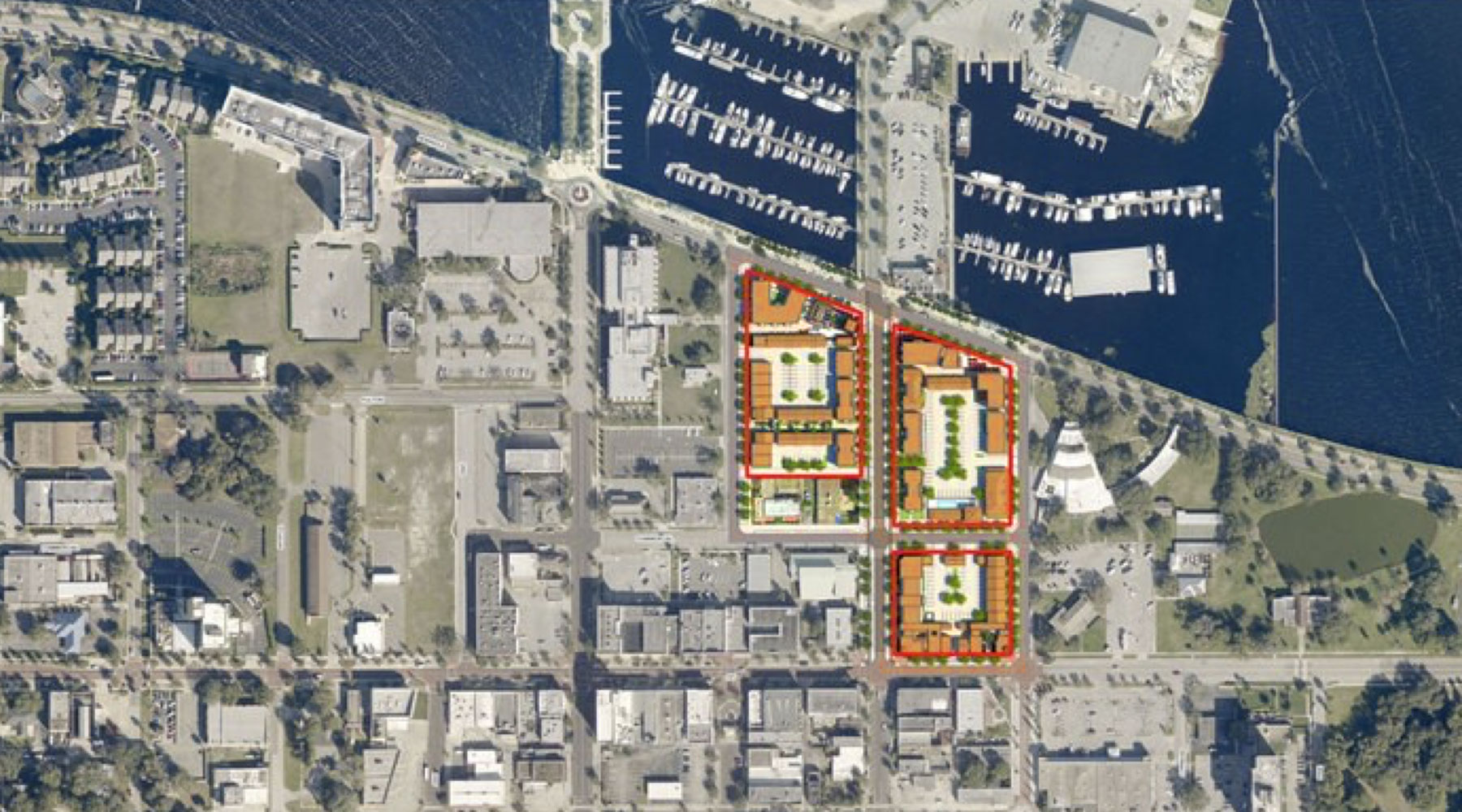 Over the last year and a half, the city has prepped the site by completing a soil stabilization project, and a $1.2 million dollar storm water, sanitary sewer, and water project to upgrade and replace pipes, some of which were over 100 years old. In the next month or two, it is expected that FP&L will be taking down the overhead power lines and burying the conduits, further enhancing the forthcoming neighborhood's aesthetics, and protecting and modernizing the infrastructure.
In an interview with me in mid-July, Sanford Mayor Art Woodruff noted that "event-wise, we do not take more advantage of the waterfront. Part of the reason is the disconnect between the lakefront and 1st street. We keep saying that we need a better connection; Heritage Park will help." Mayor Woodruff also mentioned that Heritage Park has upped their total parking spaces, and that the plan will now include up to 1.5 spaces per unit. The neighborhood will have 464 dedicated parking spaces, with 340 of them located behind buildings, not being visible from the street. "We have more parking than we dreamt of in the master plan," said Heisenbottle. "In addition to the 1.5 spaces per home, there will be 3 cars per 1000 SF of retail space.
Funding for the project remains secure, according to Sanford Waterfront Partners, and one silver lining to the delays caused by the coronavirus is the appreciable drop in the interest rates the developers were able to obtain from the lender. "We are locked in at an appreciably lower interest rate, and that should result in lower rents for residents," said Heisenbottle.
Sanford Waterfront Partners remains as excited as ever to bringing their vision to reality and will be making a public presentation of the project in the near future.