Following a recent pop-up weekend at Celery City Craft in Historic Downtown Sanford, Sushi & Seoul is planning to take over the triple-C's kitchen starting in November and offer their fabulous take on all things Sushi.
Starting out as a food truck in 2013 Orlando, Sushi & Seoul quickly garnered a solid following via social media and food truck events, and has been featured on the Food Channel's popular "Eat Street" program. Now they are taking their colorful selection of quality sushi dishes plus inspired street food items to one of Sanford's hottest craft beer bars, Celery City Craft, which features over 51 beers on tap plus a full liquor bar. Until now only offering light soup and sandwich fare, come November they'll be downtown Sanford's premier sushi spot.
I was fortunate to get a sampling of some of their fare at a recent Sneak Preview event, and here's what I found.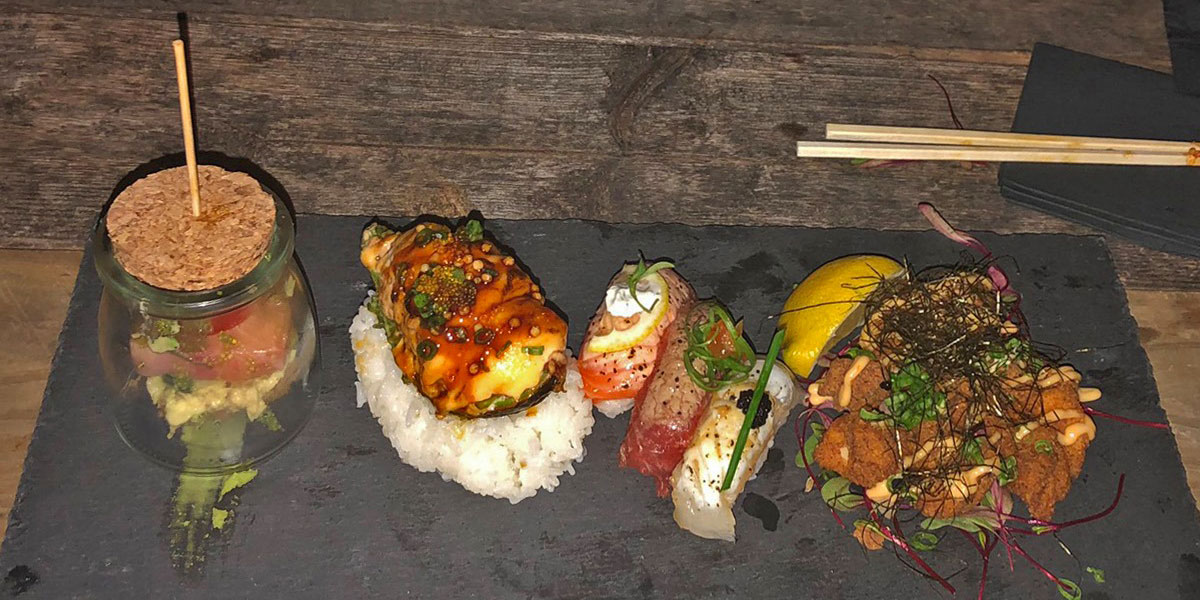 The most innovative item, I thought, was the Stuffed Avocado. Literally a half of a nice and ripe avocado was stuffed with spicy yellow fin tuna along with some torched spicy mayo, kabayaki glaze, bubu arare, scallion, and yuzu tobiko. It was actually fun to eat—if a bit messy and daunting, as you use your upper teeth to literally scoop out the avocado. Don't worry, I'm not sure what all the ingredients were either, but the taste was superior—and fun to eat.
One item I think will be a favorite for those less adventurous will be the Japanese style fried chicken known as Chicken Karaage—it's served over a bed of sushi rice with some (not too) spicy mayo, shredded nori, scallions and furikake. I'm told they also plan on serving the Chicken Karaage as a sandwich, which I think is a fantastic idea.
I also sampled their Smoked Stack—cured and smoke Hamachi fish atop a honey panko'd rice medallion (nice and crispy) with guacamole, sunomono, cherry tomato, wasabi tobiko, and roasted garlic ponzu. What I liked best about this dish, beside the flavorful fish and accoutrements, was the crispiness of the rice medallion—it gave the dish a great texture that made it fun to eat.
Lastly in the food department, I sampled the Torched Nigiri Trio which consisted of:
— Togarashi & Sazon seared big-eye tuna with ikura and scallion,

— Faroe Island Salmon with a lemon and dill crème fraiche, garnished with micro cilantro greens, and

— Madai Snapper with white truffle, wasabi miso glaze, spoonbill caviar, and garnished with chives.
All of the above were very good, a nice take on traditional sushi, but definitely kicked up a notch.
But wait there was more. We also sampled the Far East "Tokyo White" beer, an award-winning Saison style beer that is light, crisp, and refreshing. It's a pale, somewhat cloudy, white beer with a nice fruity aroma, low hoppy bitterness and helps cleanse the palate. And finally—(what sushi tasting would be complete without it?)—we sampled the Shintaro "Imperial Royalist" Sake. It was very, very dry, and very light, with pleasant, fruity notes, delicious, actually, and another good palate-cleanser.
Overall, I'll say I was quite impressed with our Sneak Tasting and am looking forward to trying the real deal when they open in November. Given their reputation for taste and creativity, I expect big things from Sushi & Seoul, and I'm sure they'll deliver—at Celery City Craft in Historic Downtown Sanford, soon!