Introducing a new, fun and old-fashioned way to get around downtown for Sanford residents and visitors – Surrey bicycles. Sanford resident Nancy Sepulveda, recently launched the Sanford Surrey Company, a travel experience company that will rent bicycles designed for two to four people pedaling, and can accommodate up to six people.
You may know Nancy, as one of the co-founders of Sanford Porchfest, and the tour guide with Sanford Tours and Experiences Historic Walking Tour. They say it takes multiple exposures to spark an idea, and Nancy who loves to travel, first stumbled on Surreys a few years ago in a small Venetian village in Italy. In 2019 at the Asbury Park Porchfest in her native New Jersey, she saw a few residents using a Surrey to go from porch to porch.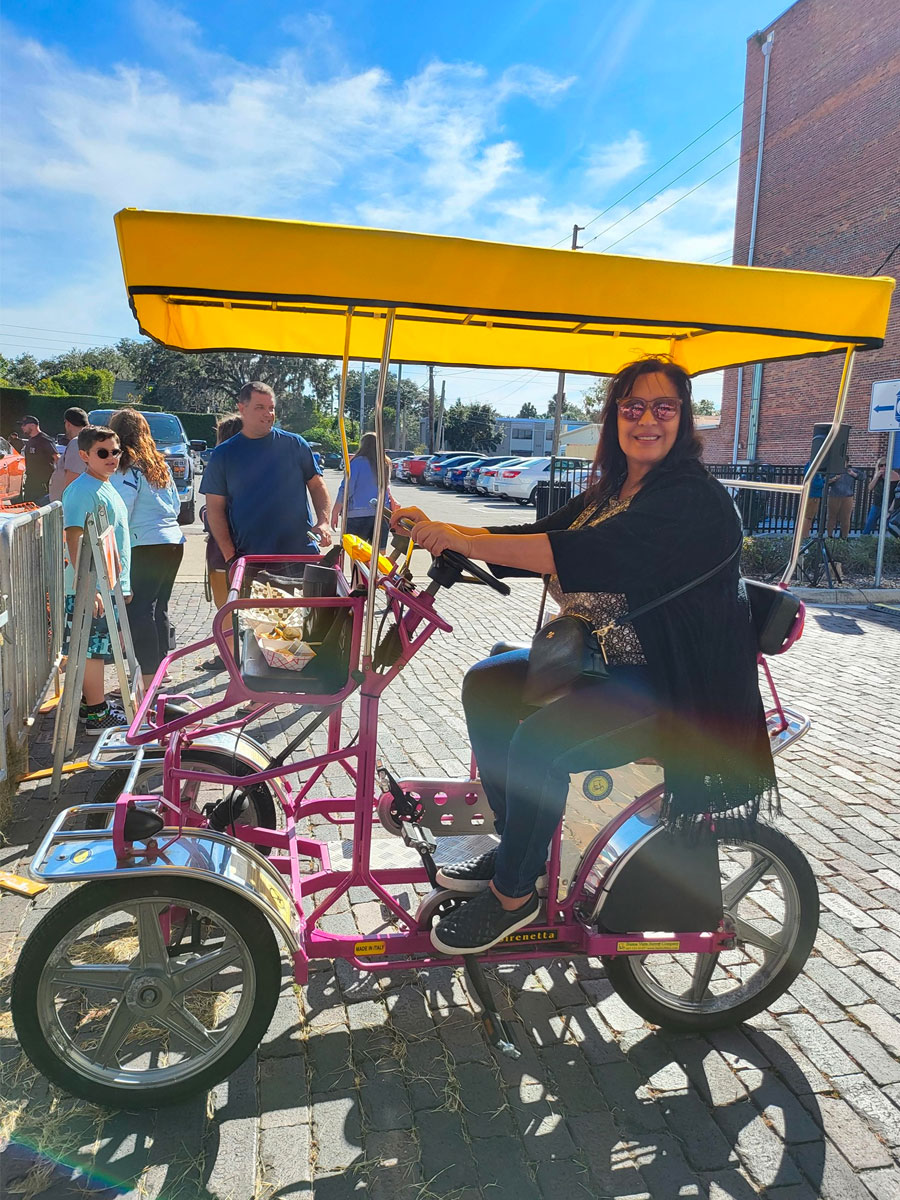 Then this May 2021, taking advantage of the post pandemic ridiculously low air fares, Nancy jetted away to San Diego for the weekend and saw some Surrey's around the iconic Victorian historic Hotel Del Coronado, and the lightbulb moment happened – "we can do this in Sanford!"
"Our brick streets, lined with beautiful majestic Oak trees is a perfect venue for tourists and residents to ride around and take in our lovely historic district" said Nancy, who lives in the district on Park – the Pink house she always tells folks. "The surreys offer an option for leisurely ride and photo opportunities" she added.
The Sanford Surrey Company has original Italian made single and tandem Surreys. The single bench Italian model the "Sirenetta", requires two people pedaling, and can accommodate up to three adult passengers, and two children in the front basket. The double bench Italian model the "Delfino" requires four people pedaling, and can accommodate up to six adult passengers, and two children in the front basket.
The Surrey bikes will be available for rent online via the Sanford Tours and Experiences website, along with standard bikes, tandem bikes and golf carts.
In the works are a Surrey stand outside the Henry Depot Food Hall at 212 W 1st Street, as well as Surrey rental packages featuring picnic lunches and curated tours and map to find the cool picturesque spots.
Visit SanfordFun.com/bike-rentals for rental information.