Construction of Marina Isle Waterfront Assisted Living, located on Sanford's Marina Island, is reaching its final stage and looks to open its doors to 105 new Sanford residents by January 1, 2020. I recently spoke about the project with two members of the team — Executive Director of Marina Isle Jody Moll and Vice President of Operations Stacy Hartley from Tom Campbell & Associates, LLC an Assisted Living Management Company, who both are excited about the imminent opening.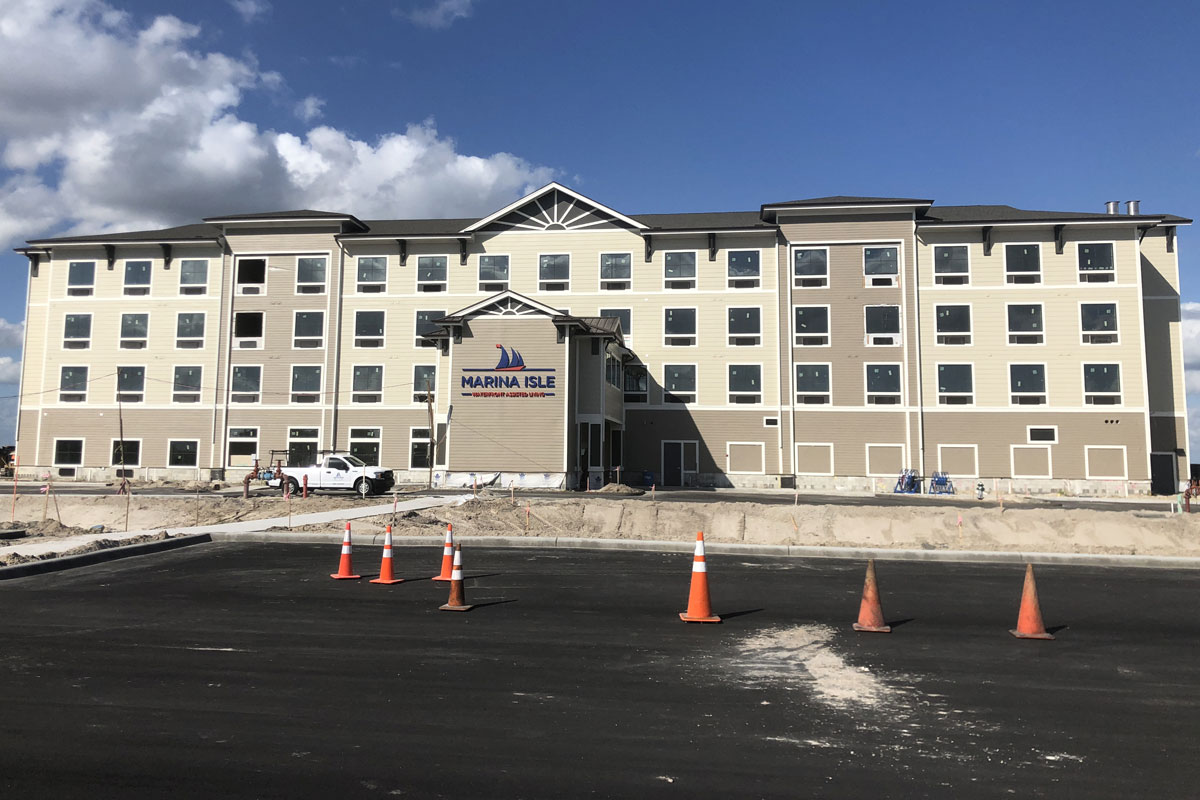 Inside Marina Isle Waterfront Assisted Living, full time residents may select from one of the 105 studio-style apartments, each complete with a kitchenettes, personal heat & air, and private bathrooms. Residents on the north side of the facility will have a spectacular view of Lake Monroe, while the other half can enjoy the view of Historic Downtown Sanford and the Sanford Marina. Amenities will include spacious suites with seating areas, as well as expansive common areas for activities and events.
In addition to full time residents that receive long term care, Marina Isle will offer senior 'day services', allowing a family member or loved one to come and stay at the facility for the day, where they will enjoy spending time with the residents while joining in on activities, meals and more. Also offered will be 'respite services', which are a longer-term temporary housing option for families, and may be used to care for a senior friend or family member as needed if travel or other such life needs arise.
"Residents and guests will enjoy three times the common space as compared to other area facilities," Executive Director Jody Moll stated, "and this can be used for anything, such as bible study, physical therapy, or other activities."
While Marina Isle will have additional amenities such as a garden, both an in-house physician and a dermatologist, an outdoor fire area with kitchen, and a café/bar, residents may take advantage of being a mere two blocks from Historic Downtown Sanford's charming shops and restaurants. "Our residents still drive, eat, shop, and will be a part of the Sanford community," said Moll, "and we will be reaching out to local establishments to bring our residents into for a variety of activities."
From dancing at The Barn to making marshmallows at Wondermade, ideas for community involvement are already beginning to take a central focus for the project. Vice President of Operations Stacy Hartley remarked how wonderful it has been to bring this facility to Sanford, stating "Feedback from the community has been overwhelmingly positive, with many comments on our spectacular location, as well as how [our] project has really beautified and cleaned up the Marina, and just how inviting the area is to residents, guests, and families."
Prior to opening, several events will be held to display the models and meet the community. Marina Isle Waterfront Assisted Living is just one of many new projects opening downtown, but serves a unique role in that not only is this a beautiful home for our seniors to enjoy those gorgeous sunsets over Lake Monroe, but also as a source of hundreds of new residents, guests, visitors, and workers that will continue to push forward the growth in Historic Downtown Sanford.
For more information or to request a tour, visit their website at www.marinaisle.com or call 407-499-7300.