Do you think you and nine other friends have what it takes to pull a fire truck?
Hosted by Historic Downtown Sanford® and the newly formed Famous L Collective, the St. Paddy's Day Truck Pull being held on Saturday March 19th from 4 p.m to 9 p.m. will include live music, food trucks, artisans and craft beer in a family friendly environment. It's free admission.
The truck pull begins at 5 p.m. and ends at 7 p.m. Teams of 10 will go head-to-head pulling a fire truck a block down Palmetto Ave. in "The Famous L" for the coveted trophy and ultimate bragging rights. Participants include the Sanford Fire Department, Sanford Police Department and many locally-owned businesses.
The St. Paddy's Day Truck Pull features live music from 4 to 5 p.m. performed by Rosie O'Grady's Highlanders to get everyone into the St. Patrick's Day spirit and then afterwards Papa Wheelie ends with a hardcore bang from 7 p.m. to 9 p.m.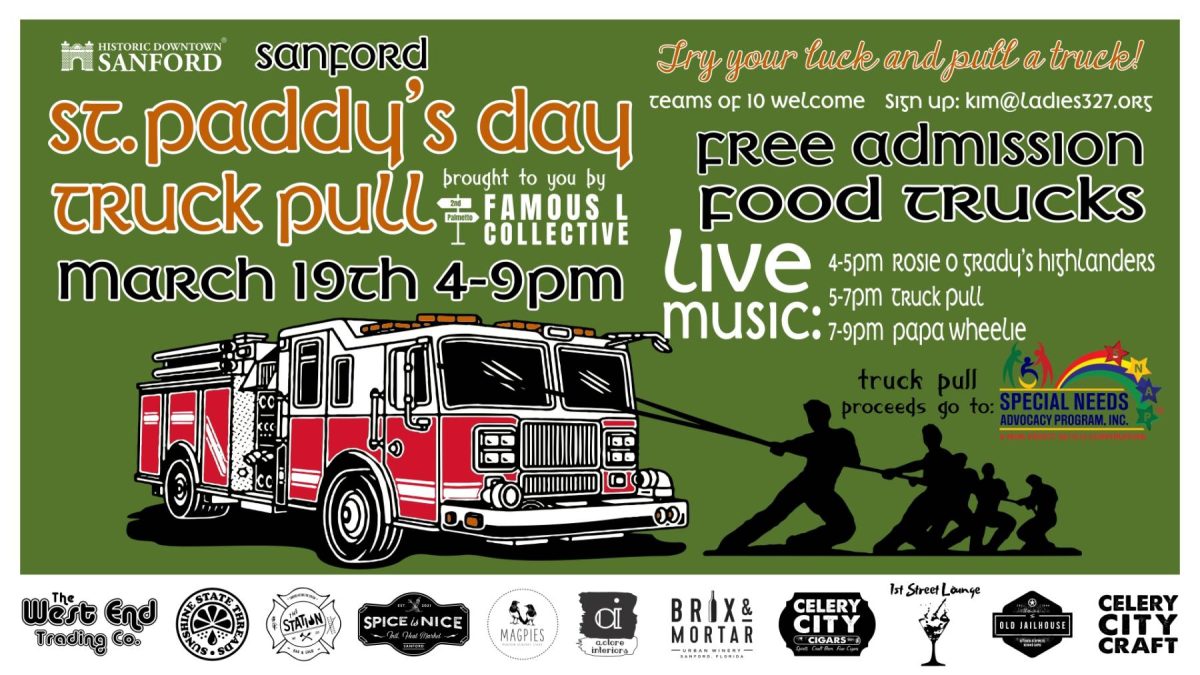 "We are so excited to be doing the St. Paddy's truck pull again" said Paul Williams, owner of West End Trading Company. "In most St. Paddy's Day celebrations people are lifting beers but in true Sanford Style, we're taking it a step further and pulling a fire truck."
The event welcomes a new fire station themed bar, The Station Bar & Grub — making the perfect backdrop for the Fire Truck Pull. In addition, there will be a DJ leading the fun from their classic fire truck stationed right out front.
"We love being a part of the Sanford community," said Alex Sirica, owner of The Station Bar & Grub. "Participating in this fantastic event is right up our alley. We're excited to see the teams compete and celebrate giving back."
All sign up fees from the truck pull will go towards SNAP (Special Needs Ability Program, Inc.)
Special Needs Advocacy Program, Inc. serves families in Sanford who support children with disabilities. SNAP provides children with disabilities a platform to understand and retain positive social skills to successfully enter the workforce, social events and other public arenas. Plus, proceeds from the truck pull benefit the Special Needs Advocacy Program, Inc.
The fourth annual St. Paddy's Day Truck Pull and Street Festival is brought to you by the 'Famous L Collective'.
The Famous L Collective includes Historic Downtown Sanford®, The West End Trading Co., Sunshine State Threads, The Station Bar & Grub, Magpies Modern General Store, A. Clore Interiors, Brix & Mortar Urban Winery, Celery City Cigars, 1st Street Lounge, The Old Jailhouse, Celery City Craft, Ladies 327 and new market coming soon Spice is Nice.