Join us on Saturday July 31, 2021 for our Christmas in July special Shopping Event in beautiful Historic Downtown Sanford!
Take advantage of some great deals from all of our independent retailers, stroll the brick-lined streets visiting our quaint shops and art galleries plus enjoy discounts from participating bars and restaurants when you show your receipt and qualify for some awesome giveaways.
The event takes place on Saturday July 31st from 10am to 6pm and we have plenty of free parking. (Facebook Event)
Historic Downtown Sanford is home to over 50 independently-owned and operated small businesses. Support local and shop where it makes a difference in our community!
ENTER TO WIN
When you visit each of these shops, you will get your 'shopping passport' stamped to be entered to win Historic Downtown Sanford's Christmas in July Wreath full of gift certificates from participating retailers.
The shopping passport can be picked up at any participating retailer including the Sanford Information Center at 230 E 1st St and if you visit all retailers and get the passport stamped, you can turn it to qualify for prizes including the 'Christmas Wreath Full of Gift Certificates'!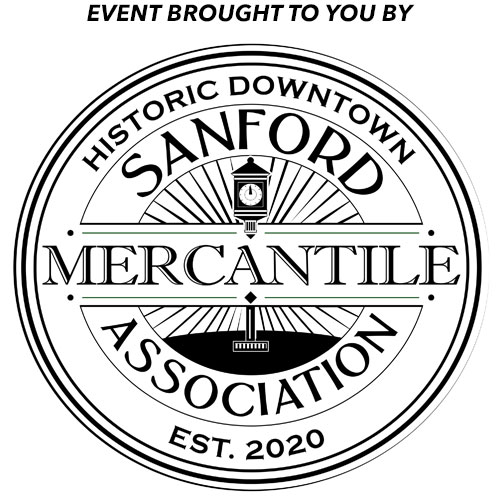 FEATURED DISCOUNTS FROM OUR RETAILERS
1. Jeanine Taylor Folk Art: 50% off holiday ornaments and décor, mystery grab bags and a surprise raffle.
2. Magpie's Modern General & Clothing: Entire back room in the General Store dedicated to SALE items, including clothing and accessories from our sister store next door. Everything will be between 50-75% off! Also, other surprises and some of our very popular "Grab Bags" as well.
3. Sunshine State Threads: Buy one get one free
4. Hollerbach's Outfitters: Mystery bags for $20 plus discounts on tracten.
5. Magnolia Square Market: Wine & beer tasting
6. Triple Goddess Treasures: Storewide Sale! 50% of net proceeds of Tacky Tourist Manatee earrings will be donated to Save the Manatees Club. Every purchase gets you a ticket for the Triple Goddess Raffle for a luxurious handbag (a value of $65)!
7. The Cute Boutique: Scratch off card with every purchase for a chance to win big! Plus deals throughout the day including discounts on many items up to 50%.
8. The Collective: 10% off all coffee and tea from Rosie Lee Tea Co & Wavelength Coffee.
9. Treehouse Antiques: Vintage handmade birdhouses – 15% off
Entire garden area – 15% off
Kitchen towels – 2/$20.00
Costume rings – 20% off
Records – 1-10% off
Records 2-3 – 15% off
Records 4 or more 20% off
Gift basket raffle – 1 ticket with purchase limited to 1 per person
10. The Warehouse: 30% off Storewide plus free ornament when you spend $30
11. Ria's Decor & More: All artwork will be an additional 30 – 60% off. Rugs, lamps, pillows and painted furniture will be 30% off.
12. Maya Books & Music: 10% off storewide
13. Wondermade: 21% off total order in store as well as raffle 4 boxes of mallows and a self burning log (toasted mallows to go)
14. Bicikleta Bike Shop: 10% off service (not including parts), and 10% off of our Founders Edition t-Shirts.
DISCOUNTS FROM PARTICIPATING BARS, CAFES & RESTAURANTS