The Sanford Vegan's Guide to Local Plant-Based Eating
Whether you are vegan, vegetarian, or veg-curious, Historic Downtown Sanford, FL is a must-see destination. From Buffalo Mac & Cheese to Bavarian Bratwursts to Mint Milkshakes and Orange Zest Pizza–the Historic District is home to some of Central Florida's most acclaimed vegan destinations! Join us in the exploration of Historic Downtown Sanford's TOP vegan dishes!
1.
2. Hollerbach's Willow Tree Cafe: Beyond Bratwursts
Hollerbach's Willow Tree Cafe has been a staple of Sanford Cuisine for decades. Serving traditional German fare, thousands flock from all across Central Florida to indulge in schnitzel, pretzels, and "das boot", set to the stage of traditional polka music in an energetic atmosphere.
In the past several months, Hollerbach's made an important leap toward vegan inclusivity by introducing their Beyond Bratwurst menu option, which can be served with accidentally-vegan red cabbage, fries, or veggies (just ask for them to be steamed instead of sauteed). These are not your typical vegan sausages. Hollerbach's has perfected its grilling technique, making their Beyond Bratwursts–easily–the best bratwursts Central Florida has to offer.
Hollerbach's tap is also graced by exclusively vegan beers. Many are not aware, but alcohol can often be processed with bone char, fish livers, or other animal products as a preservative. At Hollerbach's, you won't need to worry about coming in contact with these non-vegan beers! Hollerbach's pretzel is also vegan, by default (without the dips).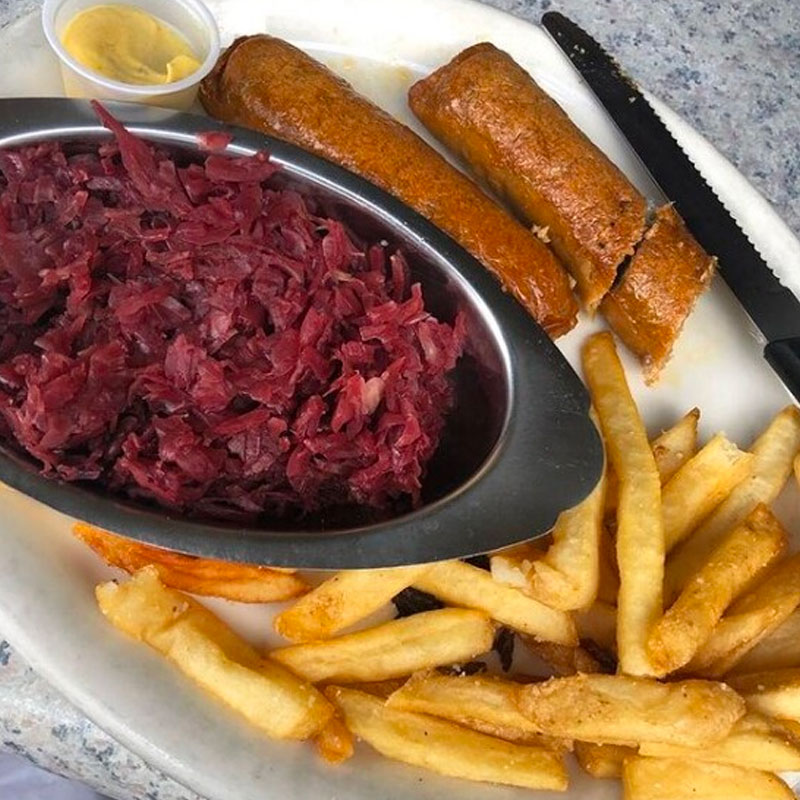 3. Mahogany Coffee: Amethyst
Mahogany Coffee, the cozy one-person bar in Henry's Depot, serves customers a unique menu of craft coffee specialties. Using roasted beans from small-scale farms in the country of Colombia, the shop is passionate about creating unique coffee experiences using only the best ingredients. And good news–the majority of their menu items can be easily veganized.
One of the beverages turning heads at Mahogany is the Amethyst, which includes an espresso base with oat milk (upon request), mint, and lavender syrup. The result is a spellbinding flavor profile that will perk you up and deliver a high-class, sophisticated flavor profile. Mahogany can always be counted on for its unique flavor combinations.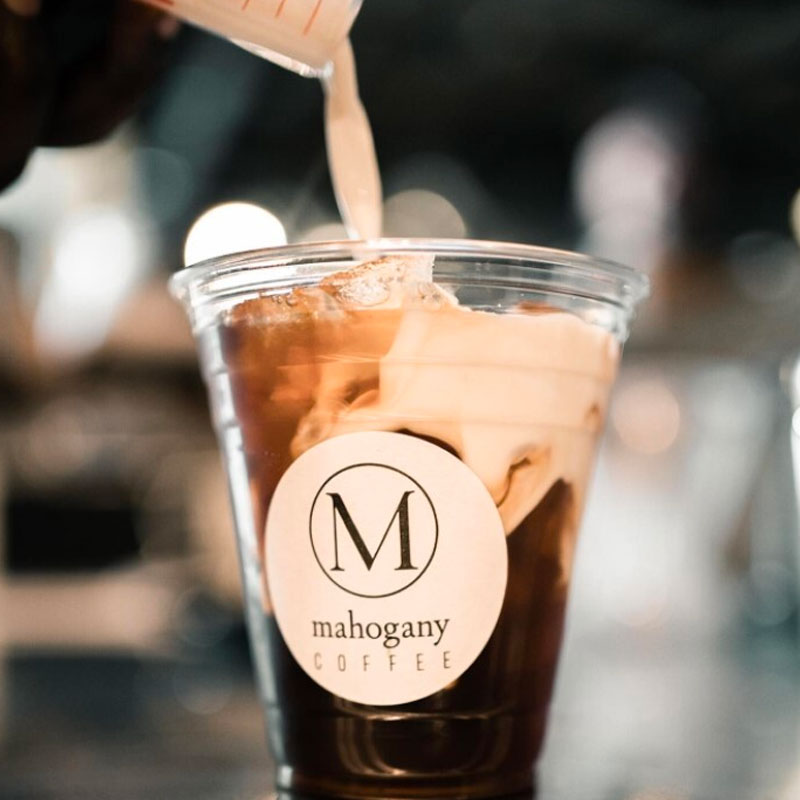 4. Raw Press Juice Co: P.B. Yay!! Acai Bowl
We would be remiss to not list Raw Press Juice Co in a listing of vegan favorites. Raw Press is the home of refreshing favorites like their Beet Me Up raw-press juice, Spicy Quinoa Bowl salad, and Purple Power smoothie loaded with blueberry, banana, peanut butter, gluten-free oats, cinnamon, organic almond milk.
A local favorite that Raw Press Juice Co is known for is the P.B. Yay!! Acai Bowl. While including all the traditional antioxidant benefits of acai, this bowl also includes crunchy organic granola at its base, creamy peanut butter, fresh strawberries and blueberries, and luxurious cacao nibs. Your skin and tummy will never be happier!
Stop by, also, for some grab-and-go juice shots, power balls, and other fresh goodies. Raw Press Juice Co is located on Sanford Avenue.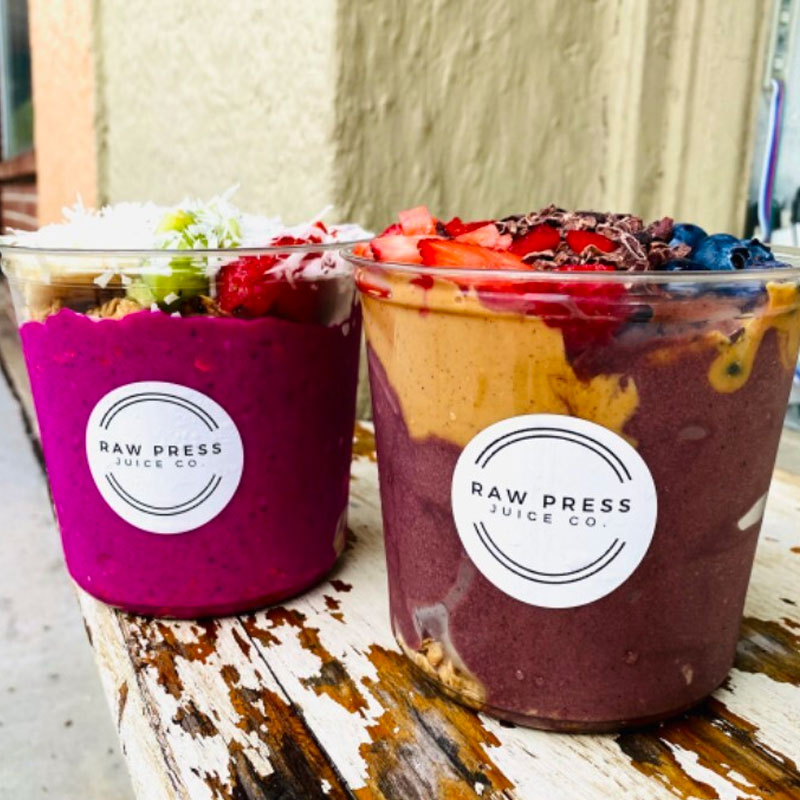 5. Oak Flame Pizza: Sweet Heat
Oak Flame Pizza crafts wood-fired, thin-crust pizza, salads, and appetizers inside Henry's Depot Food Hall. Their founders are born-and-raised in Seminole County have found inspiration in their Florida heritage by infusing some of their most popular dishes with orange zest, heirloom tomatoes, and house-made orange-blossom vegan honey.
Although Oak Flame does not purport an exclusively vegan menu, they do have one of the most impressive selections of vegan meals in the city. 5 of their 7 pizza options are veganizable with house-made Cashew Mozzarella, Lemon Tofu Ricotta, Plant-Based Italian Sausage, and Garlic Oil base option.
Our favorite has to be their Sweet Heat Pie, which is dressed with plant-based sausage, call brian peppers, vegan mozzarella, and house-made orange blossom "honey". Order your pie with their vegan garlic loaf or Oak Flame Romaine salad for a truly decadent vegan dinner.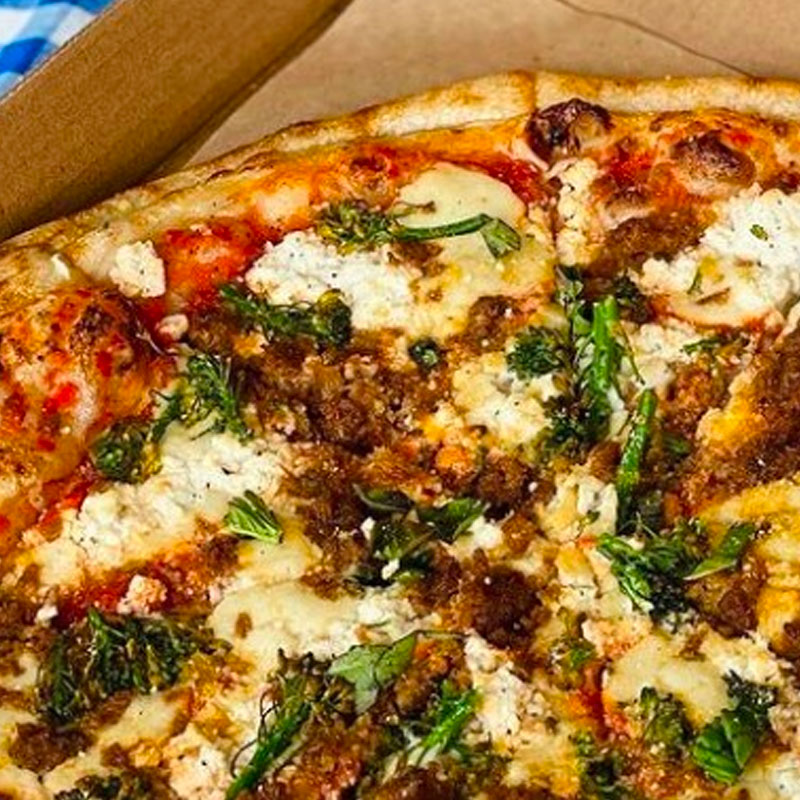 6. Negril Spice: Veggie Chunks
Negril Spice, a Sanford Ave cult-favorite, serves Jamaican-American fusion cuisine with a flair. They believe "cooking is an art that brings happiness to the soul" and this is felt through their dishes. Inspired by their struggles growing up in rural Jamacia, Negril Spice has found ways to innovate with their cooking and bring folks of all walks of life together through their food.
A largely unsung vegan hero dish of Historic Downtown Sanford is Negril Spice's "Veggie Chunks" which come with curried okra, cabbage, rice and peas, plantains, prepared as a Jerk, Brown Stew or Curry. Don't miss out on Negril Spice's flavorful, heaping portions!
P.S. Negril Spice recently came under new management. The old chef is back!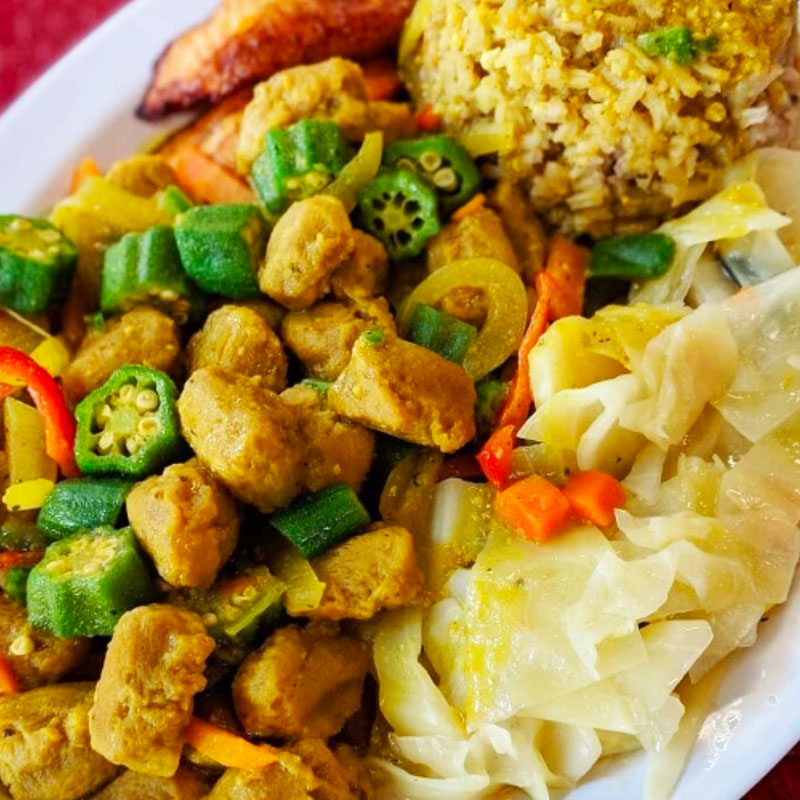 7. Sanford Brewing Company: Beyond Burger
On Historic Downtown Sanford's "beer row", you'll find our city's very own Sanford Brewing Company. Slinging traditional pub food like burgers and wings, some will be grateful that the brewery also serves a delicious vegan Beyond Burger.
Served on a toasted bun, their Beyond Burger is cooked with soy oil instead of dairy butter to keep its products vegan-friendly. The dish is served with lettuce, tomato & pickle plus your option of a basic side, like fries. Upgrade to a premium side to indulge in sweet potato fries, a garden salad, or pretzel bites.
Not in the mood for a burger? No problem. Sanford Brewing Company also offers a veganizable Hummus Wrap and salads.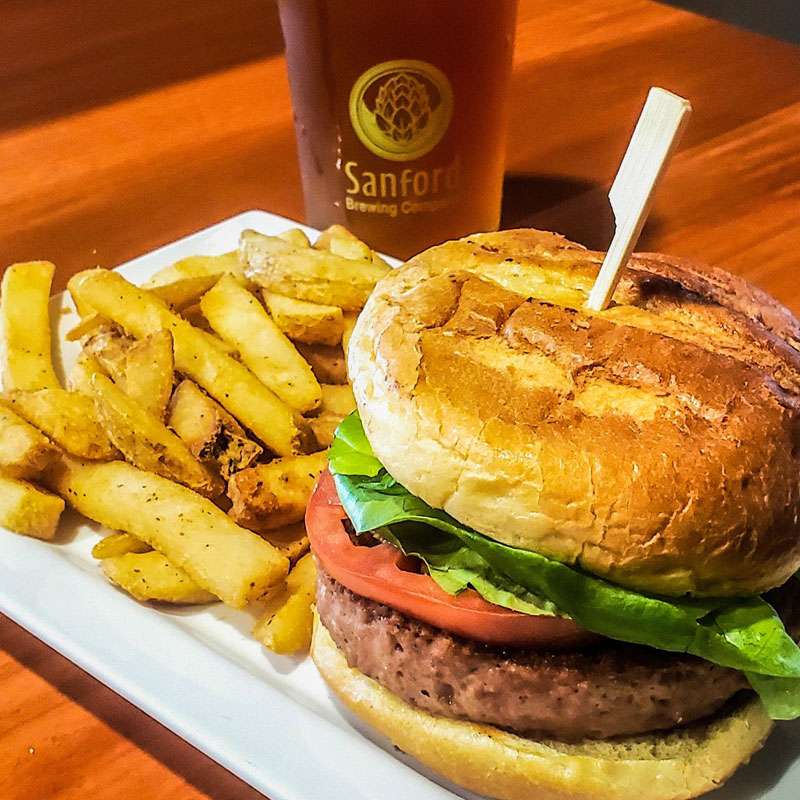 8. Shantell's Just Until: Non-Dairy Sides
What if I told you that there was a local restaurant that used all non-dairy butter in their side dishes. At Shantell's Just Until on Sanford Ave you can find just that! Soul food has never been so good, with its selection of collard greens, black-eyed peas, yellow rice, mashed potatoes and gravy, dinner rolls, and more!
Next time you are catering a holiday meal like Easter, Thanksgiving, or Christmas, consider Shantell's for great prices, delicious food, and an abundance of vegan soul food options in Historic Downtown Sanford.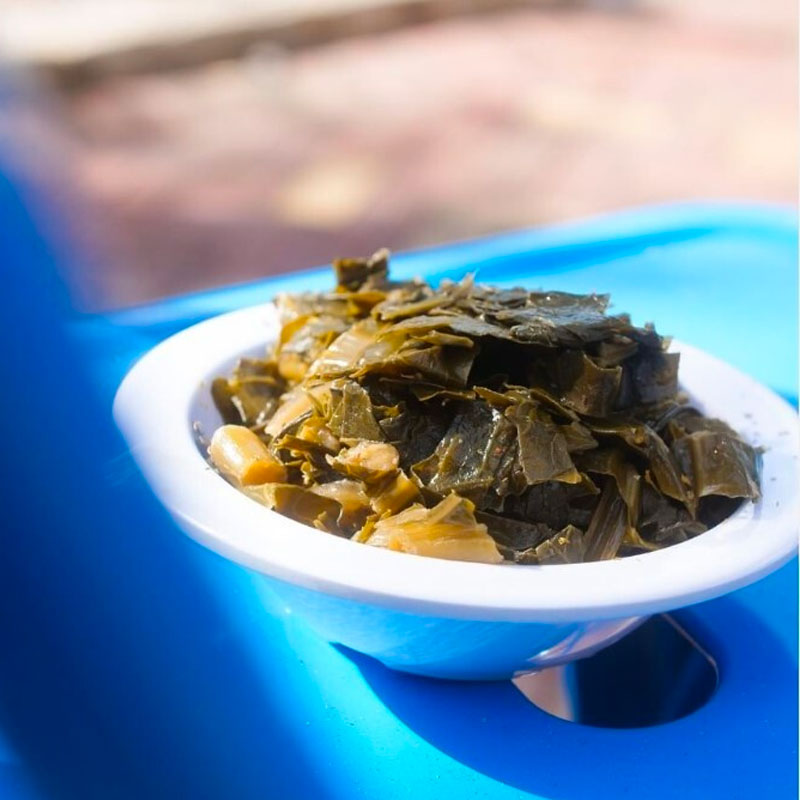 9. Zorba's Greek Restaurant: Stuffed Grape Leaves
There's nothing quite like sitting on the patio at 1st Street's Zorba's Greek Restaurant, dipping pita into hummus, eggplant dip, and skordalia (garlic spread). This Historic Downtown Sanford gem is full of flavor and character, a must-not-miss destination in the area!
Next time you visit Zorba's, do yourself a favor and order their vegan dolmathes (stuffed grape leaves). These grape leaves are stuffed with rice, seasonings, and oil. They are usually served with feta on the side, but you can easily ask them to omit this.
Zorba's is the home to many vegan options and clearly labels its menu with ample vegetarian symbols. When in doubt, ask the staff if an option is vegan or just vegetarian. Many are, in fact, plant-based!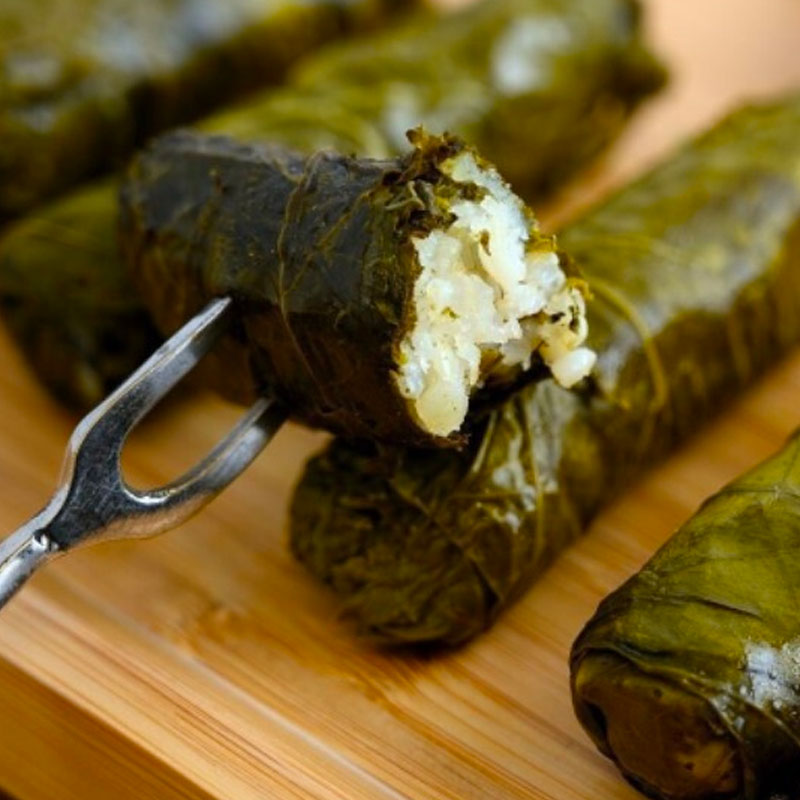 10. Greenery Creamery: Ice Cream
Greenery Creamery charted new territory as Orlando's First Artisanal Ice Cream Boutique. Now, they've opened a location in Historic Downtown Sanford's own Henry's Depot, where they serve dairy and non-dairy desserts from soft-serve cones, to milkshakes, and a rotating menu of unique ice cream flavors.
Experience coffee amaretto ice cream with dark chocolate freckles and almond slivers and a passionfruit cacao flavor, featuring tart and sweet passionfruit ice cream with rum vanilla caramel swirls and raw cacao crunch! These are just two of their rotating vegan flavors which have become an instant cult classic!
Order your scoops in a cardboard cup or upgrade your ice cream experience with a vegan crunch cone!