Off to a new weekend in Sanford! One last weekend of "summer" before school is back end of this coming week, so let's spend it having a good time in Historic Downtown Sanford!
It's the first Friday of the month and you know what that means, it's time for West First Fridays at three of our favorite spots in town, The Tennessee Truffle, Deviant Wolfe Brewing and Mr. Z's Pizza: Great beer and food specials as well as live music guarantee a relaxed Friday evening! After dark, how about touring town on a Historical Ghost Walk? It's a truly haunting experience and you'll also learn a lot about the history of our beautiful town… And as usual, lots of live entertainment and even a magic show (Steve Nelson the Illusionist will be at Sanford Brewing again!) are happening all over town, including The Alley (OverKilt) and Buster's Bistro (Sean Holcomb)!
On Saturday, after your weekly visit at the Sanford Farmers Market how about a Lunch Cruise on Lake Monroe? And for all of you with a sweet tooth, check out Kaffeeklatsch at Hollerbach's where you can enjoy a good coffee with some German cake! Saturday night there's even more live music happening including at The West End Trading Co., Luisa's Cellar, Sanford Brewing (first Saturdays is Blues Night!), and The Alley.
Sunday is the day we have been waiting for: it's the Sanford Caddyshack Open at Mayfair Country Club (not located in Historic Downtown Sanford but a historic golf course!) Even if you decide not to enter the tournament, it will still be fun to watch! And now, let's talk Brunch! Tuffy's Bottle Shop & Lounge is really impressing with their pop up brunches. This week they're rolling up the smoker for a real BBQ Brunch – and of course bottomless Aperol Spritz and other specials to make this a true Sunday Funday! And let's not forget a few of the other awesome brunch spots: The Smiling Bison, Buster's Bistro and Luisa's Cellar (rumor has it "their bottomless Sangrias are legit!").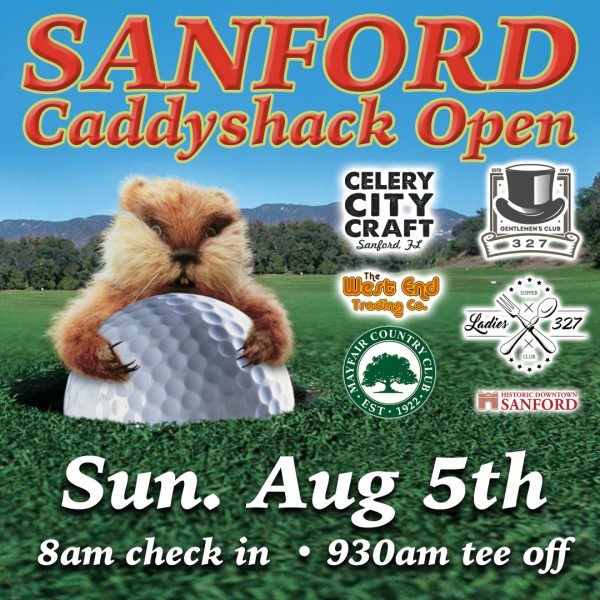 After brunching there's something big happening downtown for all the Blues Lovers among you: The Alley is hosting a Blues Challenge where ten regional blues artists compete to represent the OBBS in Memphis at the Int'l Blues Challenge 2019. There will be raffles, prizes, and silent auction items to raise funds, too!
Happy Sanfording Everyone!